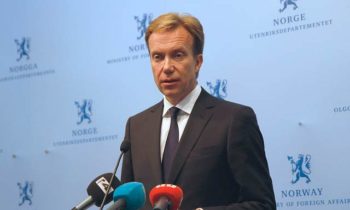 Officials at South Sudanese foreign ministry welcomed Wednesday the visit of Norwegian foreign minister, saying the visit would be an opportunity for bilateral talks on matters of mutual benefits for the two countries.
The Norwegian foreign Minister Borge Brenda, according to the under secretary at the ministry of foreign affairs, was received on arrival at Juba international airport by his South Sudanese counterpart, Deng Alor Kuol. Minister Borge was later taken to South Sudan president Salva Kiir with whom he discussed bilateral matters and what the government was doing regards the 2015 implementation of the peace agreement.
It was not immediately clear what the president and the visiting foreign minister had discussed with him. The state owned South Sudan television quoted Brenda as saying he was visiting South Sudan to assess the humanitarian situation and possible assistance that his country can provide to alleviating the humanitarian condition from deteriorating and avert it from becoming a global disaster.
It also quoted south Sudan foreign Minister Deng Alor Kuol appreciating the visit of his Norwegian counterpart and urged Norway to consider extending their support from humanitarian to developmental assistance.