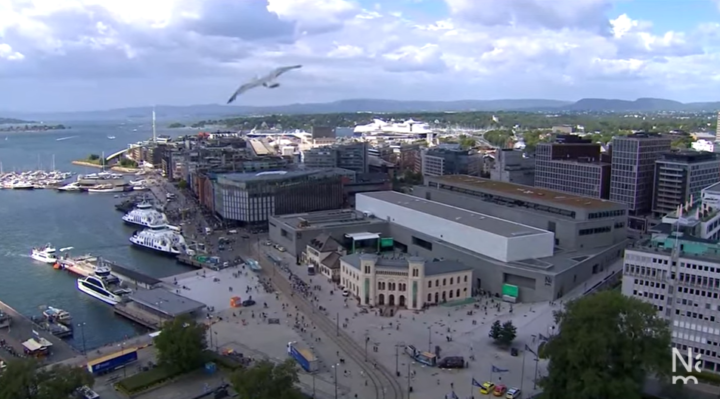 The new National Museum of Norway was opened this month by Queen Sonja, the Prime Minister and the museum's director Karin Hindsbo. Music played at the opening had elements with Soul and two elements of Sami music. According to painter and art reviewer Dag Hol, they should have more classical Norwegian music, for example some of Svendsen, Bull or Sæverud. – The most important art in the National Museum is, after all, classical Golden Age art in addition to the best paintings by Munch, he says.
The new museum shows older and modern art, contemporary art, architecture and design under one roof and in completely new ways in the Nordic region's largest art museum. It has around 6,500 works from Norway's collection of art, architecture and design – from antiquity 3000 years ago to the present day, shown here in an international context.
The opening exhibition "I call it art" in the period 11 June – 11. September 2022 is the contemporary pattern of contemporary art in Norway, with almost 150 artists and groups of artists and works ranging from music and video to theater and painting. One of them is Yachi Shian-Yuan Yang from Taiwan with her works "Great openness" and "Father". Dag Hol is her husband, the opinions are his own. Both have given art lessons in Taiwan. The couple has their own "Galleri 26" in Oslo.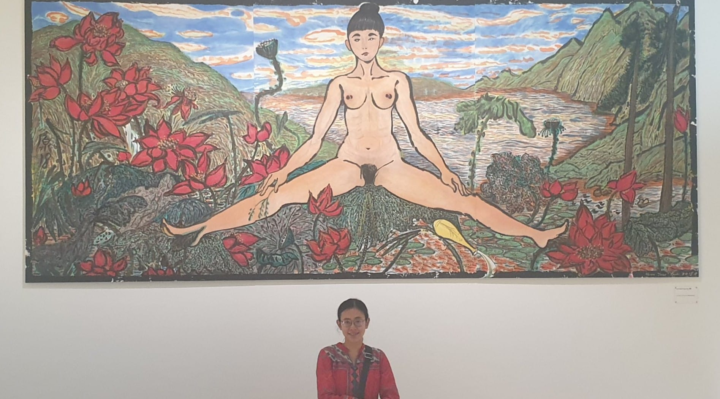 – Yachi's art is based on a more than 1000-year-old painting tradition, the Dag Hol explains, – where the expression does not primarily show a three-dimensional expression, which is not the Asian tradition until the last 10 years. Chinese and Taiwanese art today work in a number of multidimensional techniques both in the surface, three-dimensionally, and conceptually, and a number of artists master many different art expressions. Yachi works in the surface as the tradition is, and is a specialist in this technique and has also taught at a Taiwanese university in the Chinese traditional expression, which is based on the actual brushstroke expression and free flow.
Dag Hol continues: – For years I have been very interested in Chinese art and the lightness of the brushstroke itself, but also precision. In her career, Yachi has gone from the classic black and white tradition in classical Chinese and Taiwanese tradition, to introducing colors in the art expression. This is something she started working on in earnest after she came to Norway in 2015. But still it is how she carries the brush in vacancy and refinement that matters, where she also paints on both sides of very thin rice paper, and you can see the color and the stroke through the paper in a completely different denomination than just from the front. To achieve depth in the painting, the strength of the denomination is often crucial. But as in most advanced figurative art, the concept is also important, and Yachi is very creative and innovative in her art, with many ideas about what she wants to paint and what the painting means. She often works with a story and draws a lot, mostly quick sketches that are both pre-stages and portrait characters, but also idea sketches. Yachi has gained increasing interest from the Norwegian art scene since she came here in 2015, both through exhibitions around the country, but also from art critics, gallery owners, art collectors, the Autumn Exhibition where she came in last autumn with a larger picture, and most recently from the National Museum.
– This exhibition "I call it art", Dag Hol explains, – which is the opening exhibition after several years of drought, has received much criticism. There has been talk of random and poor quality, and the architect called it a flea market. The fact is that it is very entertaining and engaging. I have been to many modern museums both here in Norway and internationally, with varying quality. Often quite boring and indifferent. But at the National Museum today, it is much more fun and engaging than usual. We spent 2-3 hours looking at a number of inventions in this "modern" department, and several things were very interesting and searching, and filled with a lot of seriousness and aesthetic subtleties.
– When we finally had to go into the classical department and see much of the great things that have been created in Norwegian art history and that we had longed for and looked forward to after so many empty years, we did not have much power left. But we soon found the beautiful Munch room, the incredibly magical Sohlberg's "Winter Night in Rondane", Gude's new "Norwegische Landschaft", and Balke's "Stetind". Just to get a taste of the best that is painted in Norwegian art. Entering these rooms, which are also filled with images we have very rarely seen, gave a strong sense of light and depth that was a lice to the soul. I have never experienced anything like this in the old National Gallery. I will study this more thoroughly. But it strikes me clearly that the best of Norwegian art is actually world-class. The blue-toned "Winter Night in Rondane" is one of the most magical and profound that has been painted in the world of landscape paintings ever, and it has never hung so beautifully.
– The museum actually works much better than I thought, Dag Hol says, – especially inside, but also outside I think it is surprisingly nice in the city, as architect Thomas Thiis Evensen so nicely writes in Aftenposten. Drinking rhubarb juice on the terrace up in the sunshine just before the rain comes is completely wonderful, I am very happy that we have got such a museum. All previous doubts that it was right to build this museum and fill it with classical art, and get much better space, along with contemporary art, have disappeared. And I am very happy that I, as probably the only artist in Norway, cheered on building this museum, also through articles in Aftenposten, even though I was in doubt about the architecture itself. Today, most things are joy ….. and we probably find a good way to use the old National Gallery, for example to the Kunsthall for visiting classical international exhibitions, or also as a studio for classical figurative artists as Audun Engh from the Architecture Uprising suggests.
More to read about the artist couple: http://www.norwaynews.com/oslo-open-house-with-dag-hol-and-shian-yuan-yachi/?fbclid=IwAR1Ca62v1tvFc6NvFDuOGaYBUheGJp3HYy6aWhbqQ1RvSSTqslGmFcdDuB0