According to information published by Nicholas Drummond on its Twitter account on July 30, 2021, the Norwegian company Kongsberg is conducting ongoing testing for an international customer with the Protector RT60 remote turret mounted on Boxer 8×8 armored vehicle.
The Boxer is an 8×8 armored vehicle developed by ARTEC, a joint venture of Krauss-Maffei Wegmann GmbH & Co. KG, Rheinmetall Landsysteme GmbH and Rheinmetall Defence Nederland B.V. ARTEC was responsible for the Boxer development program for the German and Dutch armies, acting as the prime contractor. Furthermore, ARTEC is in charge of the coordination of serial production.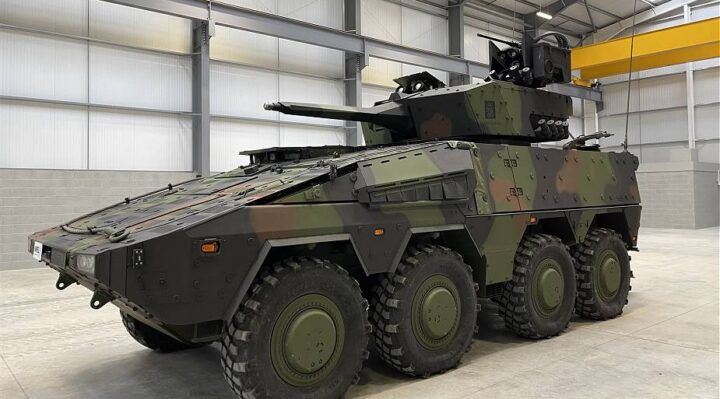 The BOXER is a truly modular vehicle providing multiple functions for its users, several communication interfaces for participation in network enabled warfare, and diverse mission-relevant capabilities. The flexibility of its modularity allows BOXER to be easily adapted to meet diverse mission requirements, in rapidly changing circumstances and global environments.
The Boxer 8×8 armored vehicle is currently in service with Germany, the Netherlands, and Lithuania. The vehicle is also selected by the Australian and British armies.
The RT60 is the Infantry Fighting Vehicle (IFV) variant in the PROTECTOR family. The system is designed for optimizing lethality and protection on fighting vehicles and can be fitted with elements like an ATGM (Anti-Tank Guided Missile) launcher, Commanders Independent Weapon Station, Laser Warning System, Active Protection System etc. On the picture released on the Twitter account of Nicholas Drummond, the Protector RT60 is armed with a 50mm cannon.
The RT60 is also equipped with Trophy MV active protection system and upgraded Thales Catherine EZ thermal sensors. The turret seems to be also fitted with two anti-tank guided missile launchers.

The RT60 turret is remotely controlled and operated from a protected position inside the vehicle compartment to enhance the crew's survivability. The turret can be accessed and reloaded from under armor and the linkless ammunition handling system provides superior reliability compared to link fed systems.