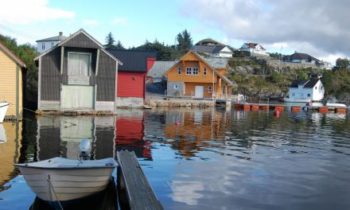 Norway's property boom doesn't look like ending any time soon. According to Real Estate Norway, average prices have increased by 7.3 percent over the past year – and as much as 13.4 percent in the capital Oslo. The association has lifted its previous predictions by a twofold and now expects nationwide prices to end 7-8 percent up in 2016.
And while the economy of western Europe's largest petroleum producer has benefited from a partial rebound in oil prices, continental uncertainty fueled by British plans to leave the European Union suggests rates may remain at their record low for at least another year.
That all sounds like good news for Norway's numerous mortgage owners. But with the economy so reliant on the price of crude, what about warnings from the International Monetary Fund that "a persistent low oil price could trigger a sharp correction in house prices"?
In fact, the Norwegian housing market was already predicted to burst in 2012 by the American economist Robert Schiller. Four years later, there's little sign of weariness. Even the oil plunge of late 2014 failed to break the market, as the above chart shows. The most recent downturn in the price of oil "has not been reflected at all in house prices," Marius Gonsholt Grov, an economist at Handelsbanken, said by phone. "The economy is adapting to sustained lower interest rates. We may therefore have higher debt growth, and stronger growth in house prices over time."
It helps to have a $860 billion sovereign wealth fund to back the economy and support the labor market. In the meantime, Oslo has gained renewed popularity among its Nordic siblings, revamping its architecture and art scene and reshaping so-called Scandinavian "cool."
Norwegians love their homes. Nearly 85 per cent of them own the property they live in, usually with the help of a bank. So much so, in fact, that Norway has the highest proportion of mortgages in Europe – 65.6 per cent of the population has a home loan, according to latest available data from Eurostat. This is partly the result of low interest rates, generous tax reliefs for home owners and fierce competition among commercial banks, meaning the property market has made the most of Norwegians enjoying a long spell of easy access to cheap credit.
(BLOOMBERG)