Europe-based global clean energy firm MPC Energy Solutions, which is listed on the Oslo Stock Exchange in Norway, is reporting that it has leased several acres of land in Jamaica as part of a major project to develop a 72.5-megawatt, MW, solar power plant here. MPC Energy focuses on sustainable energy infrastructure and runs green energy investments in Colombia, where it has six projects, Puerto Rico and El Salvador.
A successful buildout of the planned investment would result in it being the single largest solar plant in Jamaica.
Currently, the Eight Rivers solar project, in which the MPC Energy Solution-related MPC Capital of Germany holds a stake of more than 30 per cent, generates between 35MW to 51MW of energy at Paradise Park in Westmoreland. That solar project, the largest in the country, was founded and developed by Rekamnair Limited, held by Jamaican Angella Rainford and French energy company Neoen, which owns some 50 per cent.
Last month, power producer and sole electricity distributor Jamaica Public Service indicated that it would consider building three solar plants with a combined capacity of 100MW.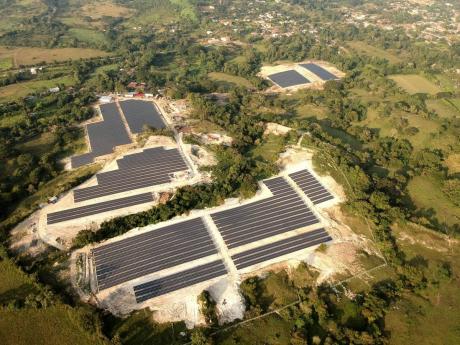 "The company entered into a land lease agreement for the purpose of developing a 72.5MW solar power project in Jamaica," MPC Energy Solutions said in its latest second-quarter 2021 update to global investors via disclosure on the Norwegian stock market.
The company said it acquired the lease in March this year and the proposed site is on 220 acres of land, which has been leased for 25 years. Company officials are yet to respond to Financial Gleaner requests for more details, but its website lists the planned project in Jamaica as 'Acacia'.
"Given that the project is in the development phase, the lease agreement contains termination options so that the fixed commitments amount to approximately US$20,000," the company said of the lease, which equates to roughly $3 million.
MPC Energy Solutions, listed in Europe, and MPC Caribbean Clean Energy, listed on regional exchanges in Jamaica and Trinidad, are separate entities, but both were established and sponsored by MPC Capital, based in Germany. MPC Capital owns directly, and indirectly, approximately 15 per cent of MPC Caribbean and 20 per cent of MPC Energy Solutions, company officials disclosed to the Financial Gleaner earlier this year.
MPC Energy Solutions develops, builds and operates renewable power plants, while MPC Clean Energy acts as a feeder vehicle for a fund that invests in already-constructed and operational solar PV and wind assets in the Caribbean.
Both companies may co-invest in the same projects if the investments meet their separate investment criteria, a communications agent for the companies told the Financial Gleaner in June this year about their general investment strategies.
MPC Energy Solutions management's market disclosure contemplates that a solar project of the size under consideration, would place the company is a position to be the potential preferred bidder in any government request for proposals to supply renewable energy to the national grid.
Martin Vogt, chief executive officer of MPC Energy Solutions, indicated in the late-August investor transcript, however, that there was no expectation of any such requests for proposal any time soon. The COVID-19 pandemic, he analysed, would be likely to delay the issuing of requests for proposals. He told global shareholders that governments in Latin America and the Caribbean have been focused instead on public health, education and food security, rather than energy permits, licences and authorisations at this time.
"So, it is not a real surprise that some of the public tenders and request for proposal processes, for instance in Jamaica, but also for the project in The Bahamas that we would have expected to be completed in 2021, we now really only see happening in 2022. That's why we have reprioritized these projects," Vogt stated.
MPC Energy Solutions, while incorporated in the Netherlands, was listed on the Oslo Stock Exchange in January 2021. At June, the company's total assets equated to US$85 million, with total equity at roughly the same figure, or US$84.3 million, due to relatively low liabilities.
MPC Clean Energy holds total assets of US$29.7 million and equity of US$19.5 million at June 2021.