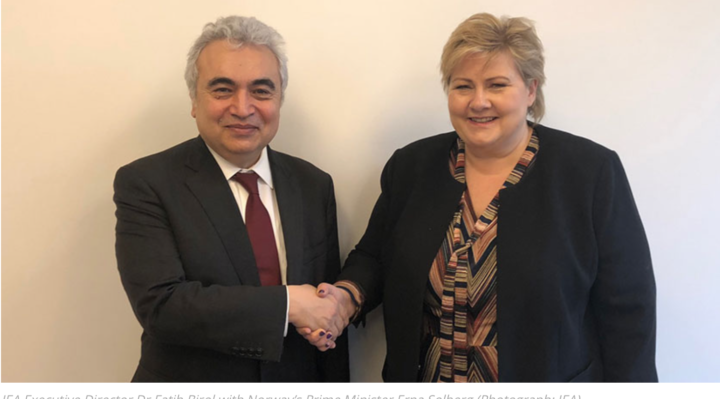 Dr Fatih Birol, the International Energy Agency's Executive Director, met with Norway's Prime Minister Erna Solberg in Paris today.
A key issue discussed was the critical role Norway plays in global oil and gas security by keeping markets well supplied. Norway was the world's largest contributor to new offshore oil and gas developments approved last year with projects committed worth nearly USD 20 billion. Along with gains from the United States, Brazil and Canada, the rising oil output from Norway will more than cover projected demand growth through 2020.
Norway is also an environmental leader, said Dr Birol, who highlighted that the country's electricity generation is almost entirely from renewable sources – hydropower – and that thanks to a carbon tax on the Norwegian continental shelf, the country's oil and gas production emits 50% less carbon emissions than the global average.
They also discussed efforts underway in Norway to deploy electric vehicles. In the recent Nordic EV Outlook 2018, the IEA found that 39 percent of vehicles sold in Norway in 2017 were electric cars, the highest share in the world. The government hopes that within seven years, Norwegians will no longer buy cars powered by fossil fuels.
Norway serves as a global advocate for universal energy access. Dr Birol thanked Prime Minister Solberg for Norway's co-chairing of the Ad-hoc Advisory Group on the United Nations Sustainable Development Goal 7 (SDG7), which seeks to ensure access to affordable, reliable, sustainable and modern energy for all. This group is providing technical assistance to the UN's High-level Review of SDG7 to be held in New York this July, a process in which IEA has been heavily involved.
(IEA)