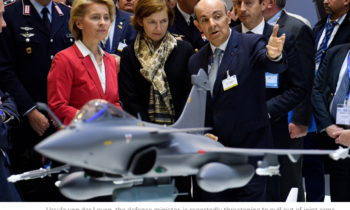 European joint defence projects have reportedly been thrown into doubt amid a row over military spending in Angela Merkel's coalition government.
The row comes amid growing concern in Germany over equipment shortages that have cast doubt over the country's ability to meet its Nato commitments.
It also comes against the backdrop of Donald Trump's demands for Europe to spend more towards the cost of its own defence.
Mrs Merkel's government is already planning to increase defence spending by around €5.5bn (£4.8bn) over the next four years. But the defence ministry has described that as "inadequate in view of the huge oustanding requirements and need for modernization".
Ursula von der Leyen, the German defence minister, is demanding a €12bn (£10.5bn) increase in this year's military budget,  according to a report in Bild am Sonntag newspaper.
She is threatening to pull out of arms deals with France and Norway unless she gets her way, the newspaper claims.
The defence ministry has reportedly drawn up a list of arms projects it believes will have to be cancelled to divert resources elsewhere unless more funding is made available.
Top of the list is a joint project to build six new submarines with Norway, according to the unconfirmed Bild report.
Under the deal, Germany's Thyssenkrup is to build the submarines while Norway's Kongsberg will supply them with anti-ship missiles. Cancellation would be a major blow to both counties' arms industries.
Also on the list is said to be an order for six C130 Hercules aircraft for a joint military transport sqaudron with France. If Germany pulls out it could leave France to man the sqaudron alone.
The defence ministry has not commented on the reported rift, but Ms von der Leyen has spoken out about the need for increased defence spending in recent weeks. "This is about the future capability of our armed forces and Germany's ability to stand by our allies," she said last week.
A parliamentary watchdog warned in February that equipment shortages are putting Germany's ability to meet its Nato commitements "in question".
Only 95 of the German army's 244 Leopard main battle tanks were operational at the time because of maintenance issues. None of the German navy's six submarines were operational at the end of last year, and only nine of a planned 15 frigates were in service. None of the Luftwaffe's 14 A400M transport aircraft were airworthy on several occasions last year, and replacement aircraft had to be chartered to bring serving troops home.
Mrs Merkel is said to be open to increased defence spending, but she is facing serious opposition over the issue from her coalition partners, the centre-Left Social Democrats (SPD).
The row has pitted Ms von der Leyen against the finance minister and vice-chancellor, Olaf Scholz. The SPD's most senior minister is said to banish the party's former reputation for reckless spending, and has pledged to stick to the balanced budget policy of his predecessor, Wolfgang Schäuble.
Donald Trump told Angela Merkel last week that it was "essential" that Germany pay more for defence amid tensions over Nato spending.
(telegraph)