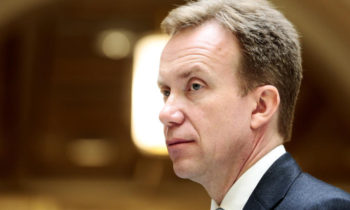 'The fighting in South Sudan is continuing. Norway supports proposals for a new regional protection force in the capital and a strengthening of the mandate of the UN Mission in South Sudan (UNMISS). The Security Council must adopt targeted sanctions and an arms embargo, as called for by the UN Secretary-General,' said Minister of Foreign Affairs Børge Brende.
'Norway joins South Sudan's neighbouring countries and the African Union in condemning the recent violence in the strongest possible terms. The violence erupted on 8 July in Juba and is continuing to spread to new areas. It is now more important than ever that the peace agreement is respected and implemented,' Mr Brende said.
On 8 July, fighting broke out in the South Sudanese capital of Juba between forces loyal to President Salva Kiir and those loyal to First Vice-President Riek Machar. A large number of civilians have lost their lives and some 35 000 people have been forced to flee. Three UN soldiers were killed when the areas in the UN camp where civilians had sought refuge were attacked. Tens of thousands of people have fled across the border into neighbouring countries, and the fighting is continuing in the southern part of the country. Despite the fact that the Government has committed itself to a ceasefire, there were reports on 31 July of new clashes in Nassir in Upper Nile State and an escalation of fighting in the Equatoria region. The Intergovernmental Authority on Development (IGAD) and the African Union have condemned the fighting and called for the deployment of a regional protection force to Juba to secure the capital. Norway supports this initiative. 'The fighting must end immediately. Now, five years after gaining its independence, South Sudan is in grave danger of collapse. And it is the lack of will shown by the country's leaders to follow up their own peace agreement that is to blame. The international community and aid organisations are doing everything they can to help the civilian population. It is high time that the parties, too, show responsibility,' Mr Brende said.
Serious human rights violations have once again taken place in South Sudan. Civilians have been killed in targeted attacks and there are well-documented reports of grave forms of sexual violence being used, such as mass rapes of adults and children who have sought refuge in camps for internally displaced people. In the last two weeks alone, the UN has documented over 120 cases of sexual violence in Juba. Government soldiers in uniform are responsible for many of these attacks.
'These are clear violations of international humanitarian law. I would like to remind the parties that the peace agreement establishes a hybrid court with a mandate to bring to justice all those responsible for committing such crimes. There can be no impunity for the perpetrators and those responsible must be held accountable for their actions,' Mr Brende said.