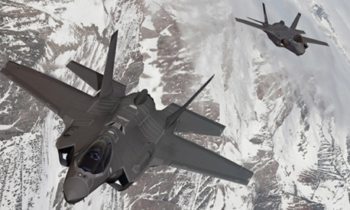 The Netherlands will join Norway on the development of the brake chute for the Lockheed Martin F-35, the Norwegian government confirmed last week.
In a 25 November bill presented to the Norwegian Parliament, the Dutch government agreed to pay Norway 96 million NOK ($11.4 million) to cover their share of development costs. That cost share will allow the Norwegian government to redirect those funds to cover general expenses related to the Norwegian acquisition of the F-35, according to a post by the minister of defence.
The $11.4 million constitutes an initial contribution from the Netherlands, which will eventually cover their share of aircraft receiving the drag chute, a Norwegian spokesman tells FlightGlobal. The Netherlands has only committed to preparing aircraft for the drag chute mounting and the initial contribution covers the development of the modification.
While most international partners' F-35s are indistinguishable from the US fighters, Norway and now the Netherlands will incorporate drag chutes to help the aircraft land on icy runways. The fairing for the chute will be mounted on the back of the aircraft between the aircraft's two vertical tails, the Norwegian spokesman says.
"Though relying on the aircraft's hydraulics for power, it is a separate add-on system with its own wiring and hard points," the Norwegian government says in a statement. "The benefit of the system is that it makes it both easier and safer to operate the F-35 on slippery runways, as we often will be doing in Norway during the winter months."
Lockheed will test the brake chute at Edwards AFB, California this summer and will begin testing on icy runways in Alaska in late winter 2017, a company spokesman tells FlightGlobal. Norway is aiming to have the capability qualified by the time the country receives its first aircraft in November 2017, according to a Norwegian spokesman.
Canada also expressed interest in the modification, FlightGlobal reported in 2014.
(flight global)