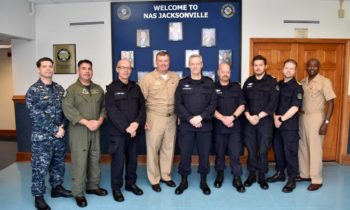 Chief of the Royal Navy of Norway Rear Adm. Nils Anreas Stensønes made a brief stop at Naval Air Station (NAS) Jacksonville on his way to fly out to USS Harry S. Truman (CVN 75) Feb. 15.
Stensønes, along with four other members of the Norwegian navy, flew out of NAS Jacksonville aboard a C-2 Greyhound to the Truman to observe the Composite Training Unit Exercise (COMPTUEX). He would spend a few hours on the Truman before flying on to the Royal Norwegian Navy frigate HNoMS Roald Amundsen (F 311), which was participating in COMPTUEX.
Stensønes began his United States trip Feb. 7 in Washington, D.C., where he met with Secretary of the Navy Richard V. Spencer and Chief of Naval Operations Adm. John Richardson.
"The high point of the trip is visiting the carrier battle group," Stensønes said.
"My purpose was to observe our frigate integrate with the Harry S. Truman Battle Group and see how that was going."
Stensønes was also looking forward to seeing his own Sailors. "It's always a privilege to visit with your own Sailors when they at sea," he said. "As an old Sailor, I love to go to sea. There is nothing that gives you as much energy as being around young Sailors."
NAS Jacksonville Commanding Officer Capt. Sean Haley, who met with Stensønes, spoke of the importance of working with foreign navies. "It's critical for us to continue to build upon those relationships that we have with nations that we routinely operate with," he said. "It increases coordination and communication in our ability to operate together, which ultimately improves efficiency when we operate across the globe."
Stensønes also recognizes the value in multi-national cooperation. "Norway is a small nation," he said. "We are absolutely dependent on NATO and our allies. It is great training for our ships and it is also increasing interoperability, which is absolutely necessary for our alliance to be efficient.
(jaxairnews jacksonville)