Norway's Minister of Environment, UN Special Rapporteur on the Rights of Indigenous Peoples and leading Brazilian climate scientist among participants tackling illegal logging, biofuels, commodity-driven deforestation, the murder of indigenous forest defenders and other hot-button forest issues
                                                            
Ten new reports to be released by leading forest experts capture the latest technologies, policies and business practices in play to save the world's forests.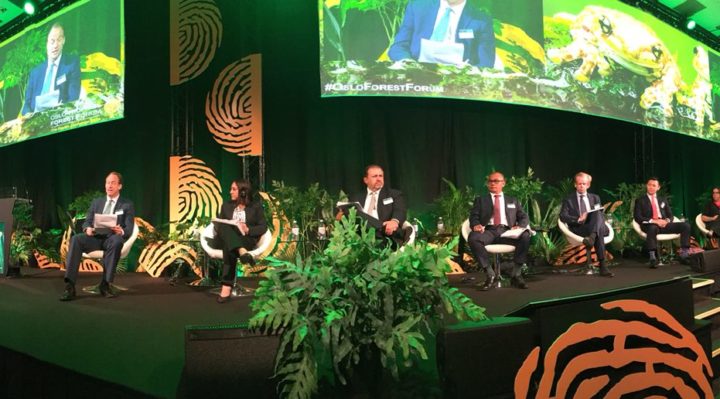 In advance of the Global Climate Action Summit (September 12-14, San Francisco) and the United Nations Climate Change conference (December 3-14, Katowice, Poland), the Oslo Tropical Forest Forum (June 27-28) will shine the global climate spotlight on the role forests play in achieving Paris Agreement goals to keep global temperatures well below 2 degrees Celsius. Protecting, restoring and managing trees could get the world one-third closer to preventing the worst impacts of climate change. Yet, the world's forests—especially tropical forests in Latin America, Southeast Asia and Central Africa—are increasingly under threat from the ever-expanding production of soy, cattle, palm oil and wood products. Recent research is revealing that climate change itself is emerging as an increased threat to forests—and that forests provide climate benefits beyond carbon that we're only just starting to understand. In addition, forests contribute to a wide range of Sustainable Development Goals, including access to clean water and clean energy.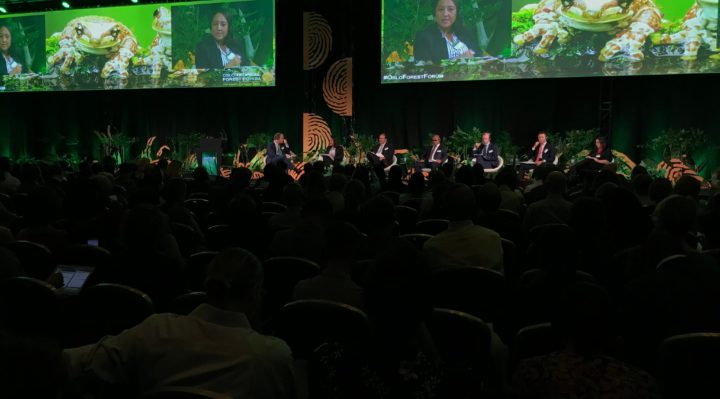 WHO:
The Oslo Tropical Forest Forum is hosted by the Norwegian Ministry of Climate and Environment and the Norwegian Agency for Development Cooperation.
Confirmed speakers include: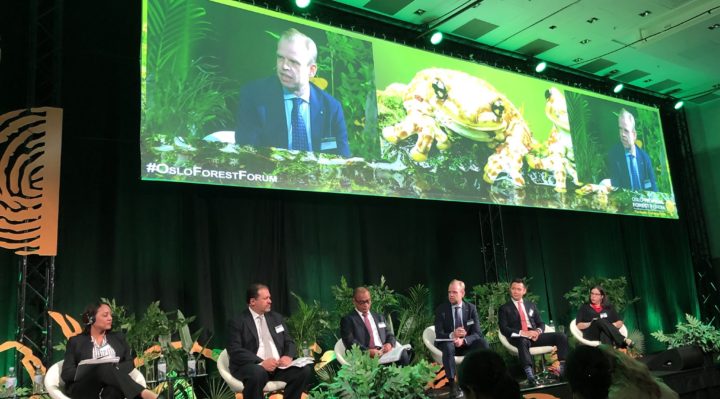 Erik Solheim, Executive Director, United Nations Environment and former Minister of Development and Environment, Norway
HE Luis Gilberto Murillo, Minister of Environment and Sustainable Development, Colombia
HE Tarsicio Granizo, Minister of Environment, Ecuador
HE Henri Yav Mulang, Minister of Finance, DRC
HE Ola Elvestuen, Minister for Climate and the Environment, Norway
HE Fabiola Muñoz, Minister of Environment, Peru
Dr. Putera Parthama, Director General for Climate Change, Ministry of Environment and Forestry, Indonesia
Victoria Tauli-Corpuz, UN Special Rapporteur on the Rights of Indigenous Peoples, Philippines
Henry Waxman, Waxman Strategies, and former Member, US Congress, United States
Carlos Nobre, Global Climate Change Expert and Senior Fellow, WRI-Brasil
Rukka Sombolinggi, Secretary General, Indigenous Peoples Alliance of the Archipelago (AMAN), Indonesia
Tasso Azevedo, Consultant and Social Entrepreneur, Former First Chief and Director General of the Brazilian Forest Service, Brazil
Carine Smith Ihenacho, Chief Corporate Governance Officer, Norges Bank Investment Management, Norway
Svein Holsether, CEO Yara, Norway
Anderson Tanoto, Director RGE Pte Ltd, Singapore
Frances Seymour, Distinguished Senior Fellow, World Resources Institute, United States
WHAT:
An invitation-only bi-annual event hosted by the Government of Norway. The goal of the gathering is to celebrate results and identify remaining challenges 10 years after reducing emissions from deforestation and forest degradation (REDD+) was included in the climate change negotiations, and to advance strategies for mobilizing forests to help us achieve the ambitions of the Paris Agreement and the Sustainable Development Goals. A strong global alliance for tropical forests has emerged in these last 10 years, and many of its representatives will attend the Oslo Tropical Forest Forum.