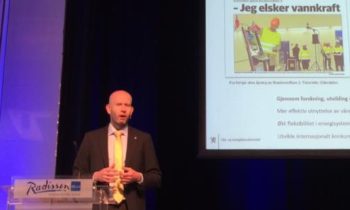 The Research Council of Norway has pledged 160 million NOK for the establishment of eight new research centers that will work on sustainable energy production. The project has an overall budget of 1.3 billion NOK, to be distributed over eight years.
"The new research centers will establish a framework for the development and use of new technology adapted to environmentally sound living," said Tord Lien, Minister of Petroleum and Energy.
Lien opened an Energy Conference in Oslo on Thursday hosted by The Research Council of Norway. The Research Council announced the allotment of 160 million NOK toward the establishment of the research centers working on sustainable energy production. The Norwegian government is expected to contribute an additional 1.3 billion NOK to the centers over the next eight years. Including funding from users, industrial partners and research institutions, more than 2.5 billion NOK has been earmarked for research development.
"This is a good day to be Minister of Petroleum and Energy. The research centers for sustainable energy production are at the forefront of new research, development and innovation regarding energy production for the future. The allotment is a long-term commitment towards a solution of climate and energy challenges. The centers will also contribute to innovation, industrial and commercial development and lucrative jobs," said Lien.
The research centers will bring together Norwegian researchers and members of industry and the trade sector to cooperate long-term to address energy and climate challenges.
The new centers will cover hydraulic power, power grids, energy efficient industry, environmentally friendly transport, solar power, biofuel and zero emission in cities.
"Research and development of new technology is one of the government's main areas of commitment. I am therefore pleased that the government and its partners have strengthened their commitment to research and technological development in all budgets thus far. I am especially pleased that the state budget for 2016 strengthened sustainable energy production with 40 million NOK," said Lien.
(norway)