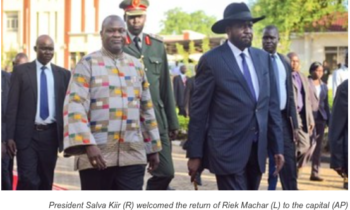 Norway will in June host a reconciliation conference between the South Sudanese government and armed opposition leaders, the Norwegian government envoy Erlen Skogonsberg said on Saturday.
Skogonsberg told reporters in Juba that Norway is ready to assist South Sudan in the implementation of the 2015 peace agreement.
He pointed out that the reconciliation conference aims at facilitating common understanding between parties in South Sudan.
"The government in Juba has welcomed the initiative and Norway will help the people of South Sudan implement the peace agreement," said the Norwegian diplomat.
Skogonsberg reiterated Oslo's commitment to helping the people of South Sudan in their quest for peace and stability.
Norway is one of the guarantors of the 2015 peace accord between the Juba government and the armed opposition.