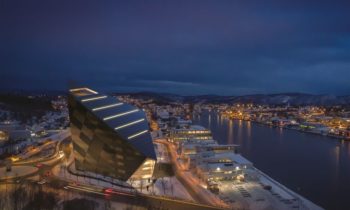 If buildings that meet the rigorous qualifications of passive house construction seem impressive, or projects that attain the Living Building standard, such as the Bullitt Center, represent the cutting edge of sustainable design, a recently announced project in an Oslo suburb could be a game-changer, according to its developer.
The Powerhouse Telemark, an 11-story office tower projected to open in Porsgrunn, Norway, promises to not just be sustainable, but to actually produce more power than it consumes. According to 33-year-old developer Emil Eriksrød of R8 Properties, the structure, designed by the international architecture firm Snøhetta, will open in February of 2019 at a cost of $17 million. He said he "hopes we will be plagiarized and copied, replicated in all seven continents."
The modern office, which will feature a slanted, diamond-shaped south-facing roof covered in solar panels, will achieve such an impressive level of energy performance due to a combination of rooftop production capacity, streamlined, well-insulated design, and a series of heat exchangers and heat pumps. Architects and designers expect that over its estimated 60-year lifespan, the Powerhouse project will generate enough power to pay back the energy cost of construction, production, and transportation of the materials used during the construction process.
Eriksrød says the building, in development for the last 15 months, will begin construction later this year. Jette Cathrin Hopp, project director for Snøhetta, confirmed the project is moving ahead.
Snøhetta, an international firm known for projects such as the National September 11 Memorial Museum Pavilion, already has a track record when it comes to energy-efficient construction, having built the Powerhouse Kjørbo, a solar powered, net-zero office building near Oslo, in 2014. Kjetil Trædal Thorsen, the firm's founding partner, said in a release that he hopes the new Telemark project "puts Norway on the map" for innovative design and energy solutions.
(curbed)