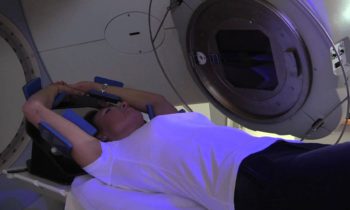 C-RAD secured a large order including two Catalyst HD™ systems and a Sentinel 4DCT™ system for Gjövik Hospital in Norway, about 120 km north of Oslo. As part of a comprehensive tender the hospital is now upgrading its radiation oncology department with the high-end solution for patient positioning and monitoring from C-RAD.The Catalyst HD will be delivered with the complete software configuration containing modules for Respiratory Gating, Patient Setup and Positioning, and Motion Monitoring, as well as interfaces to a Toshiba CT and the linear accelerators. The customer also decided on the unique audio-visual couching functionality that supports an interactive gating mode.
In the Nordic countries C-RAD also distributes products that complement its portfolio in the field of patient positioning and quality assurance, and in this case Gjövik Hospital has selected a configuration of immobilization devices for stereotactic treatments.
The delivery and installation of the first two systems is expected to take place in Q3 2015 and the third system in the beginning of 2016.
The Catalyst™ and Sentinel™ systems offer the required technology to perform high-end treatment techniques within radiation therapy. With this solution C-RAD supports the whole 4D treatment chain from imaging to treatment delivery. Respiratory gated treatments are frequently used when the target volume is close to cardiac tissue or for special treatments in which the tumor position depends on the respiratory cycle.
"It is very gratifying to see the positive resonance the Catalyst HD has generated in the market," says Tim Thurn, CEO of C-RAD. "While this system has been opening the doors for significant sales in North America, we are now seeing an increasing number of European customers selecting the Catalyst HD. The system was developed specifically for the fast-growing segment of Stereotactic Radiation Therapy (SBRT) and Stereotactic Radiosurgery (SRS), but at the same time Catalyst HD provides the proven advantages of the Catalyst system for the treatment of breast cancer patients, as well as other indications."
(globenewswire)