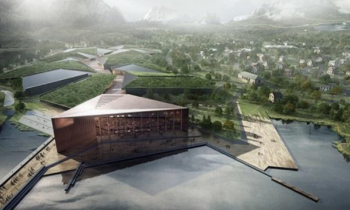 Norway's state secretary has boasted of the country's data centre industry, advising businesses to make the shift to the region during Datacloud Nordic this week.
Senior Norwegian politician Reynir Johannesson opened this year's Datacloud Nordic event by stressing the country's commitment to policies which are friendly to data centres, including improved connectivity, use of green energy and support for autonomous cars.
The state secretary for transport described the data centre industry as "exciting and important for the future" during his keynote at Datacloud Nordic in Oslo, which brings together more than 400 business leaders and decision-makers from across the industry.
"We want both our green energy resources to benefit global connectivity and for Norway and the Nordic region to be well positioned in the global internet industry in the years to come," he said.
Many countries around the world have addressed the importance of cultivating digital industry, but Johannesson set out his case for what the Norwegian government is doing.
"The Norwegian government has already lowered the electricity tax and the budget proposal for 2018 is exciting also," he said. "It includes good news for the data centre industry, it is delivering further investments in global connectivity and connectivity to Norway, and change in the property tax."
"[The internet] has no opening hours, it's always open and involves mission-critical activities for businesses across all industries that are processed over data centre landscapes," he said, adding that it's Norway's duty to make sure connectivity is uninterrupted and seamless.
"I spend a lot of my time working on improving frameworks for telecommunications, data centres and other industries," he said.
"We also do a lot of work on IoT, we want to be more productive and IoT maybe can help. And to make it all work, we need data factories and we want them to run on green energy."
According to a Norwegian government report released in 2016, 98 percent of its electricity production comes from renewable energy, with hydro power the main source.
The report shows that Norway is the largest hydro power producer in Europe and the seventh largest in the world. The country is keen to promote this fact and the government believes businesses should take this into consideration when expanding their data footprint.
Alongside this, Johannesson shared the country's development of autonomous car testing laws, which he said is making its way through Norway's parliament now and will be voted on before Christmas. "Hopefully in 2018 we will have one of the world's best laws for testing autonomous driving," he added.
All things considered, the country hopes this will provide businesses across various industries with a lot of opportunities to accelerating digital transformation.
"Norway is ready for the future of connectivity," Johannesson said. "We do not know what the future will bring from products to services and so on, but we will be ready for it."
(computerworld)