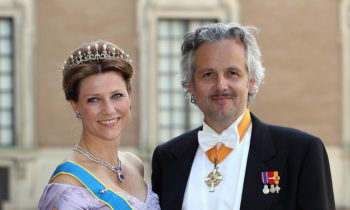 Princess Märtha Louise, fourth-in-line to the throne of Norway, is set to divorce her husband of 14 years, the writer Ari Behn.
The couple's separation is amicable, according to a statement made late Friday afternoon by the Royal House of Norway .
Both parents will share joint custody of their three daughters: Maud Angelica, 13, Leah Isadora, 11, and Emma Tallulah, 7, who'll continue to live with their mother and attend their current schools.
"The children need time to come to terms with this, to get their bearings and find their feet," the royal palace said in their statement.
"We are human," Princess Märtha Louise, 44, said in the statement, adding the couple had tried "everything in their power to make the marriage work."
"It's unspeakably sad for both of us to discover that the road ahead doesn't run as it once did. Like so many others, we've grown apart. We've tried everything over a long period of time … but it's impossible for us to go on," the princess said.
"We feel guilty because we can no longer maintain the safe harbor our children deserve," she said. "The marriage is over, but we stand together as parents."
The princess' own parents, King Harald and Queen Sonja, said the couple's separation was "painful and sad" but that they were grateful for everything they'd experienced together as a family, and would not leave their son-in-law out in the cold.
"We'll continue to enjoy a good relationship with Ari," King Harald and Queen Sonja said.
Behn, 43, hasn't commented publicly on the split, but it's thought that he'll settle near the family home in Lommedalen, 15 miles northwest of Oslo, so he can continue to be part of his children's lives.
The couple were last seen together publicly on official duty in June, when they were photographed holding hands during King Harald and Queen Sonja's jubilee celebration in Trondheim.
Shortly after their 2002 wedding the King granted Princess Märtha Louise the regal title of Her Royal Highness.
The princess, whose younger brother Crown Prince Haakon, 43, is heir apparent to the throne, is a trained therapist who currently supports herself through her own business Soulspring.
In 2014 Princess Märtha Louise, 44, attracted controversy for her outspoken new age beliefs. She has recently taken to writing about horses for a specialist journal.
(people)