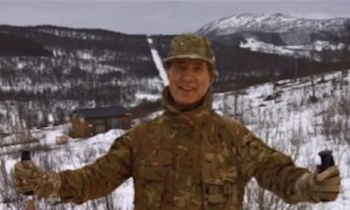 A SPECIAL guest joined the Royal Marines' cold weather training sessions in Norway last week as Rugby MP Mark Pawsey braved the arctic conditions.
Training included using military skis, learning how to break ice safely and surviving in sub-zero temperatures.
Mr Pawsey's visit was part of the Armed Forces Parliamentary Scheme – designed to foster links between MPs and the Armed Forces, and give MPs an understanding of military life and the challenges faced by soldiers.
Founded in the 1980s, the scheme has seen more than 250 MPs graduate from the programme which includes all three branches of the Armed Forces.
Last week marked the second time Mr Pawsey has participated in the scheme, having previously spent time in Afghanistan at Camp Bastian.
He said the armed forces did a tremendous job.
He added: "Conditions were very challenging at times, with temperatures often falling well below 0°C.
"However, the Royal Marines demonstrated to my Parliamentary colleges and I many of the survival skills that make them on of the most effective military units in the world.
"These skills included camping overnight in the freezing temperatures of the Arctic Circle."
In order to survive, Mr Pawsey had to construct his own survival shelter while learning how to prepare food and build a fire in an unforgiving environment.
Mark said: "If you can survive in the Arctic, you can survive anywhere.
"This is why the Royal Marines do their cold weather training in Norway.
"Rugby has a unique connection to the next generation of Royal Navy vessels through local company GE Energy, where key elements of the propulsion units for the new Queen Elizabeth Class Aircraft Carriers were manufactured.
"It was fascinating to find out more about the Royal Navy and the training they undertake in order to keep Britain safe."
Rugby is a market town in Warwickshire, England.
(rugbyobserver)