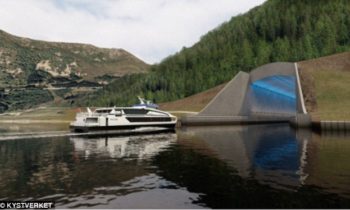 Norway has given the green light for the world's first ship tunnel so that cruise liners and other boats can make a shortcut through the fjords.
The project will cost 2.7 billion krone (£260million) but Norway – with its huge North Sea oil and gas wealth – can easily afford it.
The tunnel, through the Stad Peninsula, in western Norway, will be big enough to allow through the giant Hurtigruten cruiseliners, which ply between Bergen and Kirkenes.
The peninsula, which is 1,600 feet high and is dominated by the Tarvaldsegga mountain, is extremely windswept and hazardous and the tunnel will allow ships to shelter from the wind.
A recent review found there had been 46 shipwrecks and 33 deaths in the waters surrounding the Stad Peninsula since 1945.
Media reported that local Conservative MP Bjørn Lødemel called it a 'historic' decision.
The tunnel itself is set to become a tourist attraction in its own right when it opens in 2029.
Work is set to begin next year on the tunnel, which will be 148 feet high, 118 feet wide and a mile long.
The tunnel project was chosen, instead of a traditional ship canal, because of the environmental damage a canal would do to the peninsula.
It would allow through ships of up to 16,000 metric tons, including freighters and cruise ships.
Currently the Norwegian Coastal Express cruise ships and ferries sail into the town of Aheim on the Vanylvsfjord and then have to go all the way around the Stad Peninsula to reach Måløy.
But once the tunnel is complete they will be able to sail through the isthmus and come out near the island of Barmøya, saving not just time but also money.
The Norwegian government have now finally thrown their weight behind the project but it still has to be voted on by the country's parliament, the Storting.
The tunnel has been designed by architects Snøhetta, which designed the home of the Norwegian National Opera in Oslo and the new headquarters in Paris for the French newspaper Le Monde.
The tunnel will be built with a conventional blasting and drilling rig.
The rock which is blasted out to make the tunnel is set to be used to establish new commercial space in the surrounding area.
The Stad Peninsula is considered the boundary between the North Sea and the Norwegian Sea.
Norway has a proud record of building tunnels to overcome its difficult geography, which includes snow-capped mountains and long fjords.
The 15-mile long Lærdal tunnel, which opened in 2000, is the world's longest road tunnel. It is so long that motorists are encouraged to have a break at refreshment stops and caves are specially lighted along the way to prevent drivers falling asleep.
(dailymail)