Missing exiled Pakistani journalist Sajid Hussain found dead in Sweden amid sliding of Pakistan's ranking in RSF's Press Freedom Index.
Sajid Hussain, a Pakistani journalist and editor and founder of online magazine "Balochistan Times" was found dead on 23 April in the Fyris river outside Uppsala, Sweden. Hussain went missing from Stockholm for the last two months. He was last seen boarding a train to Uppsala.
Sajid left Pakistan in 2012 because of security threats from Pakistan Army and its intelligence service ISI and had been living as a refugee in Sweden since 2017. He was granted political asylum in Sweden.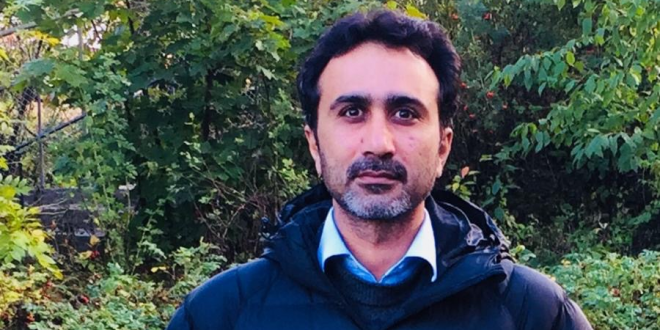 According to BBC, a press freedom charity had suggested Pakistani intelligence was behind Hussain's disappearance in early March. Reporters Without Borders had suspected ISI behind his abduction. His wife, Shahnaz Baloch, told The Guardian she had spoken to Hussain over the phone that morning and he had been in good spirits, discussing his plans to move to a new apartment in Uppsala.
As a journalist, Sajid wrote extensively on the suffering of the Baloch people. Reacting to his death, the newspaper team said: "We at Balochistan Times are deeply saddened by the demise of our dear friend and the founder of this magazine. We would like to extend our most sincere condolences to his family. Also, we express gratitude to his former colleagues, friends, journalists and rights organisations for speaking up for him after his disappearance. Sajid will forever remain in our thoughts."
Erik Halkjaer, head of the Swedish branch of Reporters without Borders (RSF), tweeted, "The family of the disappeared Pakistani journalist Sajid Hussain confirms the police in Uppsala have found his body. I send my deepest condolences to Sajids family. My thoughts are with them.
Baloch political activists, who reside abroad in exile, have expressed concern over the killing of Sajid Hussain. Stunned by the mysterious killing in Sweden, political and human rights activists have demanded proper investigations by Swedish authorities as they allege Pakistan's spy agency, the ISI, to be behind the incident.
Rights activists and journalists pointed out the failure on the part of Swedish authorities who granted asylum to the man and then failed to protect him.
The Committee to Protest Journalists (CPJ) and Reporters Without Borders have also condemned the killing of the Baloch journalist.
Mama Qadeer Baloch, a Baloch human rights activist said: "It is a sad news for us, renowned Journalist Sajid Hussain, the chief editor of
@BaluchistanTime is no more among us. The unfortunate death of Sajid left a vacuum in Baloch Society which will take years to be filled."
The journalist had previously worked with The News and Daily Times in Karachi in various positions. Pakistan is considered a dangerous place for journalists.
Balochistan is a resource-rich but the poorest province of Pakistan which has been facing decades-long conflict. Pakistan Army continues to carry out operations in the region with an aim to exploit its resources.
Thousands of Baloch people are victims of enforced disappearances and many were alleged to have been killed by Pakistani security agencies.
A large number of Baloch political activists, intellectuals, and journalists have left the Balochistan province in Pakistan after they faced life threats from the Pakistan Army and ISI. Balochistan province in Pakistan is one of the important place for China, where it is implementing its "One Belt One Road", violating rights of thousands local Baloch people in connivance with Pakistan government.
Interestingly, Pakistan ranked 145th position out of 180 countries in the 2020 "Reporters Without Borders( RSF) Press Freedom Index".
According to a report published in a Pakistani news paper "Dawn" on International Labour Day, attacks against journalists are taking place everywhere in Pakistan and that shockingly the state and its functionaries have emerged as the principal threat actor wielding the biggest stick to browbeat the media into submission amid the growing silence. The report further said that, personnel from television emerged as the largest victims of violence with at least 63 cases reported against its practitioners, followed by print media (25) as the second most targeted medium. However, none of the radio journalists was targeted.
The report said that in 42 per cent of the cases, the victims or their families suspected the involvement of various state agencies in them.
The other actors who were perceived as having issued threats were political parties, religious groups or criminal gangs, besides influential individuals.
"The screws on media in Pakistan are being tightened through various means of censorship, including murders, threats, and harassment, resulting in increasing silence and erosion of public-interest journalism," said Iqbal Khattak, Head of Freedom Network.