Up to 400,000 tonnes a year of carbon dioxide could be captured and stored at what is set to become the world's first full-scale carbon capture and storage (CCS) facility for cement production following a recent safety and quality certification of the proposed plant in Norway.
If it wins government funding, construction of the facility could start at the cement plant in Brevik in January 2021. Building the full-scale CCS system and operating it for five years is estimated to cost $1 billion.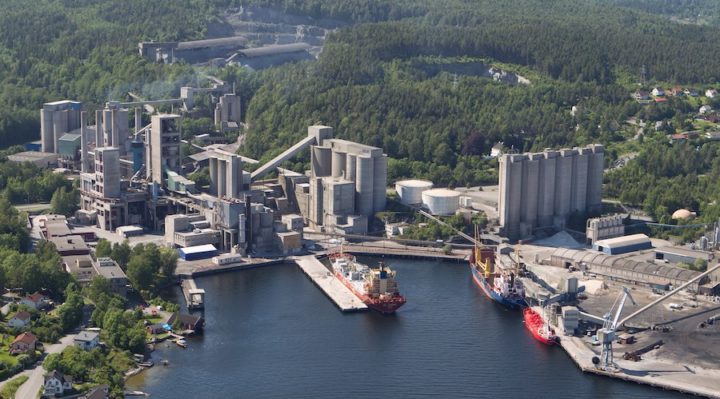 Cement maker Norcem has tested Aker Solutions's carbon capture at its Brevik plant for 18 months and now hopes to win government approval following a review this summer by state-owned Gassnova.
It's not the first company to pursue carbon capture at a cement plant. In Edmonton, Alberta, Lehigh Cement has launched a feasibility study on a full-scale CCS at its plant there.
If the Brevik plant goes ahead, half of its CO2 emissions will be trapped by the Aker equipment. The CO2 will then be shipped to the west coast, where it will be pumped in a pipeline to a storage well being developed 2,500 m below the North Sea bed at the Troll gas field, some 65 km off Bergen.
In a separate project for Gassnova, the Northern Lights consortium, led by state-controlled Equinor, completed a confirmation CO2 well at the Troll site in March.
Following an 18-month pilot application of the Aker technology at Brevik, the process has been certified by the quality assurance company DNV GL. In the absence of established standards for the novel use of CCS, DNV identified technological risks and mitigation measures and provided "an objective and third-party quality assurance," says its chief engineer Kristin Berg.
While CCS "is quite well known, the new element is to make it usable for cement plants," says Per Brevik, the cement company's director for sustainability and alternative fuels for northern Europe. Cement production accounts for about 5% of global CO2 emissions, according to Norcem.