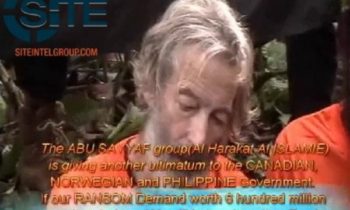 An Islamist group in the Philippines has released a video featuring two Western hostages whom it has threatened to behead if a 600m pesos (£9m, $13m) ransom is not paid by June. Canadian Robert Hall and Norwegian Kjartan Sekkingstad appeared in the clip released by Abu Sayyaf, a group that executed Canadian John Ridsde in April 2016.
Wearing orange jumpsuits, the pair are seen sitting in a jungle area backed by black-clad militants holding jihadi banners. "I appeal to my government and the Philippine government, as I have appealed before, for help," Hall says in the footage, adding that he would be decapitated if the ransom is not paid by 3pm on 13 June.
The Calgary man, his Filipino girlfriend Maritess Flor and Sekkingstad were kidnapped as Abu Sayyaf militants raided a tourist resort in the Mindanao region in September last year. With them was Ridsde, a 68-year-old oil executive who was beheaded on 25 April after the Canadian government failed to bow to similar threats.
After the killing, Canadian Prime Minister Justin Trudeau reaffirmed that, as with the US and UK, Canada's official policy was not to pay ransom money to terrorist groups. The latest clip was reminiscent of hostage videos released by Islamic State (Isis), to which Abu Sayyaf has pledged allegiance.
The new video came to light as Philippines president-elect Rodrigo Duterte urged Abu Sayyaf to give up arms, vowing that a time of reckoning was to come for the group. "There has to be a time when they have to surrender and account for what they did," he told a press conference, AFP has reported.