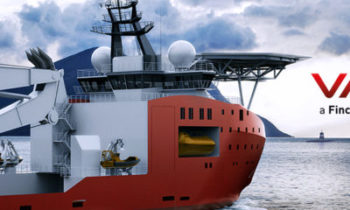 Norwegian company Vard are planning to build in Romania the hull of the 'world's best ship', which will cost of EUR 170 million to make. The cable laying ship, designed to conduct advanced underwater operations,  provides installation capacities at depths of more than 2,000 meters, and has a high capacity of cable routing on rotating platforms, the company announced.
With a length of 172 meters, the ship will be able to accommodate a crew of 120 people. The ship's design is made at Vard Drive in Alesund, Norway. Vard and Prysmian are currently working on completing the design. According to the contract, construction works are scheduled to begin by the end of this year. The ship is scheduled to ship from Norway's Vard Brattvaag yard in the last quarter of 2020.
The ship's hull will be built at the Vard site in Tulcea, and other group subsidiaries are involved in the project by delivering solutions, alongside the Italian group Prysmian, the world leader in cable and power and telecommunication systems.  The Italian company employs 21,000 employees in 82 factories in 50 countries, including Romania. Prysmian opened a new fiber optic cable factory in Slatina last year, following an EUR 22 million investment.
Earlier this year, Vard announced the acquisition of a contract for the construction of a machine and passenger ferry for the Norwegian operator Boreal. This will be the first 100 percent electric ferry built in Romania on the Vard site in Braila.
The Norwegians at Vard have nine production facilities, five in Norway, two in Romania, Braila and Tulcea, and one in Brazil and Vietnam. The company is one of the world's leading specialist shipbuilders and has around 9,000 employees.