Norled project manager tells Passenger Ship Technology about developing the supply chain to support its planned hydrogen ferries
Norwegian ferry operator Norled is leading the way in developing hydrogen-powered car ferries – one to be powered by liquid hydrogen and one by compressed hydrogen. These will be the first ferries powered by hydrogen in Norway.
The first ferry project saw Norled win a tender for a ferry with capacity for 80 cars, 10 trucks and 299 passengers, which will sail east of Stavanger in Norway between Hjelmeland, Nesvik and Skipavik. Three tonnes of liquid hydrogen will be stored on board and 400-kW fuel cells make up the energy system being placed on the top deck. "We are conducting in-depth risk assessments in liaison with the Norwegian Maritime Administration to demonstrate that the new technology is as safe as diesel-driven ferries," said Norled project manager Ivan Ostvik.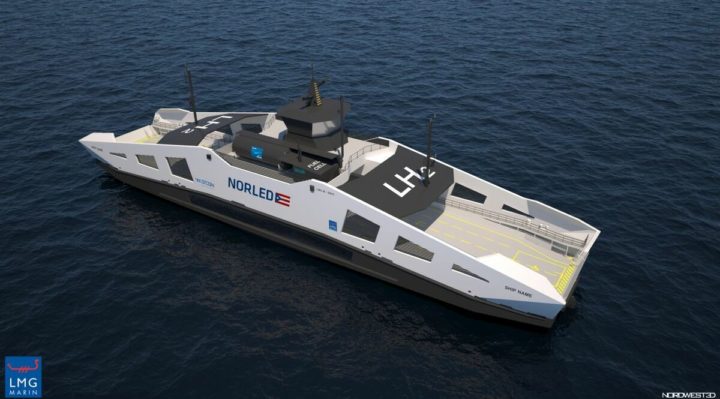 Norled said it had considered various technical solutions but came to the conclusion that placing the hydrogen tank on the upper deck was the best alternative, both for safety and practical reasons.
Norled is working closely with ship designer LMG Marin and partner Westcon Power & Automation.
The second ferry is likely to use compressed hydrogen, as the supply chain for LH2 is not developed in Norway yet, and Norled would like to have first-hand insight to both technologies. The investment decision to implement the hydrogen system for the second ferry will be taken towards the end of 2019 based on the technical and economical analysis being conducted.
Norled is working with partners to develop the supply chains and infrastructure needed for these projects, based on using environmental friendly produced hydrogen, so-called green hydrogen, to create a hydrogen supply value chain in Norway.
Mr Ostvik told Passenger Ship Technology "Blue hydrogen may be a solution for some shipping segments further on where natural gas is used to produce hydrogen provided the carbon capture projects can be realised". Currently blue hydrogen is not offered in the market place, whereas the green hydrogen projects could become a reality in Norway towards 2025.
Commenting on using liquid hydrogen for the first ferry and compressed hydrogen for the second, he said the first was because "tender requirements pushed us to the liquid solution – this had a better score on tender requirements". But the challenge is that liquid hydrogen is "hardly available" in Norway and must be transported from Europe. The first ferry does not consume large amounts of hydrogen so the logistics can be arranged, but for future projects in Norway production will be needed close to the ferry routes.
Mr Ostvik said "The benefit of using liquid hydrogen is that it carries four times more energy than compressed hydrogen in the same space on a car ferry, whereas compressed hydrogen is offered at a lower price than liquid in Norway at the moment". In the longer term, when production facilities for large-scale liquid hydrogen are established, it is expected that prices between the two forms will even out.
He highlighted how hydrogen complements batteries as the density of the battery technology is not enough to power car ferries and fast ferries sailing over longer distances and/or at higher speeds. Both ferry newbuilds at Norled will have a hybrid mix of batteries and hydrogen. The first project – the one using liquid hydrogen – will have an energy split 50/50 between batteries and fuel cells.
Norled is aiming to kickstart hydrogen use in the ferry and wider shipping sector. Mr Ostvik said "We are using these first projects to get the energy companies interested and present a future market for them… so that they can invest in hydrogen and its production in Norway and supply this to the maritime market."