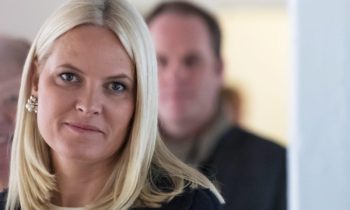 The Crown Princess of Norway has been experiencing a range of uncomfortable symptoms due to a mysterious condition that made her believe she was undergoing early menopause.
Princess Mette-Marit initially believed she'd begun early menopause after she started feeling dizzy and nauseated.
Norway's royal palace recently revealed, however, that she's suffering from a medical condition called benign paroxysmal positional vertigo, according to People.
"I turned my head quickly, and it was like the whole world began to move," she told Norway's P3 radio station.
"I began to sweat and felt nauseous — I thought I'd started early menopause," she continued.
Benign paroxysmal positional vertigo — also known as the crystal sickness — often leads to symptoms like the ones Princess Mette-Marit described such as nausea and dizziness.
The condition stems from issues within a person's ear and can lead to bouts of vertigo, according to the Vestibular Disorders Association. While the ailment is often temporary, it's known to come back in some people who suffer from it.
The princess was forced to cancel a scheduled appearance in November due to the disorder.
Mette-Marit has been Norway's crown princess since 2001. She has three children with her husband, Crown Prince Haakon.
(NEW YORK DAILY NEWS)