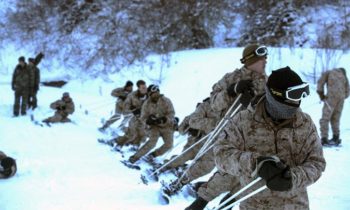 Oh boy, somebody in the winter sports segment is getting a serious military contract. As reported by the Marine Corps Times, a publication catering to active and retired Marines and established in the 1940s, the military will spend $7 million to replace aging ski equipment for its snow ops units mostly stationed in Norway.
According to the publication that spoke with military members with knowledge of the buy, the Marines will purchase 2,648 sets of skis, boots and bindings "for scout snipers, reconnaissance Marines and some infantry Marines."
"No Marine is going to leave here unless they know how to ski," Commandant Gen. Robert Neller told Marines in Norway during a recent visit. Apparently, with potential conflicts lingering in North Korea and Russia, the Marines "arctic preparedness," has recently come into question in military circles. Marine Corps Times also reported in April that the military segments' backpacks used for alpine maneuvering were in tatters.
The interesting aspect of the story is the gear. There was little info on what type of ski the military will purchase, but according to Military.com, the Marines will purchase the ASNES Combat NATO ski with NATO bindings. The skis were apparently developed specifically for the Norwegian military. It wasn't immediately clear if the bindings are of the free-heel variety or are able to be locked down like an alpine touring setup (has anyone introduced these guys to the good people at Dynafit). The Marines will begin purchasing the equipment during the second quater of 2018.
(theinertia)