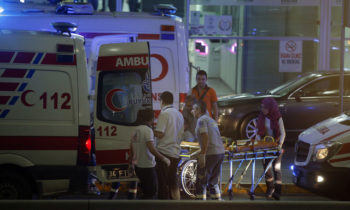 'I condemn the terrorist attack at Istanbul's Ataturk Airport on Tuesday 28 June in the strongest possible terms. Terrorists have once again targeted innocent civilians in Turkey. These cowardly acts must be met with abhorrence and intensified international efforts in the fight against terror,' Minister of Foreign Affairs Børge Brende said.
Ataturk, Istanbul's main international airport, was hit by several explosions and gunfire late Tuesday evening. So far, at least 36 people are reported to have been killed and 147 to have suffered injuries.
'I would like to convey my deepest sympathy to all of those who have lost loved ones and to those who were injured in the attack,' Mr Brende said.
'This act of violence shows once again the importance of international cooperation and solidarity against terrorism. Terrorism respects no borders. It is an attack on all of us, regardless of nationality,' said Mr Brende.
There have already been three suicide bomb attacks in Istanbul this year. According to the Turkish authorities, all these attacks – in which both foreign and Turkish citizens were killed or injured – were carried out by members of Isil.
By Wednesday noon, no reports had been received of Norwegian citizens having been killed or injured in this latest attack. The Norwegian embassy in the capital, Ankara, is doing its utmost to verify this.
(mfa)