The NordnesGruppen trawler Nordbas will feature a new bespoke hybrid power system designed by Blueday Technology which will be installed in the trawler at Kleven shipyard in Norway.
When deciding to rebuild Nordnes, NordnesGruppen decided to focus on reducing the environmental footprint of the renovated trawler and asked several companies to put forward proposals. Blueday's design covers the ship's automations and power system and uses the power generated by the Danish seine system's winches to regenerate the onboard energy storage system, or battery. The innovative system will mean that Nordbas could run on 100 percent renewable electricity for up to several hours.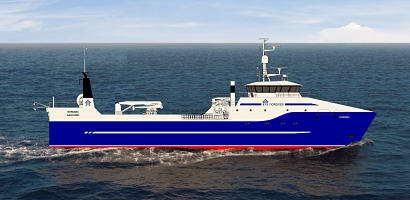 "Whoever has the ability has the duty – here we take a considerable responsibility when it comes to reducing our environmental footprint through reuse, energy optimisation, quality and utilisation of residual raw material" said Tormund Grimstad, General Manager of NordnesGruppen.
Mads Andreassen, Technical Superintendent at NordnesGruppen, added that Blueday Technology has experience and an excellent track record in advanced power system designs and that the company is confident that the design will meet expectations.