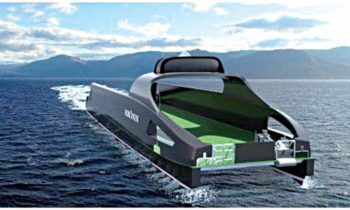 To safeguard lives and protect people from the hazards from the sea environment, United-Kingdom based, Automated Ships Limited, and Norway's Kongsberg Maritime, have signed a Memorandum of Understanding (MoU), to build the world's first unmanned and fully-automated vessel for offshore operations.
The historic project is expected to take off in January 2017, when Automated Ships will contract the vessel tagged 'Hrönn', which will be designed and built in Norway in cooperation with KONGSBERG. The vessel is expected to begin operations in 2018.
Sea trials will take place in Norway's newly designated automated vessel test bed in the Trondheim fjord, and will be conducted under the auspices of DNV GL and the Norwegian Maritime Authority (NMA). The Hrönn will ultimately be classed and flagged, respectively.
Hrönn will initially operate and function primarily as a remotely piloted ship, in Man-in-the-Loop Control mode, but will transition to fully automated, and ultimately autonomous operations as the control algorithms are developed concurrently during remotely piloted operations.
Automated Ships will be the primary integrator, project manager and ship-owner of this world's first fully automated and unmanned ship for commercial use.
The project will leverage existing technology to develop a robust, flexible and low-cost ship to become the market leader and offer not only a capable work-boat but provide an unparalleled research and development asset for the furtherance of this emerging industry sector.
Currently, only small unmanned boats are being utilised for near shore operations but there are no technical limitations to constructing large, unmanned and automated systems. The only impediments are regulatory, but with the participation of DNV GL and the NMA, and Norwegian and UK companies and institutions, it will be possible to rapidly and at low-cost be the first to market with a full-size unmanned ship.
Hrönn is a light-duty, offshore utility ship servicing the offshore energy, scientific/hydrographic and offshore fish-farming industries. Its intended uses include but are not limited to: Survey, ROV (Remotely Operated Vehicle) and AUV (Autonomous Underwater Vehicle) Launch & Recovery, light intermodal cargo delivery and delivery to offshore installations, and open-water fish farm support.
The vessel can also be utilised as a standby vessel, able to provide firefighting support to an offshore platform working in cooperation with manned vessels.
Automated Ships is currently in discussion with several end-users that will act as early-adopters and to establish a base-rate for operations and secure contracts for Hrönn offshore, in the near future.
The advantages of unmanned ships are manifold, but primarily centre on the safe guarding of life and reduction in the cost of production and operations; removing people from the hazardous environment of at-sea operations and re-employing them on-shore to monitor and operate robotic vessels remotely, along with the significantly decreased cost in constructing ships, will revolutionise the marine industry.
Managing Director of Automated Ships Ltd. Brett A. Phaneuf, said "the company will be at the forefront of that revolution, along with its many Norwegian partners,"
Head of DNV GL Maritime Research, Bjørn Johan Vartdal, said: "Research, innovation and technology development are at the core of DNV GL's business development philosophy. In general, we are widely involved in the qualification of new shipping technology. Increased automation combined with remote monitoring and control is an inevitable trend and has the potential to create safer and more efficient transport and operations at sea. This may lead to unmanned ships, as in this case, and the technologies involved also have the potential to improve the safety and efficiency of manned ships in the form of increased decision support and operational assistance. The contract that has been announced today is a brave initiative and a major step towards the realisation of these technologies, and we look forward to moving technology frontiers together with all those involved,".
(Guardian)