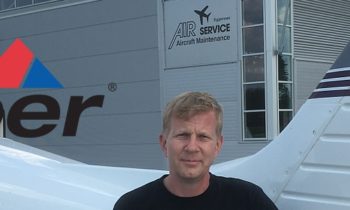 Danish-Norwegian aviation company Air Service Vamdrup with workshop facilities in Vamdrup, Denmark, and at Eggemoen, Norway, has been appointed as an Authorized Piper Service Center in Norway. The appointment means better service to Northern European and especially Norwegian Piper aircraft owners.
Air Service Vamdrup ApS, headquartered in Vamdrup, Denmark, and since May 2014 with a Norwegian 'branch' of the company at Eggemoen, aka 'Air Service Eggemoen', has just been appointed as an authorized Piper Service Center in Norway. The appointment means that the company is now closer to the US aircraft manufacturer Piper – and may now perform warranty work on Piper aircraft, has a hotline directly to Piper if help is needed, for e.g. troubleshooting, and that spare parts can be purchased directly from Piper etc.
– Basically, our new status as an authorized service center means that Piper owners can expect an even better service, Torben Biehl Jensen, Business Development Director of Air Service Vamdrup, explains. – There are many Piper aircraft in Norway, old as well as new, so we are pleased to be able to offer owners of these aircraft an additional service. Also, Piper is of course a good, solid product, one of the large, well-established manufacturers that have been active in the GA-market since people began building airplanes – so it's nice to get even closer to them, Torben Biehl Jensen says.
Air Service Vamdrup and Eggemoen work closely with the Danish aircraft sales company European Aircraft Sales, the official Piper dealer throughout Scandinavia, owned and operated by Katja Nielsen and Bjarne Jorsal. – European Aircraft Sales has identified us as the preferred workshop in Norway, and this in combination with our expertise and experience has made it clear for Piper to appoint us, Torben Biehl Jensen explains.
Piper aircraft, however, are by no means new in an Air Service Vamdrup context. – We have performed maintenance on Piper aircraft since our company was established in 1988 – for roughly 30 years, so we know these planes in and out and always follow up on the newest developments. The fact that warranty work and even better access to and closer co-operation with Piper is added to our services only strengthen our skills and dedication, he concludes.
Piper's small Archer DX diesel version, launched in 2014 and equipped with a Continental 2.0 S engine, is also one of Air Service Vamdrup's specific areas of competence. The company is in fact – in addition to now being an authorized Piper Service Center – also an authorized Continental Diesel Engine Distributor & Installation Center in Scandinavia.