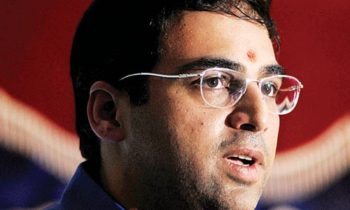 Viswanathan Anand has displayed excellent form to lead the ongoing Candidates Chess tournament. The winner of this event, which features eight of the world's leading grandmasters, will challenge the reigning world champion, Magnus Carlsen of Norway in the next world title match. The Indian grandmaster, who lost the world title to Carlsen in October 2013, is now the odds-on favourite to become the next challenger.
If Anand does indeed qualify here and goes on to reclaim the title he so recently lost, it would be the first such occurrence since 1961. It would be another huge achievement for the former world champion, who already holds many records. He is the only man to have won the title in three different formats and he successfully defended it thrice before Carlsen wrested it from him.
This tournament has been a great comeback for Anand, who lost 0-3 to Carlsen. He was not expected to recover so quickly from the crushing defeat inflicted by the 23-year-old Norwegian genius, and age was also not on his side. Studies show most chess players peak in their 30s when skill and experience are still allied to high levels of physical fitness. The average age of the top ten chess players is 30. At 44, Anand is, by far, the oldest player in that category. He was widely reckoned to be over-the-hill and his form has been uncertain for several years. Any serious sportsperson has a sell-by-date in competitive terms. As age catches up, the mind and body both cease to function optimally. Although chess is played sitting down, tournament chess is deceptively demanding in physical and mental terms. Preparation for a tournament requires disciplined physical training, as well as many hours of study and research. Otherwise, staying mentally alert and finding new ideas during play are simply not possible.
Each playing session can last seven hours, or even longer, and this requires an enormous reserve of energy. Stringent time controls mean that games are often played out with both players having to make a long series of moves with only a few seconds available. Telemetry studies show that players often have pulse rates running in the 140-150 a minute range for hours at a time. Apart from good physical conditioning, strong theoretical preparation and the sheer skills required, there is also the issue of nerves. Tournament chess causes enormous stress and tension since every player is aware that a single fleeting error could cost huge sums of money. Top players spend a lot of time trying to work out how to throw their rivals mentally off-balance by executing surprising moves or unusual strategic plans.
It is possible that Anand's form has recovered partly because he relinquished the burden of expectations along with the world title. He wasn't the favourite at the Candidates and he now has nothing to prove and no title to defend. A rematch for the world championship would be a bonus. Indeed, Anand has looked relaxed at the mandatory press conferences and played freely at the Candidates. Experts have also pointed out that Anand did an enormous amount of research for the world title match and some of those ideas are now being unleashed at this event. However he may have accomplished this rejuvenation and recovered his equanimity, it remains a remarkable feat. The grandmaster from Chennai would be the underdog if he does become the challenger again. But he would be playing without pressure and he might just pull off an extraordinary feat.
(business-standard)