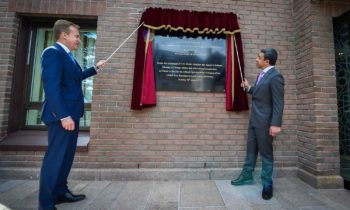 Minister of Foreign Affairs of the United Arab Emirates H.H. Sheikh Abdullah bin Zayed Al Nahyan, inaugurated the new headquarters of the UAE Embassy in Oslo, in the presence of Norwegian Foreign Minister Borgi Brende.
Sheikh Abdullah bin Zayed and his Norwegian counterpart unveiled the commemorative plaque on the inauguration of the new embassy building.
The UAE Foreign Minister said that the opening of the new embassy in Oslo reflects the keenness of the UAE government to strengthen bilateral relations with Norway, and further develop them to serve the interests of the peoples of both countries.
Sheikh Abdullah and Borgi Brende signed a memorandum of understanding on political consultations between the two countries, aimed at enhancing political dialogue and deepening multi-faceted cooperation between the two countries.
The event was also attended by Mohamed Ibrahim Aljuwaied, Ambassador of the UAE to the Kingdom of Norway, and a number of ambassadors of Arab and foreign countries accredited to Norway.