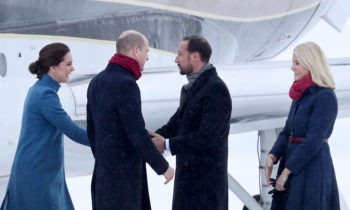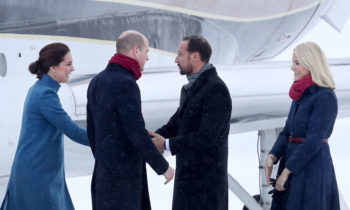 Even if you're royal, snow can still get in the way of travel plans! The Duke and Duchess of Cambridge were forced to change their schedule on Thursday due to the weather conditions in Stockholm. As a result, their first engagement at Uppsala Airbase in Oslo, Norway no longer went ahead. Kensington Palace announced the news on their Twitter account, tweeting: "Unfortunately the snowy weather in Stockholm today has meant that TRH's travel plans have had to be changed. This morning's engagement at Uppsala Airbase will not go ahead." Later in the day, William and Kate are due to meet the Norwegian royal family when they arrive in Oslo later, at a private lunch hosted by the King and Queen of Norway at the royal palace. The palace is currently closed to members of the public, but during the summer tourists are able to book tickets for a guided tour of the state rooms.
Prince William and Kate began their royal tour of Sweden and Norway on Tuesday, which kick-started with a penalty shootout at a Bandy hockey event in Stockholm. William – who scored the winning goal – scoring two over Kate's one – was very proud of his win, and later told the Prime Minister of Sweden Stefan Löfven and his wife Ulla during a meeting at the Residence of the British in Stockholm. The Duchess, who laughed and patted him affectionately on the arm, insisted: "I let him win." For the black tie dinner, Kate and William were joined by Crown Princess Victoria and Prince Daniel of Sweden, as well as Hollywood royalty. Among the guests were Oscar-winning actress Alicia Vikander and film star Stellan Skarsgard.
Wednesday was another action-packed day, seeing the Duke and Duchess visit the Karolinska Institute in Sweden, and enjoy an afternoon spent with Crown Princess Victoria and Prince Daniel and their two young children at Haga Palace. Following a quick change of clothes, all four royals enjoyed an evening celebrating Swedish culture at the Fotografiska Gallery. During the evening, William gave a speech, in which he praised the Scandinavian's outdoor lifestyle and way of thinking.
(hellomagazine)