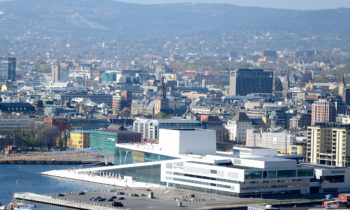 Oslo hangs in the balance. But, the xenophobic right is fairly and squarely defeated. Norway's local elections on Monday produced "a hung city," with the right coming first with 28 seats in the 59 member city council and the left 26. The kingmaker is the MDG party, with five seats and of green convictions.And the price for the prize of Olso may be the position of the Mayor. And the most motivated to accept the deal is the left since the right has held onto Oslo for 18 consecutive years.
But, if the Mayor of Oslo were to be a member of the Greens, Oslo would not just end up with "another Mayor," but with another kind of a Mayor. The Green party's candidate is Shoaib Sultan, a 41 years old migrant, from Pakistan, an environmentalist, and a former secretary of the Islamic Council of Norway. He came to Norway when he was one-year-old.
No society in Europe is neatly xenophobic or open and welcoming. Norway is no exception. There is a cleavage, which is now accentuated by a migrant crisis. But, unlike Denmark, Norway had a principled Labour Party opposition that did not succumb to the temptation of xenophobia and is now reaping the benefits of a swing in electoral mood.
The anti-immigration Progress Party — favoured by Anders Breivik — had its worst election results in 22 years, following its opposition to Syrian refugees that many voters condemned. In Olso, the following of the Progress Party has evaporated. It is nowhere to be seen. For the first time in years, xenophobic rhetoric does not make sense in electoral terms. In many respects, Norwegians argue, the game changer was the picture of Aylan Kurdi, the Syrian toddler whose body was found on the coast of Bodrum in Turkey.
The government's junior coalition partner gained 10% merely of the national vote, that is, their worst result since 1993. That is a blow to the Conservative Party government, which beyond criticism on the handling of the Syrian crisis, it faces rising unemployment and the consequences of tumbling oil prices. The big winner of these elections was the Labout Party of Norway, not merely electorally, but also in gaining the moral high ground.
(neurope)