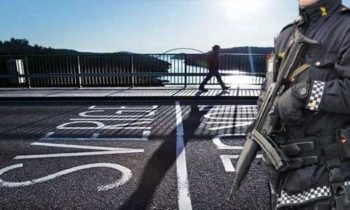 60 years after the Nordic Passport Union was established, Norway again introduces border control between the kingdom and neighboring countries. The Nordic Passport Union, established in 1955, allows citizens of the Nordic countries — Denmark (Faroe Islands included), Sweden, Norway, Finland, and Iceland — to travel and reside in another Nordic country without any travel documentation (e.g. a passport or national identity card) or a residence permit.
All Nordic countries have since 25 March 2001 also been within the Schengen Area; and Denmark, Finland and Sweden are also members of the European Union.
Essentially Nordic citizens are treated like local citizens in all these countries, at least for travel purposes. No identity documentation is formally needed in any Nordic country. Since 1955.
But now, 60 years later, the threat of Islamic terror is so severe that Norway again requires a passport to leave or enter the country – to or from Sweden.
– Anyone going in or out of Norway, either by ferries or on at Swedish border, must from tomorrow morning have valid identification, mainly a passport, said the Police Directorate, as they currently informed that from tomorrow at 08.00 there will be stricter border controls to Norway.
The control is primarily to check foreign nationals, but also Norwegians must be prepared to show identification papers.
– The same obligations apply regardless. Everyone must carry valid travel documents. Travelers must be prepared for vetting and to show identification papers when traveling to Norway, and the best proof is a passport. Nordic citizens returning with ferry to Norway, and brought no valid identification documents along, the police will exercise flexibility. But we ask that people bring their passport and travel documents, said Deputy Director of the Police Directorate, Knut Smedsrud.
The control is tightened at border crossings in Hedmark and Østfold and also at the ferries from Denmark, Sweden and Germany, and will initially last for ten days.
– Everyone should expect being stopped. It can be problematic not to carry valid ID, says Smedsrud.
But he stressed that the police will exercise flexibility towards Nordic citizens.