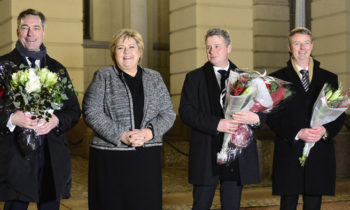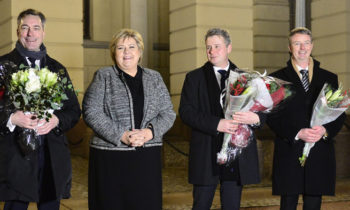 Norwegian Prime Minister Erna Solberg on Tuesday reshuffled her three-year-old government, replacing three ministers, ahead of next year's general elections.
Two of the new ministers were from the populist Progress Party. Per-Willy Amundsen replaced Anders Anundsen as minister for justice and public security while Terje Soviknes, a popular small town mayor, took over as petroleum and energy minister from Tord Lien.
Amundsen, 45, has generated queries over past remarks criticizing immigration and whether climate change is man-made.
"This government is not shifting politicially due to the change of ministers," Solberg told reporters after a formal cabinet meeting with King Harald.
She said the government platform and agreements with two centrist parties it works with were key for the government's political course.
One of Anders Anundsen's final tasks as justice minister was Monday to unveil a plan to almost double jail terms to 40 years for very serious crimes.
Frank Bakke-Jensen of Solberg's Conservative Party, and a member of parliament, was named new minister for handling ties with the European Union, replacing Elisabeth Vik Aspaker. Norway is not a member of the bloc.
The right-leaning coalition was formed in October 2013. It lacks a majority, but has secured agreements with two centrist parties in parliament that allows it to operate. Elections are scheduled for September.
Trine Skei Grande of the Liberals that provide support for the government said the appointments suggested "a swing to the right."