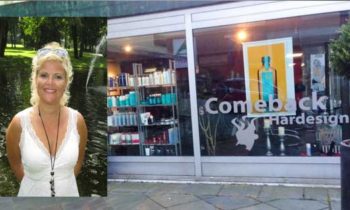 Merete Hodne, who owns the hairdresser salon 'Comeback Hårdesign' in the town of Bryne in Norway, plain out refused two hijab-wearing women entrance to her hair salon, according to the local newspaper Jærbladet. After the incident she wrote about it on social media."Just recently I refused to let two hijab-wearing women enter my salon. I do not want evil through the doors where I can decide. Lawful? Maybe not. But we still have freedom of speech, or?", Hodne wrote as a comment on a post by the Norwegian Pegida leader Max Hermansen, on Facebook.
In the Salon's entrance there is a sticker which says "We cut all", meaning both adults and children, men and women. Yet she refused the two hijab-wearing women access.
On her own Facebook profile Hodne writes:
"I cut all – by that I mean all those who belong to our community. Men, women, children. Hijab wearing trolls are not included and do not belong in our society."
This post received numerous likes, comments and shares.
According to Jærbladet, Hodne was previously known to have a role in the organization "Stop Islamization of Norway". She also has had an involvement in the anti-Islamic political movement Pegida, and she has made speeches at demos by the Norwegian Defence League (NDL). Hodne was also portrayed in the mainstream newspaper VG's series: "Net Warriors", where she spoke out about her hatred of Islam.
Hodne tells Speisa that she has not yet been reported to police for racism, even though she told the two women that they were free to report her.
"Go ahead, report me. You are crazy."
– A trial next? I have no idea. I might get a letter in the mail one day. I stand for my opinions regardless, she says to Speisa.
She also wants to emphasise that this has nothing to do with racism:
– I have many dark-skinned friends, so this has nothing to do with racism, but opposition to an ideology I strongly oppose.
– I have also rented an apartment to a Christian Eritrean man.
There are many Muslims at Bryne, she says, and that "It's almost just people like that we see in the streets at mid-day".
– My nearest neighbors are Somalis. The 3-4 year old child wears the hijab. It's sick!
– I feel that I really have no choice but to oppose this ideology, and I'm in it with both hands and feet.
(speisa)