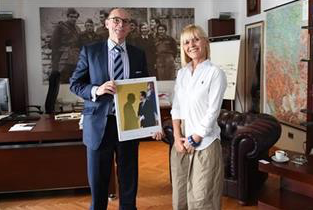 Norwegian Ambassador to Serbia Arne Sannes Bjornstad visited the Tanjug News Agency on Thursday.
The Norwegian diplomat spoke with Tanjug Director Branka Djukic about the Serbian media scene and Tanjug's role therein, as well as in the regional media scene.
Djukic acquainted Bjornstad with the capabilities of the national news agency and, in particular, its photo archive of around three million negatives.
Dating back to 1912, the archive is one of the richest in the region.
With much interest, Bjornstad viewed the part of the archive that is permanently exhibited at the agency's headquarters in Belgrade.
Djukic presented to him a photograph he wished to have in his collection.