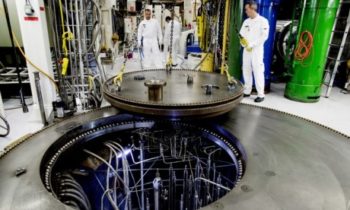 Operation of the Halden research reactor in Norway beyond 2020 will require significantly increased funding, a preliminary report of a strategic review on the reactor's future operation has concluded. The Institute for Energy Technology (IFE), which operates the reactor, said it will make a decision in late June on Halden's future.
The Halden project is a joint undertaking of national organisations in 19 countries sponsoring a jointly financed programme under the auspices of the OECD Nuclear Energy Agency (NEA). The programme is financed by the participating countries and is renewed every three years. As the host country, Norway covers about 30% of the programme cost.
The Halden nuclear fuel and reactor material testing reactor – which started up in 1959 – runs at a maximum power of 25 MWt and contains numerous test positions, thus providing flexible test conditions. About 30 test rigs are currently installed in the reactor core. A number of in-reactor loops are installed for performing experiments under prototypical coolant conditions. These loops are in particular utilised for corrosion and stress corrosion studies and for water chemistry investigations.
Halden's current operating licence expires at the end of 2020. IFE is required to apply for a licence renewal this year.
IFE said over the past months it has conducted an extensive strategic review of the future options for the reactor.
"The strategic review has been based on a thorough evaluation of the investment requirements, operational risk assessment and prospect of new business opportunities for the reactor, including work to establish a new fee model for the Halden Reactor Project led by the OECD-NEA," IFE said.
The preliminary report of the strategic review was discussed at the 24 April meeting of IFE's board of directors.
"The strategic review concludes that further reactor operation will require substantially increased financial funding and guarantees in excess of what IFE is able to provide," IFE said on 27 April. "On this basis, IFE's board decided to initiate a discussion with the Norwegian government regarding future funding of the nuclear operations at IFE, including the process and financing of decommissioning of the Halden reactor."
IFE said its board will meet again on 27 June "to make a final decision about the way forward" for the Halden reactor.
"IFE and Norway remain strongly committed to the Halden project, and IFE would therefore like to investigate the possibility for reshaping the OECD Halden Reactor Project, particularly the Fuels & Materials part, to continue also in the event that operation of the Halden reactor is discontinued," IFE said.
(Researched and written by World Nuclear News)