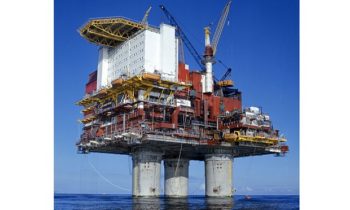 A North Sea platform was shut and half its workers evacuated after an oil and gas leak. The incident happened on Saturday afternoon on the Statfjord A platform, one of three platforms in the large Statfjord oil field on the UK-Norway border. Following the discovery of the leak, 168 members of staff were evacuated to platforms B and C by helicopter.Kjetil Visnes, a spokesman for Statoil – which runs the oil field, said: "The leak was reported at about 4.40pm. It had occurred some 10 minutes before."
There were no reports of injuries, he said, and the incident was over by 6.20pm.
It is not clear when output will resume. The spokesman declined to say how much oil and gas the platform was producing at the time.
It is the second leak at the field this year. In October, 345 cubic metres of chemicals and drilling fluids leaked from a well connected to the Statfjord B platform.
Statoil said it was implementing new safety measures after it was reported to Norwegian police by Bellona, the environmental group, over the incident.
The Statfjord field, one of the largest in the North Sea, lies 110 miles from the Norwegian coast.
The Statfjord field produced 129,000 barrels per day in December, or four million barrels for the month, and was expected to produce the same amount in January, according to loading schedules compiled by Reuters.
The oil field is due to be decommissioned in 2020.
(telegraph)