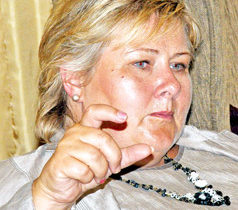 The Norwegian Prime Minister, Honorable Erna Solberg who was in the country delivered the Lakshman Kadirgamar Memorial Lecture 2016 on Friday at the Kadirgamar Institute on, 'Sustainable Development Goals: Working together for the common good'. Prime Minister Solberg was appointed by The Secretary-General of the United Nations Ban Ki-Moon, to co-chair the UN Sustainable Development Goals committee.
The Prime Minister sat down for an exclusive interview with the Srilankan Sunday Observer to share her thoughts on the current reconciliation process and the development Sri Lanka is heading towards. The excerpts are as follows;
Q: Is Norway playing any role in the peace process 'post-war' to settle the ethnic problem? If so in what way?
A: No, we are not playing any role in that settlement. It's something that has to be worked on by Sri Lanka's government and the opposition and the different ethnic groups of sorts.
I think there is a moment now for Sri Lanka to rebuild the future, but you have to build it through your parliament, through your processes, through the agenda that has been settled in Sri Lankan Politics. We can help in other ways for instance, economic development, expertise, fisheries and we have discussed about renewable energy and all of those things. But the reconciliation process, the constitutional process should be within the country.
Q: Are you aware that many Sri Lankans see Norway as being influenced by migrant Sri Lankan vote banks in Norway and that your country is biased towards one of the ethnic communities in the Sri Lanka ethnic conflict?
A: No, I don't think we are. I think we are very concerned about the fact that you should find a way to live together in Sri Lanka. Yes, we have both Sinhalese and Tamils in Norway. Norway worked on Development aid and Fisheries before the unrest started and there were lots of people who were offered scholarships and were students in Norway at the time.
So that's the reason why there are many from the Jaffna area. It is because that's where we had our projects. I don't think our policies are biased towards any ethnic group. I think we are very concerned that you should use this opening, this window of opportunity that the country has now for making sure that you can find a balanced future between the religions and ethnic groups. And it's extremely important for the economic development of Sri Lanka, that international investors feel secure for their investments to get all that co-operation.
Q: Will Norway support the reconciliation measures currently being taken by Sri Lanka, at the UN?
A: We have been actively following it because we have a keen interest in what's happening in Sri Lanka. As I said it's important that it's mainly by Sri Lanka and is a positive move.
We have supported initiatives earlier on in the Human Rights Council and we feel that the government now is trying to find good ways for Sri Lanka to move forward. Hopefully, it will continue in that path. Norway is concerned about Human Rights in all countries of the world.
We believe very strongly, and I have been speaking about 'Sustainable Development Goals' today, and we believe very strongly that the 'SDG -16' is about Rule of Law, about institutions about peace and reconciliation. It's a need if we are really going to achieve these SDGs.
Q: In the past, Norway was continuously involved in the peace process but failed on several occasions. What reasons do you attribute to this?
A: No country can mediate peace conflicts if the partners don't want it. Norway didn't fail. I don't believe in that. I believe that at that time it wasn't possible to achieve. And no one outside the country can create peace or create that type of development.
It had to be done by the partners themselves. We were trying to help where we can, but we strongly believe it has to be done by the partners in a conflict. It's sometimes easier when someone else helps on the way too.
We have some international seminars in Norway and we invite people to come and speak about peace process in their different conflicts around the world and they could talk about their successes and 'not so successful' experiences.
I think it's about finding that moment when people are tired of conflict and willing to compromise to make a new future for the country. And I hope Sri Lanka is there now.
Q: After the conclusion of the war the west has been pressing for accountability. Do you still insist on that?
A: I think we cannot compromise on the fact that after a war there are allegations on civil casualties, that you should investigate into those activities and see if there have been activities outside of the rule of international law. I think you always have to scrutinize. The understanding of most post war countries is that if you don't look into those, if you don't find answers it would be very difficult to get into reconciliation and a new start. It's more important for Sri Lankans themselves to do this. I am very happy that the government passed the Bill yesterday on the Office of Missing Persons, because that's among the issues raised earlier in the international community, for people to know 'what happened to my family?' in the last period of conflict.
Q: Are you satisfied with the direction in which the Sri Lankan government is moving as regards the proposed judicial mechanism to probe military excesses during the war?
A I think the most important part is that both parties in the conflict feel that the mechanism is fair. It's not that it has to be international or it has to be local, it has to be felt that it's transparent and fair, and that they have scrutinized it. So, procedural rules, system of allegations and how you look into things is the most important part. And, if you can make agreements on how you do that locally, I think that's acceptable. If not, sometimes you need an international body or international observers to participate in that type of procedure, but you don't have to do it. It's about getting all sides agree to that and have a transparent process.
Q: Does the UN Human Rights Council resolution explicitly insist on foreign judges participating?
A: No, they are not explicitly insisting on it. But, they would like to have. They have insisted on it earlier on, and they have also asked the Sri Lankan government to put up this type of system, and the Sri Lankan government has said they will put up that type of a commission. If this is going to be a real reconciliation the people have to feel that they have been heard, and that their case has been looked into.
Q: The government has now passed the Act and established the Office of Missing Persons, and there is a lot of criticism from sections of the Parliamentary Opposition. Do you see the Missing Persons probe as a measure against the Sri Lankan armed forces as claimed by the opposition?
A I think this is a Sri Lankan issue that I shouldn't go into. I think in all conflicts you have to look into both, what the government does and the opposition or the military activists on the other side have done. But it's how this body is put up and what it is aimed at. I've understood that it's still undergoing discussion. I think it's up to the Sri Lankan government. If you manage to make a compromise between the different parts of the society, I think it will be good.
Q: How can, in your view, a judicial mechanism to probe past deeds help Sri Lanka in the long run?
A If you look at what happened in South Africa after the apartheid you can see that finding the truth was more important than punishing people. You see that in a lot of post conflict areas, that finding the truth, knowing what had happened to your loved ones is more important. You see it in Latin American countries after the different dictatorships during the 70s and the beginning of the 80s. When you still don't know what happened to your child it's difficult to mourn. Did they die? How did they die? And it helps to mend things to see that they are not just forgotten but is looked into. And in all conflict areas there are things that are done not in line with international law because of the way the conflicts are, but getting to know what happened is important.
This morning I met a Norwegian family that was here, an elderly man with his children and grandchildren. His father died here in 1943. They have been looking for his grave and have found in 1994. They have come back now again. And it's not just to be told that someone's father died during the Second World War on a ship in Sri Lanka and there's a grave somewhere. But, knowing that the grave is there, knowing that it's been taken care of is important. It happened over 70 years, but it gives a picture of how important it is for people to know.
Q: The country is currently facing severe financial crisis and is in dire need of investments and economic support. How can Norway help SL in its process of reconciliation with this in mind?
A I think one is, to make sure that you have a transparent policy on investments and economical aspects. It's difficult to get investments if you don't feel that a transparent economic system is available. The second is, the peace process is a very big part of this. Because, if you don't feel that the country is moving forward on security issues and that you are solving the difficult history you have had, people will be reluctant to do long term investments in Sri Lanka. So, I think the whole process that you now have of getting a new start and investments go hand in hand. There are lots of good things in Sri Lanka, highly educated people, and of course it's a beautiful place for tourists. I have had the pleasure of experiencing it as I have been here for a week as a tourist, we have a lot of natural resources, there are lot of things to build on. But transparency in the policy making and the rules and regulations for long term investments is important. So I think this process of introducing a new constitution is a new beginning for Sri Lanka in a way. It's part of getting the economic investments flow into the country too.
Q: What was the result of the bilateral talks held this morning with the President and the Prime Minister?
A We discussed fisheries, where we are working on assisting technicalities to increase the output and the efficiency in the fisheries industry. Norway is of course a large fishing nation. We have discussed renewable energy, the political situation and the whole reform process that's in Sri Lanka. I think that the parties are trying to move ahead.
Q: Does Norway have any investment plans in Sri Lanka?
A Investments from Norway are done by the companies themselves. We know that there are Norwegian Companies that say they could be interested in solar energy in Sri Lanka and they are already looking at that. We have our sovereign fund invested in 12 different companies in Sri Lanka.
That is an approval, because they would not go into countries that they feel is difficult to withdraw if the need arises as they are very conservative investors. I think it's a good stamp for Sri Lankan policy making that they are investing in companies in Sri Lanka. We also have some large shipping companies that are looking into the possibilities with the new harbour system. I think it's an interesting place to invest in.
(sunday observer)