"Kleptocrats have ruled with impunity and stolen for decades because of individuals like these," said Sigal P Mandelker, the US Treasury under-secretary for Terrorism and Financial Intelligence who briefed the media on the imposition of sanctions under the Magnitsky law said during a tele-press conference on Friday.
"As you may know, we don't comment on why we do or not take action against certain individuals," said Mandelker, adding there was a long-standing practice prohibiting commenting on the kind of action they might take in future. She made the remarks a day after the US imposed sanctions on the Gupta brothers Ajay, Atul and Rajesh, and their business associate Essa.
This meant all their properties and financial interests in the US will be frozen and ensure that they or their companies will not be able to do business in the US, which accused them of using their close proximity to Zuma to raid the state purse.
The Guptas, who are business partners of Zuma's son Duduzane, stand accused of running a parallel government designed to advance their businesses, with Zuma allegedly ceding much of his power, including that of firing and hiring ministers and influencing government policies, to them.
"The Gupta family leveraged its political connections to engage in widespread corruption and bribery, capture government contracts, and misappropriate state assets," said Mandelker on Thursday. On Friday, she said the US will continue to hold corrupt businesspeople who use their proximity to politicians to engage in corrupt practices.
She bemoaned corruption for weakening democratic institutions and undermining the rule of law the world over, saying the department is determined to stop kleptocrats from stealing from the people.
The Gupta family and other kleptocrats would no longer be able to use the US financial system to "hide and clean their money". However, Mandelker would not say whether the Guptas have any assets in the US. "We don't comment where assets are specifically held."
Mandelker commended the "extraordinary work" by civil society, whistle-blowers, investigative journalists and NGOs in exposing the Gupta corruption, saying: "We will continue to impose tangible consequences on kleptocrats and well-connected elites who steal from their people."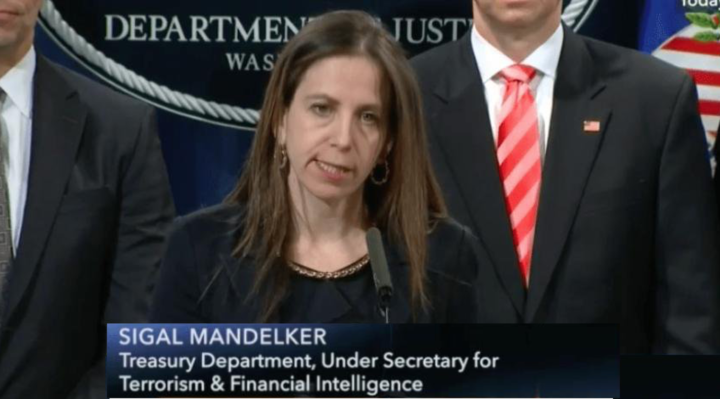 Below is a full rush transcript of the press conference with Under Secretary for Terrorism and Financial Intelligence Sigal P. Mandelker U.S. Department of Treasury.
Under Secretary Mandelker: As you may – as you may have seen both today and – this morning our time and yesterday, we took two separate actions related to sub-Saharan Africa under our Global Magnitsky Sanctions authority, which targets human rights abuse and corruption. First, OFAC, the Treasury's Office of Foreign Assets Control, took action today against a network of South Sudanese businessmen engaged in massive corruption that includes millions of dollars in bribery, kickbacks, and fraud. Second, yesterday OFAC sanctioned members of the Gupta family, who have operated out of South Africa and elsewhere, and their associates for engaging in corruption, bribery, and misappropriation of state assets. Those separate actions both send a resounding message. Treasury and the United States will continue to hold well-connected elites and corrupt government officials accountable for stealing from their people and breaking the public trust.
What we are looking for is real, significant change on the ground where corruption isn't the norm, where violence doesn't pay. First, though – first I want to take a moment to explain Treasury's focus on addressing corruption and human rights abuse and why we have put such emphasis on using all available tools, whether sanctions, advisories, technical assistance, or multilateral outreach to address these endemic problems.
Serious human rights abuse and endemic public corruption undermine the foundation of stable, secure, and functioning societies, financial inclusion, and ultimately, economic prosperity. They devastate individuals, weaken democratic institutions, and degrade the rule of law. They perpetuate violent conflict and undermine economic markets.
Kleptocrats around the world over have ruled with impunity and stolen from their people for decades because of individuals like those we have designated yesterday and today. Such individuals use a combination of business and financial acumen and political bribery to prop up their patrons and hide the spoils of war. Our role at the Treasury Department is to expose the action of those in power and prevent such kleptocrats and their facilitators from using the U.S. and global financial system to hide and clean their money.
We look to impose financial consequences on those like the Guptas or Al-Cardinal, who think that they can escape with the ill-gotten profits from corruption, cronyism, and criminal activity. We focus not just on taking financial sanctions against corrupt individuals, but on rooting out entire transnational networks designed to evade oversight and enforcement. We advance standards that build strong, transparent financial systems and oversight mechanisms. We engage with partners, financial institutions, NGOs, and international standard-setting bodies like the Financial Action Task Force to identify reforms that enhance transparency and prevent future abuse. Our goal is simple: to support this generation of people, whether from South Africa, Sudan, DRC, or elsewhere, who clearly and firmly state that they have had enough of the past corruption and violence.
Turning to South Sudan, our goal is a healthy South Sudan where corruption isn't the norm, violence isn't tolerated, and the state can be trusted to invest in its people. To that end, today we sanctioned corrupt businessmen Ashraf Seed Ahmed Al-Cardinal and Kur Ajing Ater for engaging in bribery, kickbacks, and procurement fraud. Al-Cardinal's corrupt global network has looted state coffers with impunity, often with the complicity of senior government officials.
For example, in the area of sanctions evasion, Al-Cardinal held overseas bank accounts that enabled a government official to deposit and store personal funds they hoped would be beyond the reach of U.S. sanctions. And you can see more details of this in our press release. In another example, Al-Cardinal lined his and other senior officials' pockets with the proceeds of a government contract that was intended to supply food, supplies, and provisions to South Sudan.
Separately, we also designated Kur Ajing Ater. He bribed key officials in the South Sudanese Government to maintain influence and access to the country's oil market. His schemes ensured the complicity and silence of senior officials and decision makers.
In a war-torn country like South Sudan, such corruption and bribery undermines efforts to bring lasting peace. Privileged elites cannot be allowed to profit from deaths, violence, and conflict while people suffer from their malfeasance. The South Sudanese Government must take urgent measures to increase transparency and enforce accountability in the face of systemic corruption.
In South – related to South Africa, again, yesterday we sanctioned multiple members of the Gupta family, which has engaged in widespread corruption and bribery, won inflated government contracts, and misappropriated state assets. The family has been implicated in a series of corrupt schemes, allegedly stealing hundreds of millions of dollars through illegal deals.
In one example, the Gupta family strategically overpaid for government contracts, then funneled a portion of the overpayments into donations to a South African political party. In another example, the Gupta family paid money to a South African Government official in exchange for the appointment of other cronies' family to the Gupta family business interests.
This action supports South Africa's ongoing anticorruption efforts by its independent judiciary, law enforcement agencies, and the judicial commissions of inquiry. Moreover, we commend the extraordinary work by South Africa's civil society activists, investigative journalists, and whistleblowers who have exposed the breadth and depth of the Gupta family's corruption. Similarly, we commend the work of NGOs in the case of Al-Cardinal.
Treasury's coordinated actions against Al-Cardinal, the Guptas, and other racketeers in sub-Saharan Africa reflect our longstanding commitment to ensuring that corruption does not pay. We will continue to impose tangible and significant consequences on kleptocrats and well-connected elites who attempt to steal from their people as we seek to protect the international financial system from abuse.
Question: What are some of the major actions that your office will take against these individuals you have just mentioned that you are taking – you are sanctioning them because they were accused and involved into corruption system in South Sudan?
Under Secretary Mandelker: So the way our sanctions work is that any assets that they might have in the United States will be blocked. Similarly, any U.S. persons are prohibited from dealing with them. And I would also say that many financial systems, institutions around the world pay very careful and close attention to our OFAC sanctions authorities and follow suit.
Likewise, as we always do, we'll be working with other global counterparts to ensure that they are protecting their financial systems from abuse from these kinds of actors.
Question: I just wanted to ask you in practical terms if you can give us an idea on what these sanctions will mean for the Gupta brothers and their associates. Do they hold significant assets that you are aware of in the U.S. or is this in a sense just a kind of just-in-case measure?
Under Secretary Mandelker: We don't typically comment in connection with where assets specifically are held, but I would just answer in the same way that I answered with the prior gentleman. When we impose sanctions on entities and individuals, they quickly find that they have a lot more difficulty doing business around the world because legitimate institutions do not want to find themselves enmeshed with individuals who have engaged in wide-scale corruption.
Question: "Sudan is calling for the U.S. to lift sanctions against them. Can you tell us what the procedure is to lift the sanctions and where and how you are reviewing the process?"
Under Secretary Mandelker: So that is actually a State Department authority. It's their designation under the State Department's terrorism-related authorities, and so I would just ask you to refer that question directly to them.
Question: How much of a threat to U.S. national security does the Seychelles' opaque offshore sector pose? And would the U.S. ever consider imposing financial sanctions on Seychelles if its government is not seen as taking sufficient measures to combat money laundering and financing of terrorism?
Under Secretary Mandelker: As you may know, Assistant Secretary Marshall Billingslea, who works in my organization, is in the Seychelles or he's on – he's maybe on his way back. I'm not sure.
Look, we look forward to working closely with the Seychelles Government to make sure that they do, in fact, have strong anti-money laundering and counterterrorist financing authorities, in line with FATF – with FATF standards. It's been a very – it's been an objective of my organization for many, many years to work with countries all over the globe to ensure that they have those kinds of strong authorities. And I won't comment specifically on the Seychelles but I will say that any jurisdiction that has less controls is subjecting themselves to being taken advantage of by a wide range of illicit actors, whether it's in the human rights area, in the kleptocracy area – often those two come hand in hand – whether it's terrorist financing, proliferation financing, narcotrafficking, other areas, human trafficking, among any others. It's – and we strongly believe that it's incumbent on all countries to make sure that they have the right – not only the right standards, AML/CFT and sanctions regimes in place to keep that from happening, but also to make sure that they are very strongly and effectively enforcing those standards.
Question: "What counterterror efforts is your department engaging in to disrupt terrorist financing in the Africa Sahel region, which has been the center of the surge in deadly terrorist extremist attacks over the past year?"
Under Secretary Mandelker: Look, we have taken a number of actions in the region against terrorist financiers, including in connection with ISIS, including in connection with Hizballah and other terrorist groups. The other thing that we do in addition to issuing sanctions is, again, we work with those governments to make sure they understand what the threats are, and that we have strong and productive relationships to counter – to counter those threats, and also that they have the very standards that I just mentioned.
So we've done a tremendous amount of work in Africa. For example, on all of these fronts, whether it's on the terrorism financing front, in connection with North Korea, in connection with Hizballah, ISIS, and of course our very strong and active program related to human rights and corruption.
Question: The South African case, none of the individuals named are government officials. Presumably, a corrupt act takes place between a corruptor and a corruptee, and I'm interested in what was the rationale for not including government officials, and for that matter, why not include – why not including other organizations, other companies, some of which are based internationally?
Under Secretary Mandelker: As you may know, we don't comment on why we do or do not take action against certain individuals. Of course, historically, we have used these tools a number of times to sanction government officials. We have also found that it – and I know of your terrific work –we have also found that going after the money men, the financial facilitators, not just individually but also their companies, as we have done in both of these actions and many other times, can have a real significant, significant impact because not only does it cut off their ability to access the financial system in wide regard, not only does it block their assets, but it shows to those financial facilitators and the government officials that they are often working with that there are real, serious costs to continuing to engage in that behavior. And as I've made clear many, many times, we will not hesitate to take action against whether it's the government officials themselves or the financial facilitators and their vast corrupt networks.
So I'm not answering your question directly about why we did or didn't do – go after particular actors in this action. But I think if you look at the history of our program, you'll see that we have done that time and again, and we think it's very important to do so.
Question: I just want to find out as to what kind of action is the U.S. going to take against the companies that are also implicated in state capture. I mean global consultants like Bain and Company, and McKinsey, Hogan Lovells. Thank you.
Under Secretary Mandelker: Again, we simply don't comment on – it's not something that we can comment on.
Under Secretary Mandelker: I wanted to just again reiterate how much we appreciate the work of NGOs on the ground who have – in connection with a lot of different actions, whether it's in this region or otherwise, who have provided – always provided us with tremendously useful information. And similarly, I know that there are many human rights activists in the area who have done so at grave risk to themselves. We are humbled by their service, and this is going to continue to be a program that we are extremely committed to. So thank you so much.