Want a world-class legal system known for its integrity? Then go to London and get one, judges and all. That's what Kazakhstan has done.
When businesses are looking to invest abroad, the availability and dependability of legal redress is a critical consideration. Should things go wrong, companies and hedge funds want to know if they can resolve matters in court, and that their cases will be heard in an impartial and timely fashion.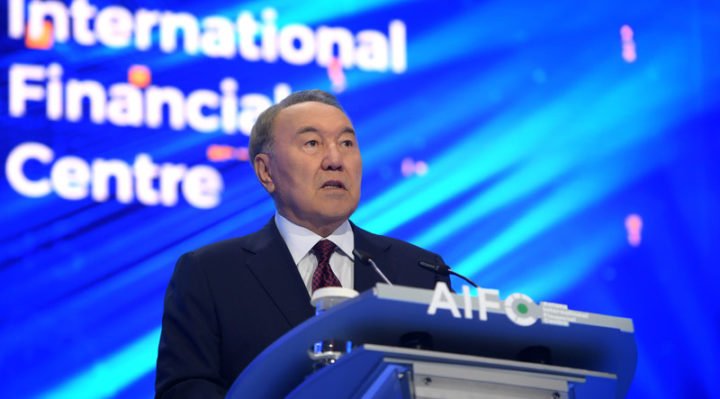 Kazakhstan, the vast country that straddles the boundary between Asia and Europe, decided it would put its commercial legal system above reproach. In 2015, it imported a whole legal system from England, along with English common law, to deal with commercial issues. It also imported some English judges to sit on the bench.
Headquartered in Nur-Sultan, the newly renamed capital of Kazakhstan, the Astana International Financial Centre (AIFC) will create projects and promote new startups on a global scale. So far, 88 participants have registered at the exchange, and by 2020, Kazakhstan authorities have announced the target of more than 500 companies participating in the AIFC.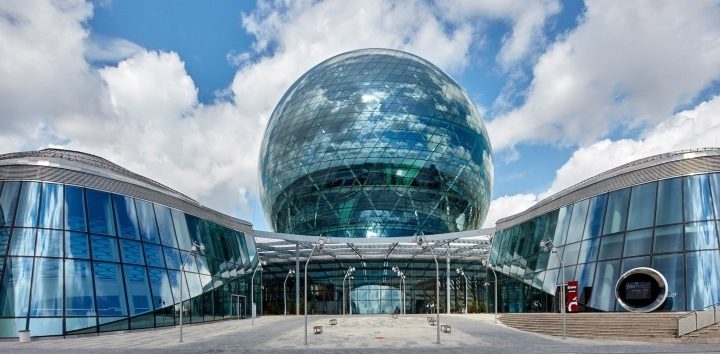 The Astana International Financial Center (AIFC) has set an ambitious goal for AIFC to become a financial hub for Central Asia, the Caucasus, Eurasian Economic Union, the Middle East, West China, Mongolia and Europe.
Among the priority goals of the AIFC are the development of the human resource potential of local financial market specialists, the popularisation of international professional certifications, and boosting investment.
The AIFC Court is separate and independent of the courts of the Republic of Kazakhstan. There is a Court of Appeal whose decisions are final.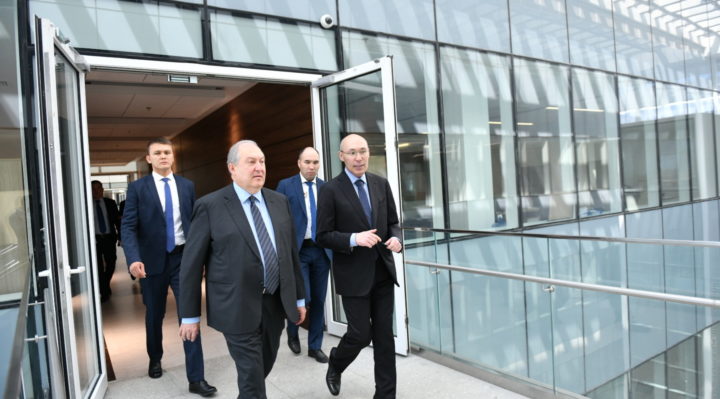 "The AIFC Court operates to the highest international standards to resolve civil and commercial disputes in the AIFC. It has exclusive jurisdiction over disputes arising out of the activities and operations of the AIFC and jurisdiction in the case of other disputes in which all parties agree in writing to give the AIFC Court jurisdiction," said chairman of the court of the international financial center, Lord Woolf.
Lord Harry Kenneth Woolf, is a renowned judge in recent British legal history, and a global figure on the common law, courts and dispute resolution, and legal education. He will work with eight other British high level lawyers and judges in Kazakhstan.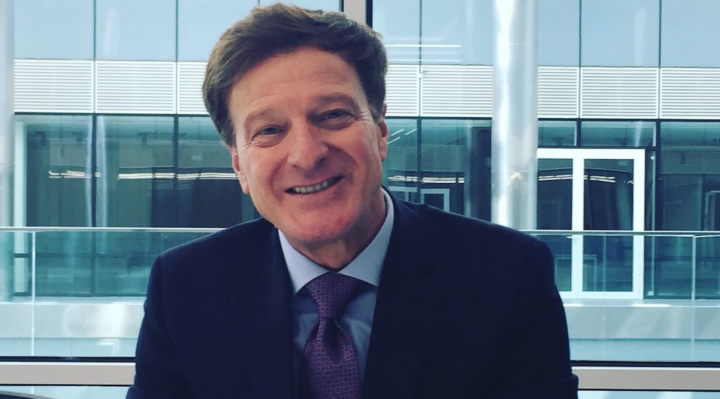 Moreover, the International Arbitration Centre at the AIFC has its own panel of international arbitrators and mediators who are experienced, independent and impartial.
"The International Arbitration Centre seeks to establish and develop a fully independent arbitration and alternative dispute resolution system for the expeditious resolution of civil and commercial disputes characterized by reliability, fairness and accessibility, unconditional application of the rule of law, and flexibility that is responsive to the needs of global business markets," Chairman of arbitration body, with experience as arbitrator at the London, Paris and the Hong Kong International Arbitration Centre, emphasized.
The system of English justice is known far beyond England. The authority of the chairman of the court of the financial center is a guarantee of a qualitative and truly fair judicial system. The decision of the lawyers of the AIFC is a priority, and in its work, the court of the center is absolutely autonomous.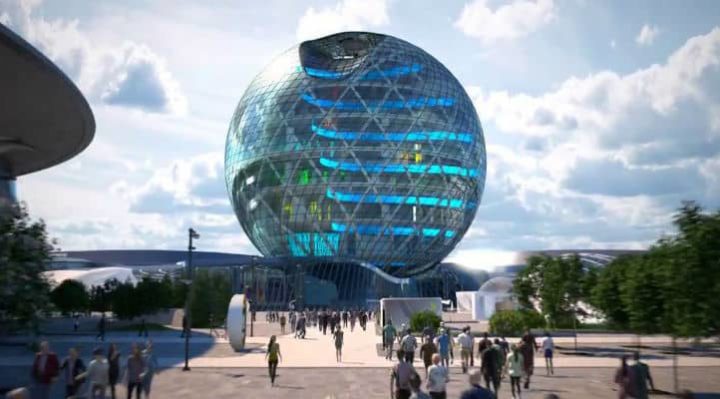 AIFC, a self-styled "mid-shore" special economic zone, has an attractive business environment and the presence of a separate legal and regulatory system based on the principles of the British Common law. These measures will assure fairness and justice in its operations and will enhance the credibility of Kazakhstan in the eyes of the investors.
AIFC has British courts and judges, myself being one of the judges. Additionally, the center gives you 50-year tax exemptions, simplifies your visa regulations, offers free office spaces, and the license costs only $200, not $100,000 even if you get your license today and didn't open your business immediately.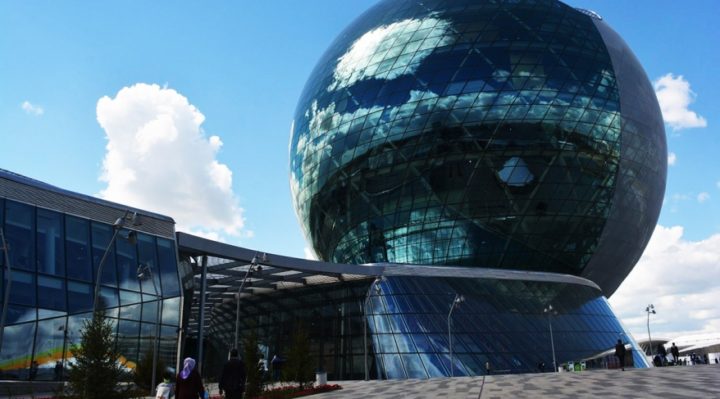 A financial hub in a post-Soviet state for the entire Central Asian region, based on the English common law, having a preferential tax regime and an independent financial court? Such a project would have been consigned to the realms of fantasy a few years ago. But now, it is infact, a palpable reality.
The initiator and key organizer of the AIFC is President Nursultan Nazarbayev. During one of his public speeches, "Plan of the Nation – 100 Concrete Steps to Implement Five Institutional Reforms", he proposed an extraordinary initiative; to create AIFC in Astana based on the ASTANA EXPO 2017 infrastructure. A similar center in Dubai became a reference point.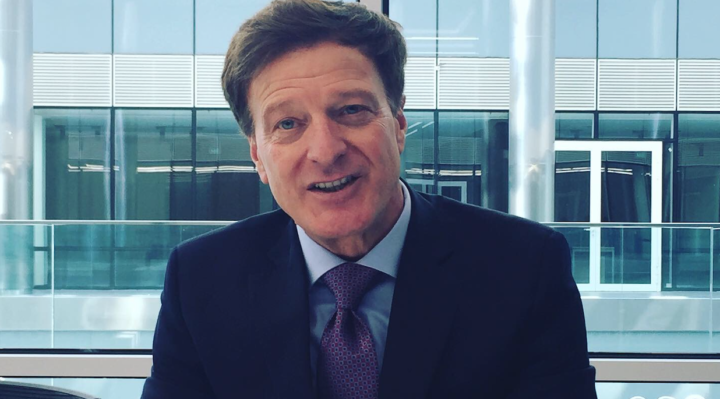 President Nazarbayev proposed the consolidation of a special legal status of a financial center in the Constitution, the establishment of a center as a financial hub for the CIS countries, as well as the entire region of West and Central Asia. This is how the Kazakh leader outlined priorities, securing the existence of AIFC with the necessary decree:
– Creation of an independent judiciary with its own jurisdiction which will operate on the principles of English common law. The judiciary comprises a number of foreign experts. In a not-too-distant future, the financial hub of Kazakhstan would join the league of 20 advanced financial centers of the world.
Foreign employees of AIFC, as well as their family members, receive an entry visa valid for up to 5 years. Citizens of the OECD, the United Arab Emirates, Malaysia, Singapore, and Monaco, as well as countries designated by the Government of Kazakhstan, are entitled to visa-free entry for up to 30 calendar days. And a small but pleasant bonus is the free rental of Class A offices in the first two years of operation.
Kazakhstan shows maximum consideration to foreign investors, and creating a favorable investment climate in the country has become one of the political and economic priorities.
To solve the problems of foreign entrepreneurs in the country, a special ministry for investment and development was created for the first time, thanks to which the receipt of public services for investors was simplified to the maximum, and administrative barriers were reduced.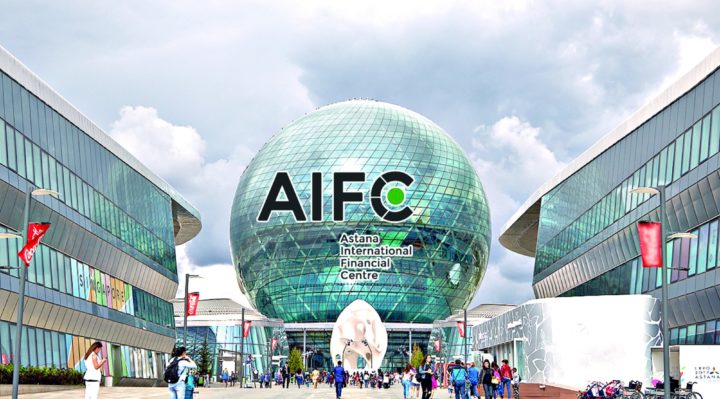 According to the Kazakh officials, the AIFC will significantly expand the international opportunities of Kazakhstan itself, allowing it to find and take its place in the overall pattern. Kazakhstan considers AIFC as part of the global financial system. The global network of financial centers that manage global cash flows runs across the globe — from Toronto to Sydney and from Tokyo to New York. Each of them has its own niche.
For its part, AIFC, having a unique geographical position, will provide access to the markets of Central Asia, the Eurasian Economic Union, the Caucasus and the countries of the Middle East.
Meanwhile, Western experts also support the idea that a new financial bridge has appeared in the world between Europe and Asia. According to preliminary forecasts by the Kazakh authorities, the AIFC will be able to attract billions of investment in the country's economy.
Astana International Finance Center (AIFC), an emerging financial hub in Central Asia and Eurasia is seeking partnership with Bombay Stock Exchange and Gujarat's GIFT, to learn from expertise and experience of Indian entities besides enabling wider presence of Indian businesses in Eurasia and Russia.
China has already demonstrated its support for the AIFC with assistance in strategic and business planning, technology consulting, and developing a strategy for expanding the market. "On the regulatory level, one of the big opportunities for us is RMB [Chinese Yuan] and the ability to trade, clear and settle in RMB and their help with the regulatory process around that is very beneficial".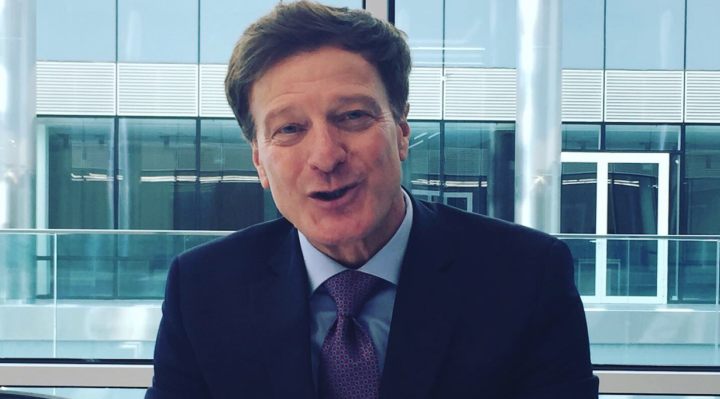 Opportunities and return on investments are huge, there is so much privatisation going on in Kazakhstan, and infrastructure development.
Another reason is the fact that the government doesn't want to rely just on one area, they want to diversify the economy away from the energy and the mining sector, that's why there is an opportunity for financial services to grow here.
"This is an important moment of change for Kazakhstan. The leadership transition that we are witnessing is being closely watched around the world, including in the United Kingdom. The resignation of Nursultan Nazarbayev was a momentous event in the history of Kazakhstan and Central Asia. We should acknowledge his role as having been central to the establishment of the country and the development of the sovereignty and economy of Kazakhstan," British Ambassador to Kazakhstan Michael Gifford told The Astana Times.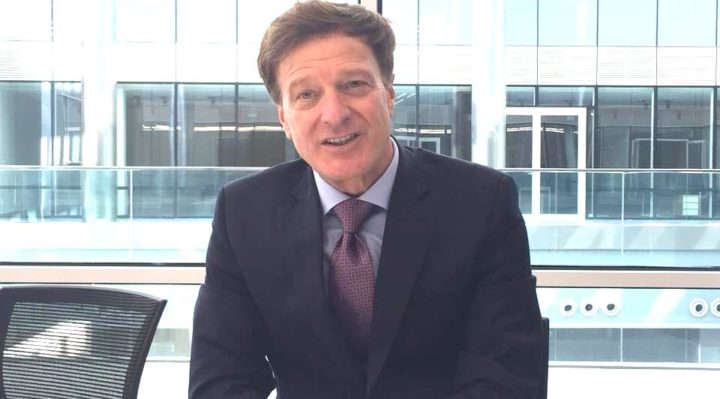 Below is a full rush transcript of the information by Mr David Gallo, expert at AIFC Authority.
David: I'm qualified in the state of Ohio. I just joined the Astana International financial group about two or three weeks ago, and I basically have been retained for a twelve month period which could be extended as an AIFC expert in the area of legal education, as it relates to the AIFC authority, right ? So, my brief history is that I started as a private practitioner, as a lawyer in a large law firm, in the state of Ohio.
And then from there I moved in house with a couple of different companies, first with a large electric utility company in Ohio, where I was a corporate finance lawyer, then I moved to a company called General Electric, GE, and I spent the better part of my career, first as a lawyer and then as a global business development commercial person, focused primarily on mergers and acquisitions. And strategic alliances to help GE globalized its business.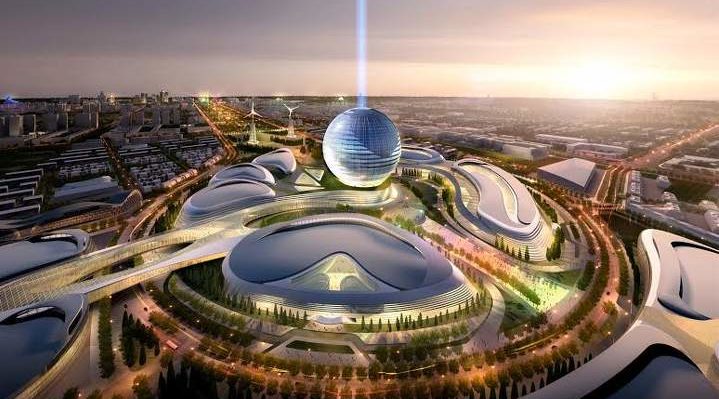 Ultimately, I ended up in Dubai, and most recently for nearly four years I was the director of an organisation called the AFC, Academy of Law. So, the AIFC is basically a legal system that has been established here recently.
You probably already know that it was formed as a potential economic hub to be the foundation for the government vision for long term economic development. So, the idea here like with other global economic system that are being created under similar models, the idea here is that Kazakhstan is a very important emergent market, it is already emergent of course, and in many ways. It's been around for quite some time as a country.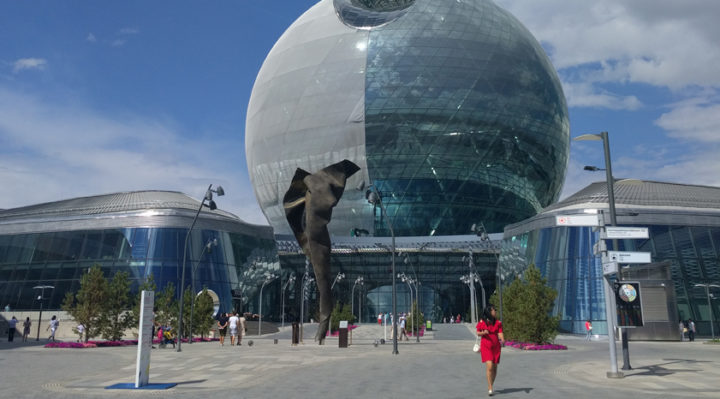 The government now is taking things to the next level, which is fundamentally to take this enormous potential economy. Enormous in a sense that, the country is very rich in certain natural resources, the geographic scale is large.
There are a lot of ideas around infrastructure development with the idea that, over a long term the economy should be more diversified, and sustainable. Diversification, in my understanding is that means attracting foreign direct investment. Multinational companies encourage global companies and people who want to start companies, to come to this AIFC economic area and establish their companies. The focus is on attracting financial services companies, those who are in the capital market space private wealth management, insurance and in related matters.
Professional services like law, consulting and accounting. So the idea is, the forum, this economic zone. It would attract these companies to come and establish their business models to invest money, to lend money, to raise money through the stock exchange and so forth. So that, that capital can now be injected into the economy, allocated and deployed for major infrastructure development projects.
So fundamentally, it's a business hub, and the vision of the government is to make this a world-class business hub, a center of commercial excellence, or business excellence by attracting foreign investments which would then provide the capital to drive this grand vision.
it has a tremendous opportunity and potential. You know the natural resources are very rich and valuable, and that becomes the anchor, the economic anchor for the country. But the idea is to unleash the potential of that value by investing in industry and sector diversification, right?
So in particular, if you think about diversification, it's a word, in a concept, it's often used but the reality means to invest people and capital in the projects that are ultimately going to create products, services and business opportunities that extend far beyond the natural resource development here. So, starting with infrastructure projects, such as transportation, that's going to be classical transportation infrastructure development which would be road, highways, bridges, tunnels and everything that goes along with that.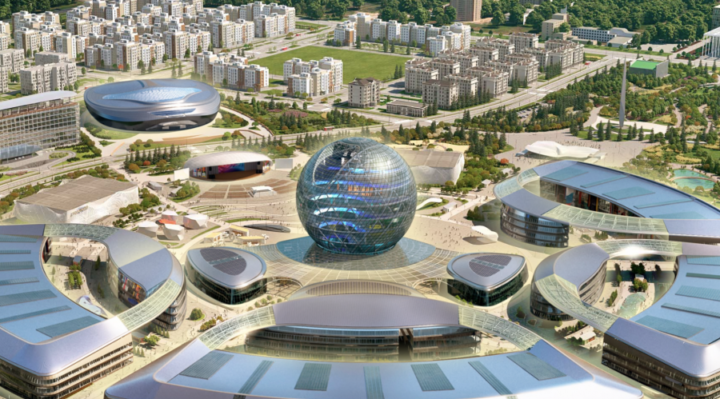 But also, rail transportation development will continue to be a big national focus. While there are no ports, or potential ports to speak of, you know, certainly the development of the dry ports and transfer facilities and so forth will be an important focus.
All of that matters, because those are the things that will facilitate trade within Kazakhstan and certainly within Central Asia and as you know. This region is also part of the Chinese Belt and Road Initiative and the new Silk Highway and the New Silk Waterway is in adjusted space so the idea of positioning Kazakhstan as a not only a regional hub but as a global hub where East meets West, and all the other marketing taglines that you hear can become a reality and the AIFC is being positioned to play a very important role in that development.
So, that's the long response of your question about the state of the economy and the potential for growth. When you think about infrastructure development, you also think about power, energy, power generating facilities, whether they are hydro or coal powered, or otherwise, it's an important part of infrastructure and of course the transformation into the digital economy and all that infrastructure holds requirement of that.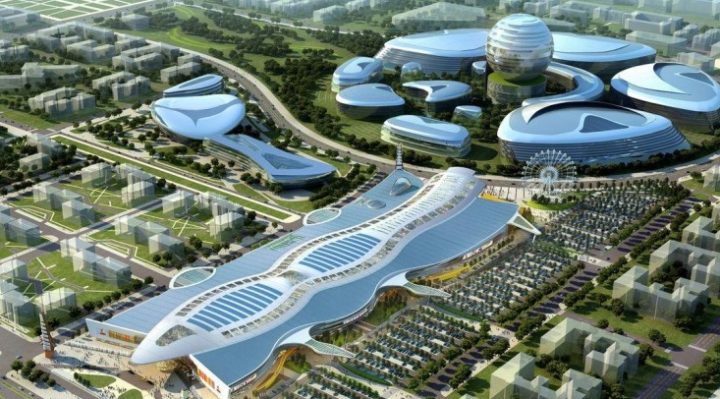 Things like water treatments, sewage and all those basic things that really matter when you're developing a country will be part of it. Certainly, construction projects will be large and substantial when you think about the development of education facilities, universities and schools, health care facilities.
Well, all of these things translate into major projects. When I started as quite a project lawyer and the kinds of projects that are planned, initially, they require a lot of professional services, starting with engineering and related planning, certainly development, real estate development, project development, facility development, construction, and then all these industries that are related to all of those, right?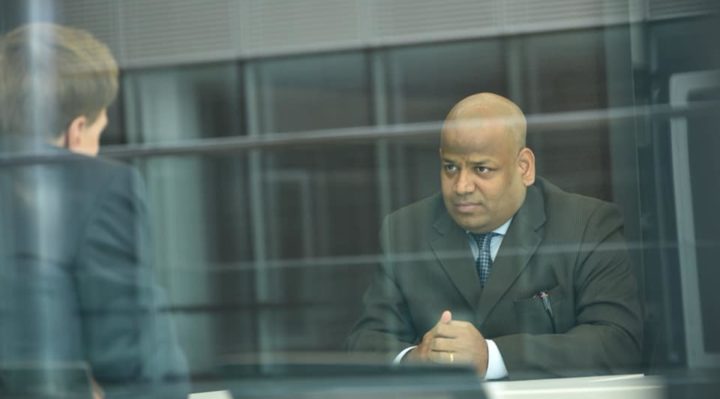 If you're really talking about projects that are major, they are intended not only to develop the infrastructure of the country, to facilitate trade and to grow their cities and to connect the cities but also, the standard of living and the quality of life, the living here.
So the idea is to make, to continue, to enhance the global status of Kazakhstan, not only regional but global. One more thing that I've mentioned, I guess, about the vision, is all the things that we've just talked about, are important for the role of the government in driving this sort of transformation.
Some of the things the government cares about are; diversification of industries, enhancing and growing international trade, that would also include Chinese Belt and Road as well as other things that we've talked about.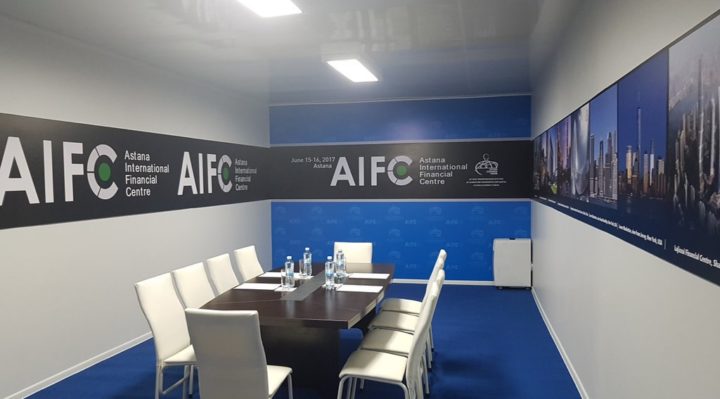 But the government really cares about what that means for residents and people who have been here for a while and attracting people to come to move here, expatriates, and all of the same things that we've just talked about, tie into major priorities for any government and those would start with GDP. Gross Domestic Product, and GDP growth. Balance of trade, budgetary consideration, you know, balancing budgets and ideally having surpluses, per capita income, creating greater employment.
So the metrics around employment and non-employment rates really matter. All of this should resolve in a lot of job creation and upwardly mobile middle class, creating more opportunities for people to get better jobs and earn more money, per capita income, GDP per capita, inflation rates solved by some of these interconnected economy, the economic view, but let's face it, federal governments globally care about all of those things.
Because as you have those metrics that are improving over time, that's how a country really enhances its image and reputation and international standing in the scheme of things.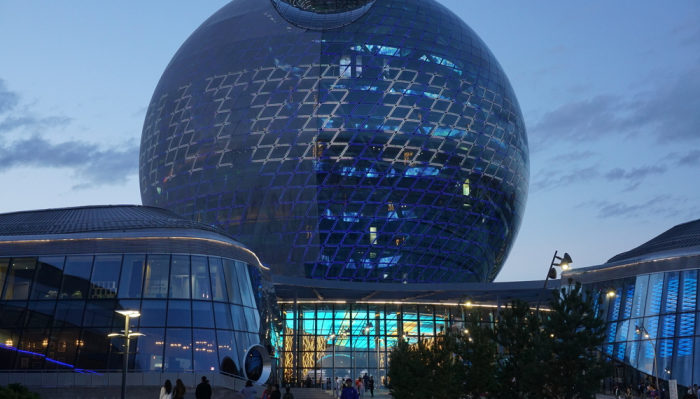 And of course, that adds to its credibility and its leverage when it comes to international socioeconomic and geopolitical relations, right? So I think that's the backdrop.
Interviewer: As a, you know, centrally placed between Russian and Chinese border, what are the risk factors in these investments areas and the transparencies aligned?
David: That's a great question. From a geopolitical standpoint, I'm probably not qualified to talk too much about anything political. But what I can talk about would be economic challenges and risks because this is a commercial entity.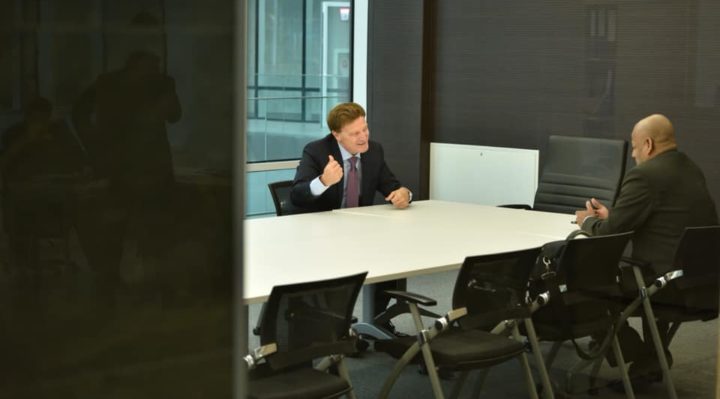 So what we think about and care most about is business but that business and the development of that business is always going to be tied to the greater national government vision as to why this thing exists, okay? So let me put that into context that is practical. We are here and I am specifically here to focus on knowledge based legal system development, as the foundation for driving the success of the AIFC, as a center of commercial excellence, as any emerging business hub and as a place to attract multinational companies to come here and set up over the long term.
That's the government vision, our promise here in the legal department is that we need to make sure that the legal system develops in a way that will accommodate these major infrastructure and other projects that the AIFC represent or will be facilitating.
So that's a major challenge but it's an opportunity that you feel very confident that we can drive to successful conclusions.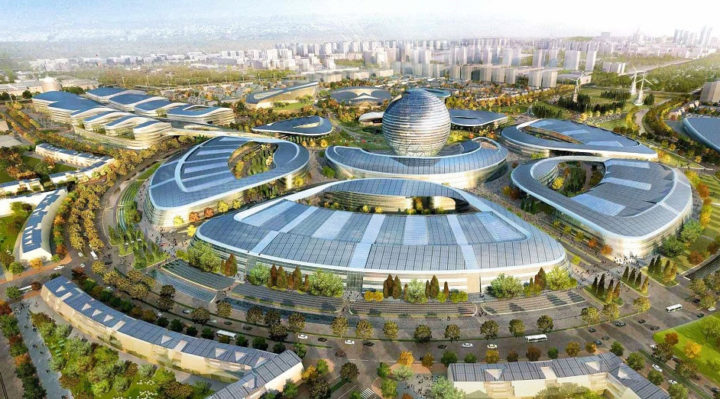 When you think about these major projects from the practical side, these projects would be structured, memorialized, undertaken and completed only if you have a sound legal infrastructure that will support the commercial contracts and dispute resolution processes that are certainly going to be part of the economic development processes.
So, stated more simply, anyone of these major projects will require some fairly complex and sophisticated legal documentation, legal analysis and ultimately, if any of these projects end up in some kind of contractual dispute, there need to be a fair and efficient way to resolve those disputes without interrupting the flow of the economic development.
Well, because this AIFC commercial organisation is also a freestanding, relatively independent new legal jurisdiction, the laws in this jurisdiction and the regulations that govern the various bodies within the AIFC would be the Astana financial services authority, the AIX which is the stock exchange, you have the AIFC authority which is what is this group is part of, kind of legislative, the law side of things.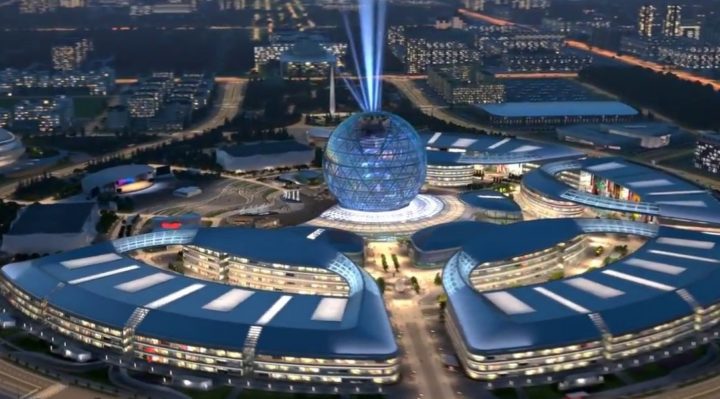 As well as a part of an organisation that will accommodate companies to come here and get start with jurisdiction. Well, all of this is based on the English common law model. So the laws, the statutes, and the regulations around them, are patterned primarily on the English commercial laws, and the legal system is a common law legal system, as opposed, whereas contrasted with the Astana national law, which is a civil law.
So civil law countries as you know, would probably be central Asian, Egypt and Middle East, France and Germany and other major countries, common law would be the US, the industrial and so forth.
They are two fundamentally different systems, so, lawyers and other legal professionals, in order to operate effectively in this new common law environment, which is in the middle of a civil law ocean, if you will, this means that lawyers and other legal professionals need to be equipped, and competent and ready to operate effectively within that organisation, right?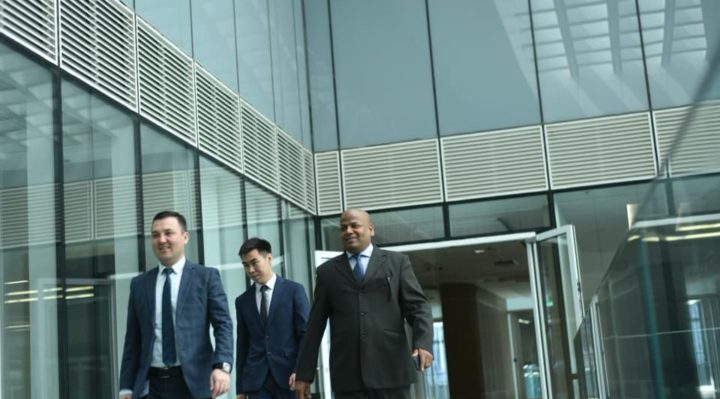 So, the logic is a sound legal system required as the foundation of economic growth, and that our focus here in attempting to a form a knowledge based legal education system is to make sure that we are delivering legal education here in Nur-Sultan that has global values. We need to make sure that whether you are common lawyer, international lawyer that came here, or whether you are local civil law trainee lawyer that came and also lives here and practice, the fact is, that, both of those demographic market segments in the legal industry need to be addressed.
Those with common law background would benefit by giving some academic and experiential, developing experiential skills in the civil law system.
And those who are civil law trained will benefit by getting an additional legal education and skills based learning that would be relevant to the AIFC laws, the rules and the common law system. So the idea and the mission would be to try to cross-train legal professionals in multiple legal systems, to make sure that they are truly prepared for international commercial law practice, right here in the AIFC. So that's what we're focused on.
The risks are, if we don't do that, or if we don't do that effectively, IE makes sure that you have your development of human capital, that will be required to drive the success of this experiment. If you don't do that, there are a lot of risks.
The first is that, for companies who have come here to set up, they are going to need in-house lawyers who will work with them, they are going to need local councils that they need to retain to make sure that they understand the AIFC laws and they are complying with those provisions, that they don't do anything wrong, which could create corporate and personal risk for those companies and people who work for them.
The other thing is, that this massive complex, long term construction and infrastructure projects, will not get done effectively or efficiently, or quickly if you don't have legal professionals who know what they're doing.
You think about these projects, they can have multiple parties in anyone of these major projects, right? Commercial contracts, you can have multiple parties, coming from various countries and legal jurisdictions, there will be issues around jurisdiction, there will be issues around comparative law, how do the national laws interface with these AIFC laws?.
Which one might supersede in the case of a conflict, conflict of laws is another area in the legal system. Then because it is a new legal jurisdiction, you're going to have the development of common law.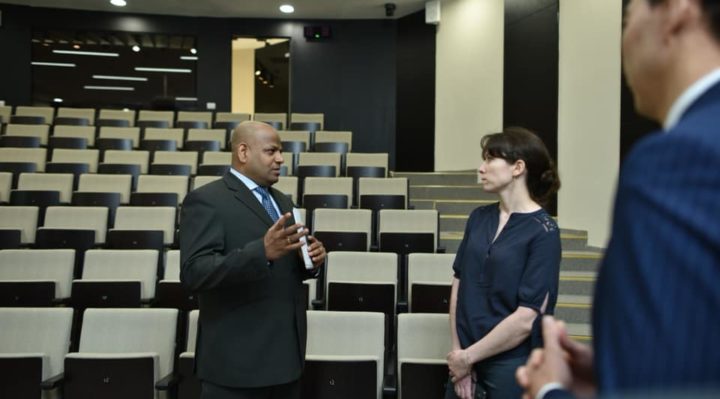 Common law really means judgment law. So, you have a case that's brought here, to trial, a judgment is ultimately rendered, there is a winner and loser, but the judge then writes a very well reasoned opinion, as to what the applicable law was, the interpretation of that law, and ultimately the outcomes of who wins or who loses.
But embedded in these well written judgments, we call them legal opinions in the US, but in the UK they are calling them judgments.
Well embedded in that well reasoned judgment, are certain principles of law, some of which have actually then become part of the evolving common law.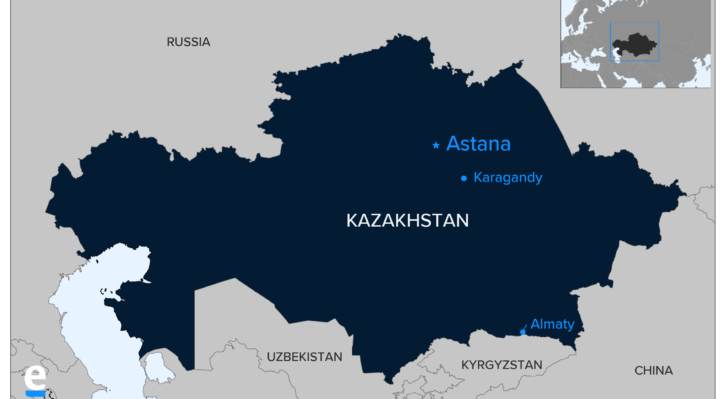 So, the important thing here is that, as this common law is developing, there certainly will be revisions and updates in the statutes, the statutory law so that they i.e those statutes will continue to get more sophisticated, they will address new legal needs.
For example, you know blockchain, or artificial intelligence and all of these data protection. You know these security regulations, you know what do you do with cryptocurrency and all of these stuff.
The cyber issues, these emerging trends in the commercial world at some point need to be captured and codified in some cases regulated by new laws that don't exist yet.
So, as new laws need to be developed, as more projects are being undertaken, and disputes arise and so forth, all of this means that you need to have a lot of legal work that needs to be done and it needs to be done competently and effectively, for the protection of clients, for the protection of the general public, and certainly to continue to drive the economic growth vision of the government.
So, that's why you get ties together, those are the risks. But we are really talking about risks in the management and the things that we are doing. Fair enough?
Mr Marat Aitenov, First Deputy CEO of the Astana International Finance Centre (AIFC), described this to me as a move to establish the "rule of law." He said it was decisive in improving the investment climate. It's also symptomatic of a desire here to "do what it takes" to move Kazakhstan to the first row of nations — in this case, to import a legal system complete with eminent jurists.
Mr Marat Aitenov: Kazakhstan has spent a lot of time and effort from the first day of independence in 1981 attracting investments. We are pioneers in every reform we do, in central Asia we have developed, according to the policy of the institutions and the government, according to instructions of our president, we did tremendous things, in terms of developing economy, every industry, innovation and strategies, we adapted throughout all these years.
At some point we realized that truly becoming international open market requires a little bit more activities, namely adapting English language as an official language, and respect the rule of law. English common law, and when in 2015 our president initiated this establishment, called Astana International Financial Assembly, it was very much well-received.
Received by the global community, and starting from 2016 and '17 in two years we did what you see now. All the bodies within AFC special jurisdiction within the territory of capital of Kazakhstan, and every foreign entity, legal entity, our individual entity, can come, approach, explore, find the opportunities to develop, to find his partners.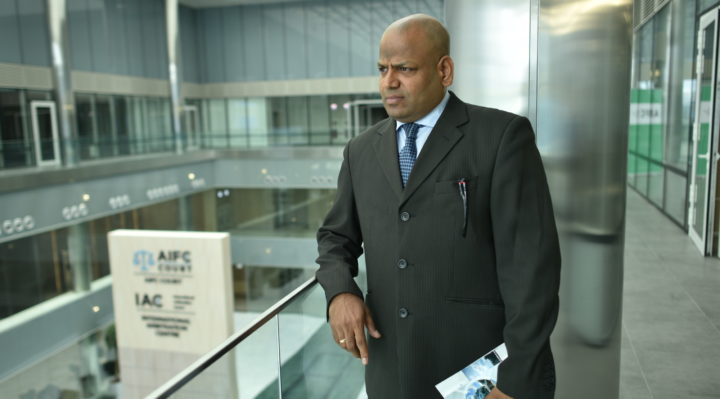 So, this is a bridge, actually, in meeting the people's mind, their ideas. If formerly, let's say divide companies, it was all about finance and economy, not about the policy. So the idea is to establish a platform that will allow everyone to benefit from this, I mean commercial benefits. Big companies, they already have their own pose to global market, to London, New York, a little bit expensive exercise but they can afford it.
But how about middle, small size enterprises, they also need funds, they also need access to global markets, how to arrange this? So we basically replicated the best international standards that already exist in other part of the world, replicated here in the heart of Euro Asia, in central Asia, so that we combined the global markets from China, big markets and Russia and central Asia. First initiative on inspiring Silk Road was also declared here in Nur-Sultan by China leadership. And now, we are in the middle of these global markets.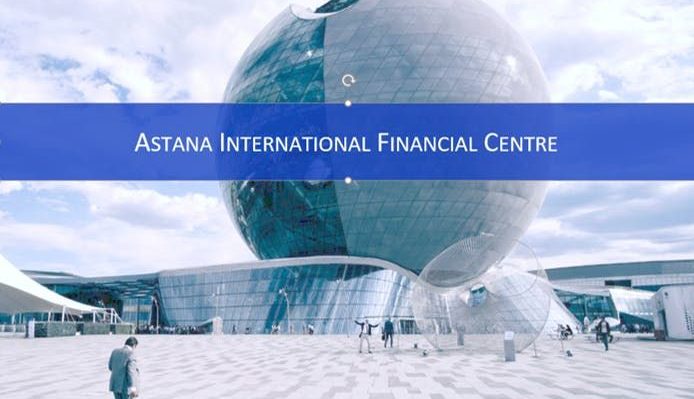 The approach is very simple, everyone with spirit of entrepreneurship can meet their needs according to the best standards that exist around the globe. So, to facilitate their needs, separate entities we find these jurisdictional establishments, like Expo Center, anyone who- first comers, they can meet, get first hand all the information that requires operational activities, like visa requirements, labor, currency, and we have stock exchange, platform, stock exchange NASDAQ, Shanghai Stock Exchange, the shareholders of this entity alongside with us, TFC and we have separate financial regulative.
We have bureau for continued development, so it's all about to prepare human resources, because every enterprise, every company they need sufficient human resources, qualified and well-trained. We have separate bodies like, Arbitration Center Court you already experienced it, you visited it. So, it's all about establishing commercial platform for everyone, in short.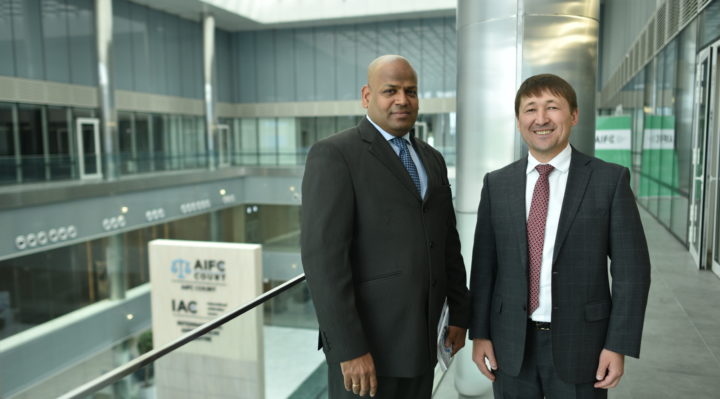 N.Sethurupan: This is something unique. How is the opinion of the public, are they happy?
Mr Marat Aitenov: People are very different, they have different mindset. From that perspective, they have different perception. Everyone understands that we don't regulate criminal or administrative aspects, all regulate only commercial industry. From that perspective if the society benefits from the commercial activities, that everyone will benefit.
But because we just newly established institution, we still need some time to prove our activities. From that perspective, of course, expectations of the society usually is very short, in terms of time, they want to invest on Monday and on Tuesday they want to get the fruits.
From that perspective, there is a little, let's say, annoyance, maybe , A little, not panic, but a little worry, but in terms of support, as you see, the government, the policy-makers, they are very much supportive, it was very, extremely unusual activity, and now it's all pursued because, when first time in this kind of jurisdiction, bringing laws of jurisdiction, it raises some questions, but what was very beneficial for us?
First of all, the existence of AZE successful financial centers, usually if you initiate something, but you cannot bring examples, it's all too complicated, everything that we are implementing we are referring to AZE existence jurisdictions.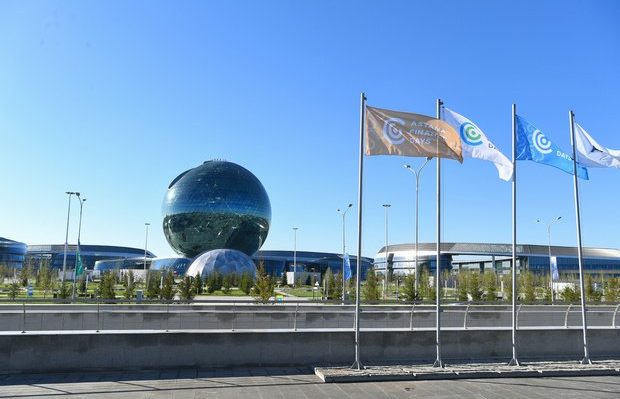 Very good example is Dubai International Financial Center. Commercial hub, financially successful, operates more than ten years very successfully, although it's Emirates, Islamic rule of law, but they accepted English Common Law. And now they coexist very happily. That was one of the latest examples that we are using, we actually spent some time exploring, we took some lessons from them to learn, from Abu Dhabi, global markets, from Qatar Financial Center, so, even Hong Kong.
Hong Kong part of China, one country, two jurisdictions, everything for the benefits of the commercial enterprises, similar, So, there are some cases going on, so, by your experience how this function, what other obstacles do you having? I mean you run this, are there any obstacles, any difficulties? There are many difficulties like, in terms of time frame. Not enough time to meet and talk to people. Because, jurisdictions that are coming to us, their interest to our economic, to central Asia, is huge. We developed a lot of mere resources, but we want to redevelop, according to best, the latest editions of equities, some of the US, but here in the region. Resort exporting the pure root materials and then importing progress, so, from that perspective, we are open to new opportunities, meeting with different people, companies, and we want to meet everyone. But the time frame is not following.
Every human, according to our understanding, has to leave some meaning in this life. Our judges, the AFC court judges, they are very much experienced, they have already gone through some life experiences, and doing very good things for the wellbeing and prosperity of their countries.
They also have done similar type of activities in AZE jurisdictions, Hong Kong, Singapore, Dubai, and their approach is very philosophical, why not to do first time in the history, setting up another platform that already proved in other part of the world, but here? We all human are same, but if the commercial enterprises respect common law, English judge, in fact, throughout all these decades, a lot of companies, already spending their times. If they have some disputes, they are traveling to London. But, to cut off this long way, we just brought several judges here and the philosophy of these judges is them expanding their philosophies, and they are very much, they love sharing their experience, every time, according to our program, annually another program, every judge visits almost each one.
And they meet with local practitioners, with local judges, with regional students through seminars, webinars, trainings, they transfer their knowledge. Actually in Kazakhstan, we very much love learning other countries successful stories. One of the stories that we learned from Norway is setting up the oil fund.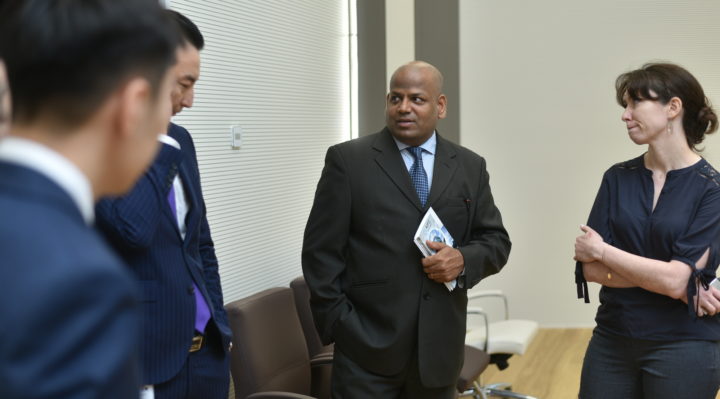 N.Sethurupan: Setting up the oil fund? tell me more about it.
Mr Marat Aitenov: So, the thing is, when the times are good, I mean the prices on the oil are very good, everyone is also good. But when the times slow down from that perspective, very good example that we already replicated from Norway, good example, when the prices are good, half of the income, they separately keep in different accounts. Yes, for good times, we have similar fund here. Very much similar. The philosophy, the concept, the structure – and for example, in 2008 when the financial crisis, subprime mortgage, landing crisis, they came, this wind came from US also hit our markets. We are using these tools.
Let me share my understandings, not as a policymaker, but as every citizen. The peace is in our heart and in our soul. Kazakhstan at the times had the biggest nuclear storage. In 1991, according to the decision of our president, we intentionally decided to disassemble all these nuclear bombs. Why, first thing, every country in the world, they start to talk  about Kazakhstan.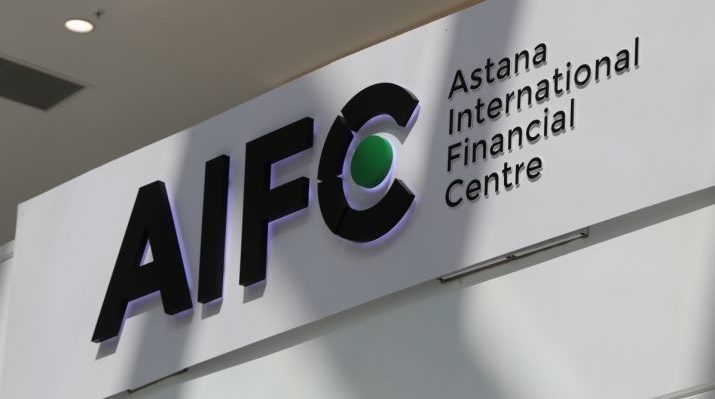 When the Soviet Union collapsed, all the storage of the Soviet Union of nuclear rockets in Kazakhstan, the space shuttle Baikonur, is based in Kazakhstan. The most convenient spot on earth to watch the satellites, the shuttles is in Kazakhstan, in Baikonur. And, if you have nuclear bomb, everyone will respect you, just because they are afraid, just in case. And many countries approached us, "you don't need to disassemble, sell it to us". At that time, Kazakhstan economy was not that good, it was the worst economy in the region.
But why we need to sell if somebody going to use it? We were striving for peace. Same with the policy, we are good friends with everyone, with all neighbors, in central Asia, in China, in Russia, in US. We don't contradict, we don't have conflict with anyone. For example if you are supporting Salman, you have to dissupport Aziz, but why they are opposing each other?
They are plenty of issues, any matter that you want to decide, you can do it on negotiation table, no need to fight. Kazakhstan is the only country that supported these peaceful negotiations between the countries when in Turkey , Turkey-Russia, Kazakhstan was the negotiator.
In Syria the latest, Kazakhstan initiated, offered, "use us, we are prepared to be arbitrators, mediators or negotiators, we don't want to fight, we want everyone to live in peace and prosperity. So, this is our policy. For example, if you support Salman, then, you have to declare why you are not supporting Aziz, but Aziz opinion, you also have to take on mind and respect.
Because by culture, by region they are close and are latest in terms of establishment of this kind of law institutions. Dubai Financial Center is now our strategic partner. Business partner, yes. All the companies operating in DIFC are very much well perceived , we want the same, that the companies register with us.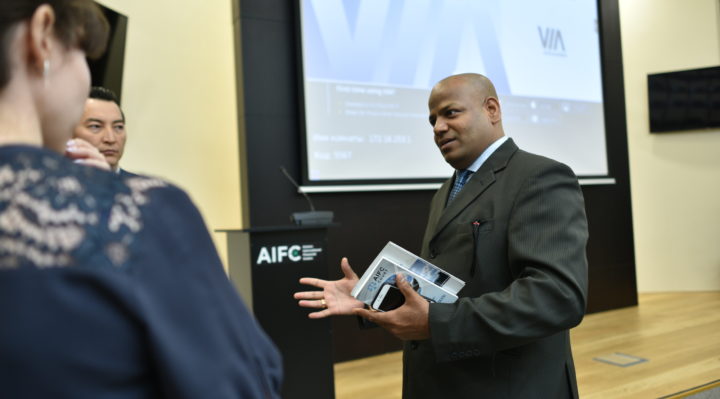 N.Sethurupan: So tell me, your experience, how this Kazakhstan economy is functioning? How they have bank system, tell me about the bank system?
So we have two tier banks, first central bank, which regulates, and second are commercial banks. Special law on the regulation of banking activities. Banks, the traditional way, first, share holders, they founded, they established the bank, they invested their money, then they attract deposits from people and then, they allocate loans, the classical way of how commercial banks operate, and this is second tier banks.
On the first tier, it's a central bank where overseas, they supervise their activities that they risk hedge and according to their obligations. The match and law disparity will negatively affect depositors. Sometimes, banks, they issue obligations, they placed their shares to foreign markets, contracts, so, nothing specific, just a classical way how commercial bank operates internationally.
I'm a lawyer by background, I'm not that sure about this macroeconomics, there must be some rules which are very simple for people with economic background so that currency, devaluation or strengthening the currency rates, many things effect this, the impact is, it comes from different site, from export and import, as I mentioned. A lot of resources from Kazakhstan are exported.
They are exported, they are redeveloped and then imported as products. From economic point of view, we are losing this profit, and when you your resources, you sell it in, let's say in US dollars. And you buy it in some other currencies.
These disparities, you have to regulate somehow, and central bank is establishing this kind of things and mostly depends on the market. Offer and acceptance in the way of the market, they daily change, daily change.
We don't have anything in common with this kind of relations, according to our regulations, any currency is accepted if it allows our jurisdictions. We don't protect a specific currency, this is international. If this currency international operating, they also accept this. There is no specific regulation in Kazakhstan economy.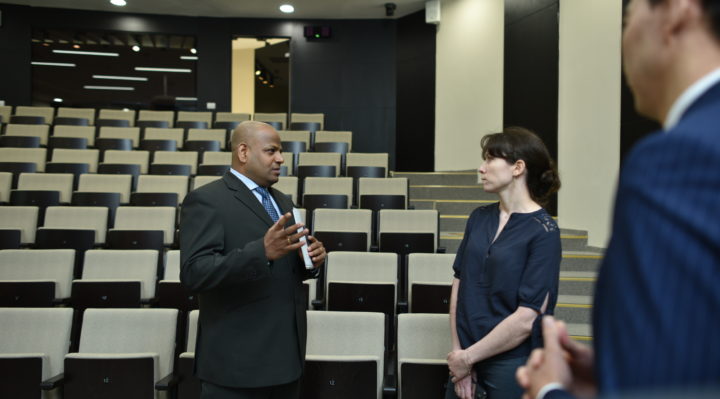 N.Sethurupan: Okay, if for example, one Taiwanese company is doing investment in Kazakhstan, how you can handle that? Because China will oppose it, Taiwan is not part of UN ?
Mr Marat Aitenov : Let's differentiate, Taiwan as a state invest on some companies, commercial entities, but with Taiwanese origin, the citizens of Taiwan are investing. Some cases you have to deal with only Kazakhstan government or Kazakhstan court system which can work with other country court system. Court to court, law to law.  We are part of Kazakhstan, our jurisdiction is part of Kazakhstan. Kazakhstan is one country but two legal systems. Here, Taiwanese company operates in one of the legal systems, but within one country. I don't see any complications. He can hire, he can pay the salary, he can interact with other enterprises, he may send transfer money.  it's completely separate. Supreme Court doesn't have any interference, nobody supporting each other, they are parallel. That's why two systems, no one is overwhelming or overseeing other, they are parallel. So, it depends on you, if you want to go to one legal system, you go there. If you want to go to another, it's your choice.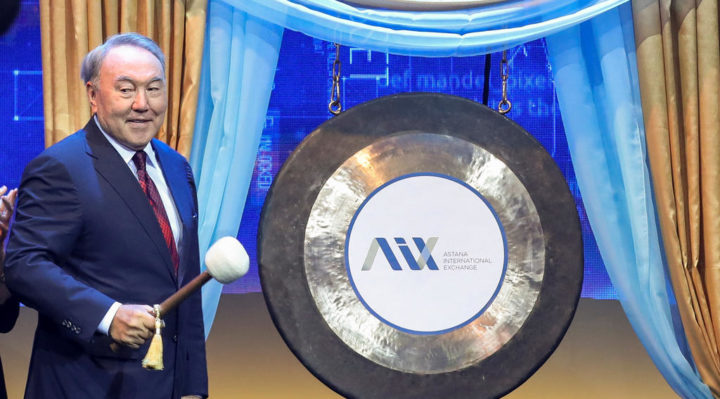 There are two things that UK imported in the history of our world. English language and rule of law. And people know that it is flexible, same judge on the same merits can take two opposing decisions, it's for justice, to really bring justice. Depending on the circumstances on the case, he may issue, one other, or another. Here, if local judge will behave like this, everyone will blame him, "you are corrupted". Although he may have reason behind this activity. Local judge verifies of British judge. So, the council of British judiciary is very simple: judge in UK never steps in, he allows, according to the procedures of discovery, to two parties compete with each other, by sharing the information. If you have not shared that information, you cannot disclose it at a later stage. Which allows two parties to appreciate, to apprehend the merits. Yes, pre-hearing, the evidences, documents and other things. And sometimes it happens that one party decides not to continue proceedings because they can understand his substance is judge anyway, they allow them. Kazakhstan's advantage is human resources. Although we are almost 18 million, it's very small amount in this huge land. By landscape we are number 9 in the world. But our human resources is very much qualified in terms of training abroad, studying abroad. Starting from 1997 according to governmental scholarship program, a lot of Kazakhstani students on annual basis they are sent abroad to a lot of universities, to training, and then mandatory obligation is you have to come to the country and invest your skills, your training, education, back in your country. From that-
This is a great opportunity for people who have no resources to study abroad, it's very costly exercise to travel abroad to study. Because even the tuition in world respected universities are big numbers. Average person, he cannot afford it. The state does it for him, investing in him, and his return is, he's investing back into the country, that's the philosophy. Its contractual obligation. This is one industry, another industry is meat industry. Organic, natural, a lot of meat from Kazakhstan is exported.
Central Asian countries too, Tajikistan, Kyrgyzstan. The thing is, because all the Kazakhstani steppes, they are vast, domestic animals very easily, they are not in the kettles, they are in the steppes. They eat real organic grass, not from barns I mean.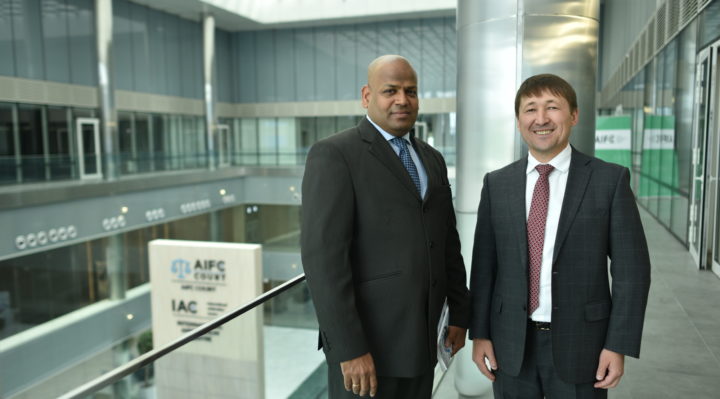 This is another quality of meat. Another thing is, the grain, the wheat, Kazakhstan is one of the global exporters of grain and wheat. Now they are developing wind industry, solar energy, for example, in the southern part of Kazakhstan, 360 days in a year we have sunny days. Here it's less. In northern part of Kazakhstan is even less.
So, it's such a diverse big country. In one part you can use wind energy and export it. Now, this industry is very quickly developing. A lot of buildings are built according to the nature of the resources, solar, wind energy. This one is a brand new city. Our former capital is located in the southern part of Kazakhstan, it's Almaty, you have traveled there? And because of this transfer, buildings, infrastructure, road construction, all these new industries, they developed very professionally, very rapidly, and now, these construction companies are exporting their services to the neighboring countries.