The US-Ukraine co-hosted multinational Sea Breeze-2020 military exercises, which started on July 20, were completed on Monday in the Black Sea after all the planned maneuver tasks were fulfilled.
About 2,000 servicemen from nine countries, more than 20 warships, as well as aircraft and helicopters, participated in the naval drills.
US Captain Joseph Gagliano said during a press conference that was held via phone that over 50 countries were invited to take part in future drills in a move to broaden foreign participation in the exercises.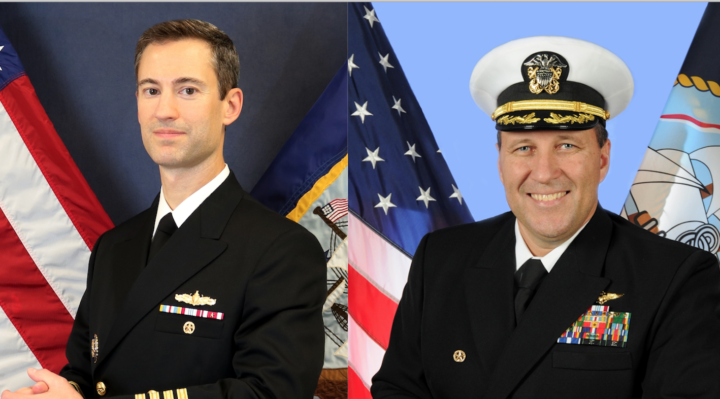 Below is a full rush transcript of the Briefing with Captain Joseph A. Gagliano Commodore, CTF 65 and CDS 60 and Captain William C. Pennington Commodore, CTF 67 Sigonella and Captain Oleksii Doskato Exercise-Conducting Officer for the Ukrainian Navy.
Captain Doskato: I am Captain Oleksii Doskato, deputy Ukrainian naval commander and officer executive exercise from Ukrainian side. I would like to congratulate everyone and everybody on successful finishing up of Sea Breeze exercise 2020. Summing up the results of our one-week exercise, I would like to pay your attention on the following positions. Exercise – Ukrainian-American exercise Sea Breeze, which we have been conducting starting from 1997, is the main and extremely important sector of our – of strengthening of our cooperation and regional security. All exercise – all trainings and tasks that we have conducted showed to the world that we are ready for ensure the security, the maritime security; our unity in our opinions for stability, for security, and for the peace in the Black Sea.
It is extremely important, especially today while the situation in the region is very strained, and Russian Federation is showing an aggression according to Ukraine, and occupied Ukrainian Crimea, and is trying to ignore all maritime rules at the sea. Our response to its aggression was very strong. Our crew, our COs, showed our readiness to stop this aggression. And this is the main aim of our success.
Unfortunately, world pandemia has changed our plans, but we are all together, alongside, we overcome this challenge. We changed the format of our exercises but we – but we leave the main aim: the maritime security, the ensuring of maritime security in the Black Sea region. We also conducted our experience – we also received an experience of this distance planning, which showed a high level of our interoperability and readiness for conducting mutual training. All participants successfully conducted exercises on tactical maneuvering, IW, air defense, replenishment at sea, and so on. This year also, during exercise, it was first time when we conducted our distance air assault, also by helicopters. We also successfully conducted escorting by helicopters.
Fully and totally, we conducted more than 1,471 by our ships, 50 hours of flying, and we conducted all our tasks according to the plan. More than 2,000 personnel participated in the exercise, about 23 ships and boats, and about 19 aircraft.
I would like to thank each and every one for high level of work and mutual training and for conducting this exercise. Thank you for your attention.
Captain Gagliano: I'm calling in from Rota, Spain, from our headquarters at Task Force 65. I am the Commander for Task Force 65, which is the Commander of U.S. Surface Forces in Europe. During Sea Breeze 2020, I oversaw the exercise from the U.S. side and I provided advice and guidance to our Ukrainian partners during the exercise, who were leading the exercise from Odessa.
I'm happy to join you on the call today to discuss Sea Breeze 2020. We had a great opportunity on this past Friday to review the success of this exercise with the leaders from all eight participating nations, and it's a pleasure to share the good news here with you as well. Thank you.
Captain Pennington: Good morning, this is Commodore Bill Pennington. I am the Commander of Task Force 67, headquartered in Sigonella, Sicily, in Italy. We are responsible for the command and control in operations of all expeditionary naval aviation assets for the U.S. Navy in the European and African theaters. That mainly is in support of maritime patrol and reconnaissance aircraft.
We provided support to CTF-65 and our Ukrainian partners for exercise Sea Breeze this year, and we look forward to discussing a lot of the great accomplishments that occurred in this very robust exercise. Thank you.
Question: In the last 23 years, what remained the same and what parts of the exercise changed or evolved? And the second question: Did Russia's annexation of Crimea change the planning of the Sea Breeze and the real execution of the exercise? And the third question: This year, the number of non-Black Sea participants is lower than usual because of COVID-19. What effects – or what effects the number of non-Black Sea countries participating from year to year?
So maybe we could start with Commodore Gagliano.
Captain Gagliano: Thank you. We've certainly seen a lot of change over the last 23 years of the execution of Sea Breeze. Most notably is the number of participants. Before COVID set in, on this exercise, we had the most number of participants we were ever going to have, including Japan that was going to participate for the very first time. So I think the complexity of the exercise increases every time you add new nations, new navies, and in some cases new coast guards to the mix.
Regarding the Russian annexation, when we operate or we plan for Sea Breeze, we don't design our plans around a specific threat, and our approach is that we're trying to establish stability and security in a very dynamic security environment. And what we mean by "dynamic security environment" is that we don't know how threats may change over time. We don't know what might be a threat to security and stability, in this case in the Black Sea. So what we try to do is we set out a series of exercises that will improve our interoperability and our ability to fight together so that whatever the threat to security and stability is, we can respond to it together and we can maintain our commitment to defending Europe as a whole.
Lastly, on the question on COVID, it certainly changed how we've done it in the past. For our staff here, we are accustomed to conducting Sea Breeze from inside Ukraine, from Odessa and on board the ships, and in this case, like everyone else, we were running this exercise from a distance, which, on one hand, had us further away from the exercise, which is something we were not looking forward to; but on the other hand, it put us in a position where we had to get better at managing forces from afar, and in our effort throughout Sea Breeze to increase interoperability between forces, that was in fact the silver lining to all this – is that we demonstrated that we don't have to be co-located with our Ukrainian partners to have an effective exercise. We were able to do it from a distance. So we appreciated that aspect of it.
Question : Do you have any remarks to make about how this exercise has evolved over the last 20 years and the effects of COVID-19 on this year's exercise?
Captain Doskato: I would like to mention that during these 23 years, we have a great progress in the planning of this exercise and conducting it. From, so to say, serial Sea Breeze – we started from, so to say, serial Sea Breeze and we come to larger exercise , training of our operational HQ as well as technical HQ and our personnel. Unfortunately, as I have mentioned before, world pandemia has changed our plans. We have changed the format of our exercise Sea Breeze this year, but our mutual cooperation gives gives us the opportunity to operate with this exercise distantly. And I think that it is the main achievement of this year's Sea Breeze exercise.
As for the less participants of this exercise, it had been planned for more countries to participate, but as I have already mentioned, due to pandemia , it was a kind to stop seeking.
Question : As Sea Breeze progresses into the next decade, what are the goals for future iterations of Sea Breeze?
Captain Gagliano: I think our biggest hope for the next decade is that we can expand the number of participating countries. Last year we had 22 countries participate; this year, before COVID set in, we had planned for 27; and next year we've invited more than 50 countries to participate. I think what that demonstrates is that – is that we have a shared global interest in the international community to security and stability in the Black Sea, and the more countries that we can have participate, the more we can align behind that idea and build interoperability between all of us and increase the capacity of our partner nations.
So the more complex the exercise can become, the more efficient we can become as an international community responding to any type of threat to security and stability in the Black Sea.
Question : Commodore Pennington, do you have anything to add?
Captain Pennington: The increased participants and getting behind the concept of maritime security in the Black Sea is incredibly important. Increasing the complexity and the interoperability between our forces – I think we will see that continue on a trajectory where it increases the complexity. And you can say, this year, the challenge that COVID presented, we've been able to capitalize on the Sea Breeze exercises in the past to be able to conduct this from distance, and it really just goes to show how important exercises like these are for the units to work together and to have that shared understanding as we get after that cooperative maritime security in the Black Sea.
So I think going into the future, that increased complexity and increased participation is what we're looking for.
Question : Thank you very much. Captain Doskato, do you have any comments about the future of exercise Sea Breeze?
Captain Doskato: I would like to support the previous speakers and also, I would like to mention that we have to prepare [inaudible] plan of Sea Breeze exercise in order for our forces to to prepare our forces to be ready for any challenges in the future.
Question : Have there been any Russian disinformation activities surrounding the exercise that you can share? The Russian MoD tweeted videos last week of a purported intercept of an American P-8 over the Black Sea that was apparently old footage, So why don't we ask Commodore Gagliano, do you have any comments on Russian disinformation?
Captain Gagliano: No, our role in executing the exercise wasn't disrupted by that at all. It's not something I track very closely just because I was working with the forces that were in the exercise, so any external noise that's coming from Russia really didn't have any impact on us.
Question : And, Captain Doskato, do you have any comments on possible Russian disinformation connected to Sea Breeze?
Captain Doskato: I totally agree with the previous speaker that the Russian Federation had no impact on our training and conducting of our exercise.
Captain Doskato: I would like to share my thanks with the 6th Fleet U.S. commander and to the government – U.S. Government, as well as all governments of all exercise participants which participated in this exercise Sea Breeze 2020. Alongside, we successfully prepared our forces and achieved all goals, so that the success of this year's exercise is the achievement of everyone and each one.
Thank you very much for your support of Ukraine. I wish all participants safe in coming back home. Thank you for your attention and I am looking forward to seeing you next year for Sea Breeze 2021. Thank you.
Captain Gagliano: Just one final thought on Sea Breeze. The power of this network of allies and partners that we've built in Europe over the last many decades is really borne out every time we can arrive together and operate together. This network of allies and partners are able to bring forces together when required, and then spread them out when not required, and this is just one more example of how we can bring forces together in a combination of both NATO allies and Partnership for Peace countries into one area where we're committed to stability and security in the Black Sea.
I look forward to continuing this exercise, I look forward to Sea Breeze 2021, and I look forward to bringing even more nations together next year as we work together towards this goal. Thank you.
Captain Pennington: I, too, echo the comments of the previous speakers. I think we're looking forward to Sea Breeze 2021 to build off of what we accomplished in 2020, and I think it's something not to lose sight of to be able to conduct this type of exercise with allies and partners that have that shared vision of peace and stability in the Black Sea during a global pandemic. It just speaks to the relationships and the importance of that. And it was a fantastic exercise from our perspective, and we look forward to next year.