According to the information of Defence24 Norway is considering handing over some of its self-propelled gun howitzers to Ukraine It is talking about 20 examples of the M109A3GN self-propelled howitzer. Norway currently has 56 howitzerof this type, but only 14 are in the line. The remaining 42 cannon-howitzers are in equipment reserve. Most likely, 20 machines will be selected from it, which will be handed over to Ukraine. This would be the fourth 155 mm self-propelled artillery system proposed to Ukraine, after the German PzH2000, Belgian M109A4BE and French wheeled CAESAR cannon howitzers.
On February 28, 2022, the Norwegian Government allocated around €267 million for humanitarian assistance to Ukraine and provided military equipment such as helmets and bulletproof vests to the war-torn country. Norway has also provided €34 million in humanitarian support in response to Russia's attack on Ukraine, primarily to the UN Refugee Agency, the International Red Cross and Red Crescent Movement, and the Ukraine Humanitarian Fund.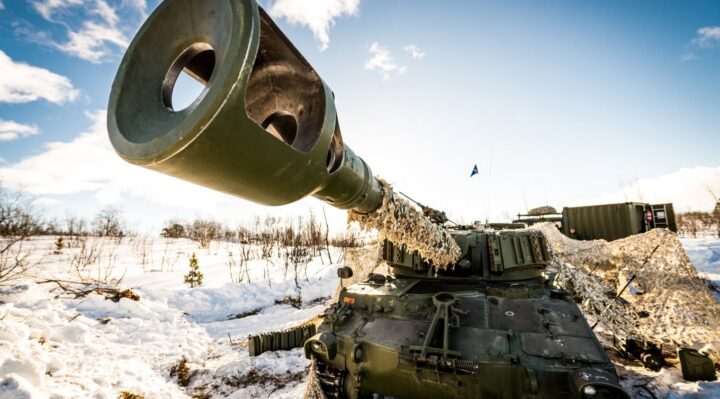 In terms of military aid to Ukraine, Norway has already provided the armed forces of Ukraine with 5,000 helmets, 1,500 bullet-proof vests and 1,000 gas masks, 2,000 sleeping bags, 10,000 sleeping pads and 15,000 field rations, 4,000 M72 LAW anti-tank rockets and 100 Mistral air defense missiles and a number of launchers.
The M109A3GN is the Norwegian version of the M109A3G which is a German upgrade of the American M-109A3 armed with a new 39 caliber barrel allowing the firing of improved 155 mm ammunition including high-explosive, illuminating and smoke, all of which can be fired to a maximum range of 24,700 m. Enhanced range projectiles, such as base bleed, can be fired to a range of 30,000 m.
Between 1969 and 1971, Denmark acquired 126 M109Gs from West Germany. They were then upgraded to the M109A3GN configuration during the latter half of the 1980s.
In 2007, 14 of the M109A3GNs received additional upgrades and were designated M109A3GNM. The upgrade includes, among other things, a new intercom and new navigation and positioning systems. The M109A3GNMs are currently the only self-propelled howitzers that remain in active service with the remainder of the M109s having been put in storage.
According to the Military Balance 2021, the Norwegian army has a total of 48 155mm tracked self-propelled howitzers including 24 K9 Thunder from South Korea and 24 M109A3GN that will be soon withdrawn from active service. In December 2019, Norway selected the 24 K9 Thunder, a South Korean-made self-propelled 155 mm howitzer to replace their current M109A3GNMs dating from the 1960s.