The U.S. Navy has named a future guided-missile destroyer in honor of Quentin Walsh, the first time an Arleigh Burke-class ship will honor a member of the Coast Guard.
Walsh, who died in 2000, was awarded the Navy Cross for his service during World War II.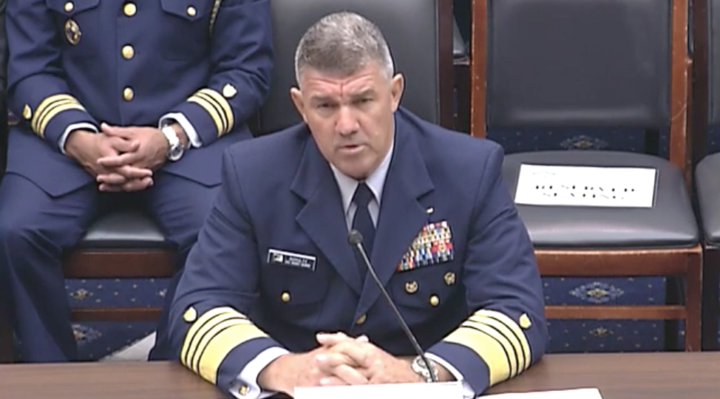 Below is a full rush transcript of the press conference by Admiral Karl L. Schultz Commandant, U.S. Coast Guard
Admiral Schultz: This is Admiral Karl Schultz, Commandant of the Coast Guard and we're here in the Normandy American Memorial Cemetery this morning overlooking Omaha Beach. It's kind of a typical Normandy day. It's a privilege to be here.
As the Coast Guard Commandant, we came overseas here for the D-Day 75th Anniversary yesterday. A lot of folks don't realize the United States Coast Guard had 98 vessels, Coast Guardsmen participating in the D-Day attack, Operation Overload and specifically the amphibious operation was Operation Neptune. We're here to honor our fallen.
One veteran here that was in Normandy with us is Gunner's Mate 3rd Class Frank DeVita. Frank DeVita was on board the landing craft vehicle and personnel, the Higgins Boats. Frank came in in the morning, the early morning, 4 o'clock hours here, to take one of the landings of the first boats during the course of D-Day, June 6, 1944. Frank and his team actually made 15 runs in and out from their manned attack transport ship to Omaha Beach, what became Bloody Beach over the course of the day.
So we're here honoring Frank and his 75 guests with him. Last night aboard the United States Coast Guard Training Barque Eagle which is our training tall ship that trains our cadets and our officer candidates. We had the distinct privilege of hosting the Secretary of the Navy, the Honorable Richard Spencer, and the Commander of Naval Forces Europe and the 6th Fleet, Admiral James Foggo. We had the privilege of announcing the naming of a new United States Navy guided missile destroyer, the USS Quentin Walsh. Quentin Walsh was another Coast Guard hero who was involved in the planning leading up to the war and then on Normandy on the beaches three days after the invasion. And Quentin really played a critical role. He was Commander Quentin Walsh at the time, and went on to survive and went back and had a Coast Guard career up through the ranks. Captain Quentin Walsh was key to the efforts to gain control of the Port of Cherbourg. Cherbourg was absolutely on the critical path in terms of supporting the warfighting efforts here in France from June through August in the march to Paris.
So that's sort of the purpose that we're here. We had a chance to recognize Frank DeVita, Quentin Walsh, the naming of a guided missile destroyer to be built here in the next couple of years.
I'll stop there and take your questions. Thank you.
Question: Admiral Schultz, we don't often think, or at least I don't often think of the Coast Guard and how it as involved in World War II. Could you maybe talk a little bit more about what the Coast Guard did during World War II and specifically why you are in Normandy.
Admiral Schultz: Sure, Kathy. As I mentioned, the Coast Guard had 98 vessels here. The vessels were all under USS Navy flag. The Coast Guard moved to the Navy in time of war back in that era. But we had a couple of those Navy ships that were commanded by Coast Guard folks.
We had three what they called manned attack transports. Those vessels were here coming across the channel. We crewed 11 what they called the tank landing ships that bring the heavy equipment in, the tanks and other heavy armament, mechanized stuff. And then we actually were over here on what they called the landing craft infantry. The landing craft infantry was about a 158-foot ship, carries upwards of about 180 fully equipped troops.
So we were here essentially supporting the amphibious operations. As I mentioned before, that story about Gunner's Mate 3rd Class Frank DeVita, he was on that first wave of folks on those Higgins boats.
So the Coast Guard was art of the amphibious assault landing here on Omaha Beach and Utah Beach. And we're here to honor those fallen. There are six Coast Guardsmen that are buried here in the cemetery. There's one amongst the missing, the tablets of the missing here that subsequently identified over the years. So we're paying honor to them today. Then we had that privilege of recognizing Commander Quentin Walsh here and the future naming of a guided missile destroyer and doing that with the Secretary of the Navy.
So that was the purpose for me being here, Kathy, is to honor U.S. Coast Guard contributions to one of the most seminal events here I think in world order. D-Day, a pretty seminal moment here for the European continent here and U.S. partnerships with other allied forces.
Question: On June 5th Mrs. Maria Zakharova, the spokeswoman for the Russian Ministry of Foreign Affairs appealed that D-Day not be exaggerated and that Soviet merits not be underestimated. How would you comment?
Admiral Schultz: I appreciate the question. I would say I don't think there's any intention to overestimate D-Day. What I would say about the second part of that, the Battle of Stalingrad, clearly that five-plus month effort in the latter part of 1942 into February 1943 was treacherous battles. In the history of warfighting one of the most intense warfights with upwards of two million killed in action, wounded in action, prisoners. It was treacherous fighting. It was a key defeat by the Russians of the axis of evil.
So I don't think I'm here to make any comparisons. I would say that Battle of Stalingrad I think stands for itself and is a seminal moment in the fight here against the axis of evil. What we're here to celebrate is that 75th Anniversary of the activities in France and Normandy.
So I appreciate the question. I'm not going to really contrast the two. I would say the Stalingrad Battle was that, and we're here recognizing what occurred in France.
Question: I know you've had a chance during your visit to go on board the U.S. Coast Guard Cutter Eagle which is a pretty unique ship. It was earlier here in Belgium. Could you tell our listeners a little bit about that?
Admiral Schultz: Sure. The Eagle has a fascinating history. We acquired the Eagle as a war prize in 1945 here from the Germans. We brought it into service as a training ship in 1946, and since then we've been training our Coast Guard Academy cadets. That training has evolved to also include our Officer Candidate School. Those are our folks that come in through our officer accession ranks other than through the Academy.
Eagle came across the Atlantic here earlier this summer and she's, as you mentioned, doing port calls throughout Europe. She'll be heading back through the Azores and Bermuda. A great opportunity for our cadets to appreciate, and the embarked permanent party crew as well, to appreciate some of the Coast Guard history as well here with our contributions to the D-Day invasion. Also a great chance for the development of seamanship skills and [inaudible] its lore here, going to sea on a tall ship. America's [inaudible]. It's an elemental experience for future Coast Guard officers.
So we had a great evening on board with the Secretary of the Navy, international partners, representatives from the French military, the Australians, Dutch. Terrific [inaudible]. [Inaudible] was on board. [Jacques] is a former Coast Guardsman himself. He served in combat in Vietnam on one of our point class cutters. He also sailed aboard one of our icebreakers, circumnavigated the globe here. I think him and his sister and their grandson. They're a two-family service. One of the other brothers who couldn't come for medical reasons served in the Marines. A grandson was in the Army, and he's a federal law enforcement agent. It was a special day for that family, for their father and the grandson's grandfather, to [inaudible] the future naming of a guided missile destroyer. So that was our event on Eagle last night, Kathy.
Admiral Schultz: My only closing comments would be it was quite an event here, to be here in the Normandy American Memorial Cemetery the day after D-Day. It is packed with visitors from all over the world, and folks are laying flowers on headstones. If folks [inaudible] the privilege to be here, the history is fascinating. This is one of the largest amphibious assault operations I think in military history, two years in the making. There was tremendous loss of life by allied and U.S. Soldiers, Sailors, Marines, Airmen. It's just a privilege to be here representing these men and women of the United States Coast Guard as we reflect on our history and our contributions to D-Day.