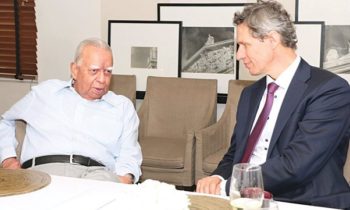 Norway's State Secretary Tore Hattrem ( Conservative Party )  visited the Norwegian funded UNDP programme in Jaffna today (01).
Following is the text of a speech he delivered on the occasion.
"Dear Government Agent, dear UNDP-representative, dear representatives from the local community,
Thank you very much for the warm welcome. I am very happy to be back in your lovely country. Sri Lanka means something special to me and I often think of all the good memories that I have from my term as Ambassador of Norway in Sri Lanka 7 years ago.
I am pleased to be here at this occasion with my colleagues from the Embassy of Norway and the members from the UN country Team in the newly released Valalai area in the Jaffna District today.
As a Norwegian, the fishery sector is close to my heart because the fishery industry is very important to the Norwegian economy with its contribution to export, income and employment generation in Norway.
Norway has a longstanding development co-operation with Sri Lanka. Some of you may remember that Norway has assisted the fisheries sector in the North decades ago and that cooperation was commonly known as "CEYNOR" which was a joint venture between Sri Lanka then known as (Ceylon) and Norway.
With assistance from Norway, several projects to improve the fishing industry were undertaken throughout the coastal areas of the island. The CEYNOR funded factory was built in Karainagar and Kurunagar to build boats and to manufacture fishing nets.
And earlier this year, Norway accepted a request from the Ministry of Fishery to assist further within the fishery sector.
In recent years, our assistance mainly focused on supporting vulnerable communities in the Northern Province. A major part of the support has been extended through the UN Organisations and civil society organisations to enhance the livelihood opportunities of the affected communities.
It is very important for people to return to their original places and re- established their lives. Therefore, the Norwegian Government has decided to financially support people to re-start the livelihood activities and promote the resettlement process.
Here in Valalai and adjoining villages, we support livelihood opportunities for targeted communities in fisheries, agriculture, livestock and alternative income-generating activities. We know you are among the first to return and that many of you have been displaced for a very long time. We understand that you face challenges when you are coming back to your own land. That you have moved back is an important symbol for the new Sri Lanka.
I am happy to be present at this occation when boats, engines, fishing gears, and some agriculture equipment is distributed for you to start your livelihoods. I sincerely hope that you will be able to re-establish your lives in your areas of origin. We hope you will contribute with hard work, and are able to rebuild your community and lives on your own land."
Tore Hattrem was appointed State Secretary at the Norwegian Ministry of Foreign Affairs in September 2015. His main areas of responsibility are security policy, the High North, matters relating to the US, Russia, Eurasia and Canada, humanitarian affairs and human rights.
Mr Hattrem has been with the Ministry of Foreign Affairs since 1992, during which time he has gained broad diplomatic experience. Prior to his current appointment, he was Director General of the Department for Regional Affairs. He served as Ambassador to Afghanistan from 2010 to 2012, and as Ambassador to Sri Lanka from 2007 to 2010. Before that, he was Deputy Director General and Head of the Section for Peace and Reconciliation (2002–2007).
He has been Adviser in the UN Security Council Unit (2000–2002), and he has been posted to the Permanent Mission of Norway to the UN and the WTO in Geneva (1997–2000), and to the Norwegian Embassy in New Delhi (1994–1997). He has also worked in the UN Section (1992–1993).
Before joining the Ministry of Foreign Affairs, he worked as Senior Executive Officer in the Ministry of Finance, and as officer in the Norwegian Armed Forces for several years.
Mr Hattrem has previously headed the Norwegian facilitation team in the peace process between the Government of the Republic of the Philippines and the National Democratic Front (a communist movement in the Philippines).
Mr Hattrem holds a Master degree in Political Science (Cand. Polit.), and a B.Sc. in Economics and Political Science. He graduated from the Norwegian Officer Candidate School in 1982.