From 3 to 5 March 2020, the NATO Military Committee and its Chairman, Air Chief Marshal Sir Stuart Peach were in Norway. The programme included briefings at the NATO Joint Warfare Centre, in Stavanger, and visits to the Norwegian Joint Headquarters and the Air Base in Bodø.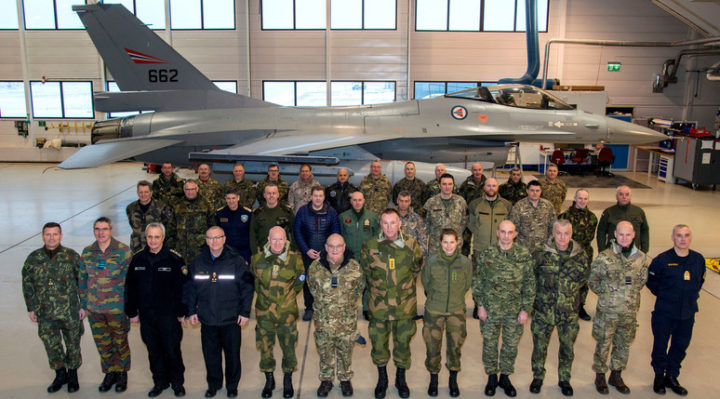 The visit began at the Joint Warfare Centre which provides NATO's training focal point for full spectrum joint operational-level warfare which includes tactics for offensive, defensive, stability, and support operations. The Military Representatives received briefings on topics such as Strategic Foresight; Emerging and Disruptive Technologies; Future Capabilities; Warfighting Capstone Concept; and Human Capital. "Visits like these allow us to better understand the role and mission of our subordinate headquarters. This was also an opportunity for us to look closely into topics that are becoming increasingly important to our daily work and that will ultimately inform our decision-making", highlighted the Chairman of the NATO Military Committee, Air Chief Marshal Peach.
The NATO Military Committee then travelled to Bodø where they visited the Norwegian Joint Headquarters, the only allied facility north of the Arctic Circle that provides crucial situational awareness to the Alliance. The NATO Military Representatives were briefed on the situation in the High-North. "NATO has a clear interest in maintaining the stability, security and cooperation in the Arctic and therefore continually monitors the region for any presence, activity or behaviour that might pose a challenge to the security and stability of NATO and its Allies", underscored the Chairman of the NATO Military Committee.
The Military Representatives were then able to observe a Quick Reaction Alert demonstration where Norwegian F-16s scrambled to intercept hostile aircraft. "Over the last 70 years, Norway has played a vital role in NATO, in Europe, and beyond by preserving international security, contributing to our collective defence and strengthening our Alliance. Norwegian troops are contribution to our missions in Kosovo, Afghanistan and the eFP Battlegroup in Lithuania. Norway is also, once again, covering the Air Policing mission over Iceland but for the first time with F-35s. Norway helps to keep us safe and project stability beyond our borders", commended Air Chief Marshal Peach.