The United States will not grant any more waivers to any countries that would allow them to buy Iranian oil without facing U.S. sanctions, a senior U.S. diplomat said on Wednesday.
United States is looking to sign a new agreement with Iran that covers its nuclear and missile programs, the country's regional aggression and the arbitrary detention of foreign nationals including Americans, according to US Special Representative for Iran Brian Hook.
The US responded to flare ups in tensions with Iran with Iran's Special Envoy Brian Hook vowing that any attack against the United States or its allies would be met with a show of force.
Hook assured an unsettled market that it had already factored in Iran's oil exports falling to zero. Oil prices were up in afternoon trading, with WTI up over 1 percent on the day.
The strong words from the United States came after Iran announced it would no longer be curbing its nuclear program, threatening to go even further, saying it would resume enriching uranium at a higher level if the EU fails to live up to its end of the agreement by continuing Iranian oil purchases.
The United States had announced on Tuesday that it was deploying the USS Abraham Lincoln Carrier Strike Group and a bomber task force to the U.S. Central Command region "to send a clear and unmistakable message to the Iranian regime."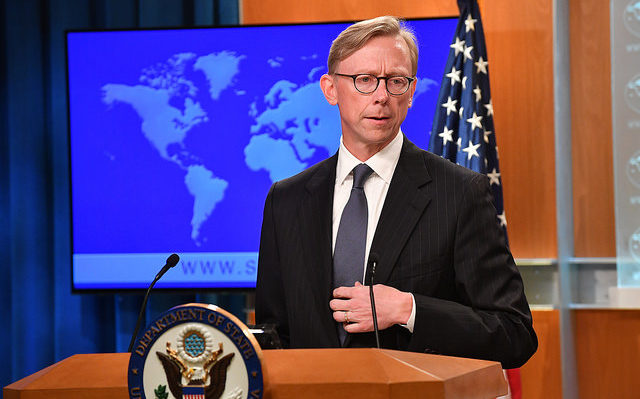 Below is a full rush transcript of the press conference by Brian Hook, Special Representative for Iran and Senior Policy Advisor to the Secretary of State and Victoria Coates, Deputy Assistant to the President and Senior Director for Middle Eastern Affairs, NSC, on U.S. policy achievements since withdrawing from the JCPOA one year ago.
Mr. Hook: One year ago today President Trump announced that the United States would cease its participation in the Iran Nuclear Deal. Shortly thereafter Secretary Pompeo, within a few weeks of the President's decision, presented a bold new strategy to address Iran's, to comprehensively address Iran's threats to peace and security, and importantly, to prevent Iran from ever acquiring a nuclear weapon. We will never be held hostage to the Iranian regime's nuclear blackmail, and outside of the deal we are in a much better position to address the full range of Iran's destabilizing activities.
The new strategy that we launched shortly after the President left the deal has had a lot of new initiatives, new lines of effort, and we are seeing positive impacts.
We have imposed the toughest sanctions ever on this Iranian regime. We have designated nearly 1,000 individuals and entities since the beginning of the administration. We have taken Iran's oil exports to historic lows. And we have stopped issuing oil waivers to those who import Iranian oil, which means zeroing out the purchases of Iranian crude.
We have also tightened nuclear restrictions that impede Iran's ability to reconstitute its past nuclear weapons program, and prevent Iran from shortening the time that it would take to produce fissile material for a nuclear weapon.
I think you saw the regime's announcement that it intends to expand its nuclear program. This is in defiance of international norms, and it is an attempt to hold the world hostage. Its threat to renew the nuclear work is something that we are going to be examining very closely. It's too early to speculate on the technical significance of any nuclear activities until we see what, if anything, happens.
So when you look at where we are now, a year on, we are still committed to denying the regime all paths to a nuclear weapon. We will continue to expose maximum pressure on the regime until it abandons its destabilizing ambitions. We call on the international community to hold the Iranian regime accountable for its threat to expand its nuclear program.
I would say in the last year we have done a good job of increasing Iran's diplomatic isolation as more allies and partners have stepped up over the last year to counter Iranian aggression with us. We have acted with countries from nearly every continent to disrupt Iran's rogue oil shipping operations. The European Union passed new sanctions against Iranian entities in response to two foiled terror plots last year. And other nations have responded to Iran's terrorism and threats of terrorism by recalling ambassadors, expelling Iranian diplomats, eliminating visa-free travel, denying landing rights to Mahan Air.
As outlined in the 12 demands in the Secretary's May 21st speech — and I would just remind you that the first three of those demands concern Iran's nuclear program — we will continue to apply maximum pressure on the regime until its leaders change their behavior. They have got to start behaving more like a normal nation and less like a revolutionary cause. They need to respect the rights of the Iranian people. And we are committed to standing with the Iranian people, restoring deterrence against Iran's threats to peace and security, and denying the regime the revenue that it needs to fund its foreign policy. We are well on our way to making Iran's foreign policy prohibitively expensive.
Dr. Coates: It's a pleasure to participate in this with you today after all the hard work that's gone into implementing the President's strategy.
I just wanted to point out that a year ago there was a very firmly held set of points in conventional wisdom that were going to occur if the United States decided to withdraw from the JCPOA. It said with great certainty that the United States would be isolated, our sanctions unilaterally would be ineffective, and investment would pour into Iran, rendering us feckless and powerless.
Now President Trump's stated goal for our Iran strategy is to fundamentally change the Iranian regime's behavior so it no longer threatens the U.S. and our allies and it never possesses a nuclear weapon. Whether Tehran chooses a future of opportunity and prosperity for the Iranian people or doubles down on the failed policies of the last 40 years that brought it to this impasse is yet to be seen, but the President has demonstrated beyond any doubt that the United States retains unprecedented economic clout that can eventually cripple Iran's economy if they do not change course.
The President's guidance is to continue increasing this pressure through actions such as designating the IRGC a foreign terrorist organization and bringing the oil waivers to zero until Tehran is compelled to negotiate on terms favorable to the U.S. or choose between survival and exporting terror as it will not be able to do both.
President Trump's offers to meet with the Iranian regime are sincere, and it is his hope that they will accept and begin to build the better future that the people of Iran deserve.
Question: About the Iranian movement of its ballistic missile to the Gulf and the U.S. announcement after that that it will send an aircraft carrier. What is your comment, or how does this affect the stability of the region?
Mr. Hook: We had indications of heightened Iranian readiness to conduct offensive operations against U.S. forces and our interests in the Middle East, so we had indications of multiple credible threats by Iranian forces and we repositioned our military assets accordingly.
We deployed the USS Abraham Lincoln carrier strike group and a bomber task force to send a clear message to the Iranian regime, and that message is any attack on U.S. interests or on those of our allies will be met with force. The United States does not seek war with Iran, but we are ready to defend U.S. forces and interests in the region.
If the Iranian regime chooses to escalate its already violent behavior, the United States will respond.
I would also just add, I've seen some people connect Iran's threats with our designation of the Islamic Revolutionary Guards as, that designation as maybe one reason why this is happening.  After we designated the Revolutionary Guards as a foreign terrorist organization, Iran's response was to threaten with more terrorism, which kind of proves our point.  This is a regime that insists on behaving like a terrorist regime, and if you don't agree with them they threaten even more terrorism.  And as I said earlier at the top of the call, we are not going to give Iran a veto over our national security, and we will continue to work with allies and partners in the region and beyond to restore deterrence against the range of threats to peace and security that this regime presents.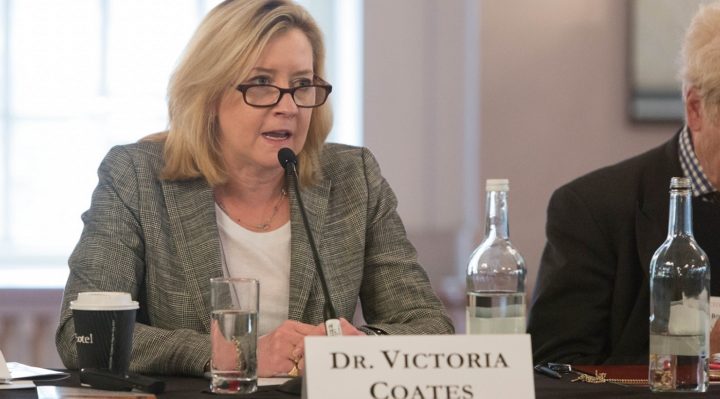 Dr. Coates: I'd just add to that, Brian, this impasse we find ourselves in right now that Deena was asking about, this is hardly new. They've been doing this for 40 years. They started out by taking our diplomats hostage. You can go through 1983, the Beirut Marine Barracks bombing. This is their chosen tool of statecraft. So connecting one sort of episode of threatened violence with the IRGC designation just doesn't make sense.
Question: How come almost the whole world, at least most of Europe and China and Russia and so forth don't see any violation of the treaty including the UN Agency in Vienna, only the ladies and gentlemen in Washington do see that, do stress that, maybe a little bit supported by non-members of the treaty like Israel or so. Isn't it just so that you in Washington want regime change in Tehran as the real request?
Mr. Hook: Perhaps you haven't been looking at the statements made by the President, the Vice President, the Secretary of State on down. We have said repeatedly that we are seeking a change in the regime's behavior. And it is true that Iran has been in compliance with these reports, but we should be surprised if they're not in compliance. The bar for compliance was set so low by the Iran Nuclear Deal that we expect them to stay in compliance.
At some point their calculus may change, but this was a sweetheart deal that Iran got more than it gave in the deal. It was a disproportionately weighted deal. It is a modest, it is a non-proliferation plan of modest and temporary benefits.
I would remind everyone that the Iran Deal is going to start expiring in 18 months. The first of its provisions, the arms embargo and the travel ban on people that are listed in 2231 expire. And then you're going to have a regular cycle of restrictions lift on Iran. So it is false to say that the Iran Nuclear Deal solved the Iran nuclear problem. It delayed addressing the problem. And we thought that this deal presented Iran with a patient pathway to acquire a nuclear weapon, and so we decided to get out of the deal. And now outside of the deal we think that we're in a much better position to prevent Iran from ever acquiring a nuclear weapon by this new approach that we're taking.
Dr. Coates: I have nothing further to add. I would point out that the JCPOA is not a treaty.
Mr. Hook: It's also, people don't know this. I'm not sure why. It's not legally binding. It is a political plan. It is a political commitment that was made four years ago by a President who is no longer in office. It has no legal status. If you look at UN Security Council Resolution 2231, it is not legally binding. And there are other things in that, that are legally binding. For example, the travel ban, the assets freeze, the arms embargo. Those, and [NXP] are all still operational. But this is not a treaty. It is not an agreement. All you have do to is look at the name. The JCPOA is the Joint Comprehensive Plan, and I was in a meeting with Foreign Minister Zarif where he made it very clear to everybody in the room that it's not an agreement. It's only a plan. Because they couldn't agree on calling it an agreement. Our response to that is if it's just a plan, then plans can be changed.
Question: what kind of new sanctions is the administration planning to continue the pressure campaign, if any? And the second question, if the Iranians threaten that if the other world powers will not answer to their demands in 60 days they might renew uranium enrichment to 20 percent. If in 60 days this is what the Iranians are going to do, is the United States going to consider using a military option to stop the Iranians from enriching to 20 percent?
Mr. Hook: There's a lot of hypotheticals in there. Maybe I'll take the first one. We don't ever preview our sanctions, because if we were to preview our sanctions it would be giving a heads-up to the people that we're intending to target. I think it is well known that our campaign of maximum economic pressure is just getting started. There is a lot more to come. We've been saying that for some time. Just in the last few weeks we've tightened the nuclear restrictions, we've imposed nuclear sanctions, we designated the IRGC and the Quds Force as a foreign terrorist organization, we announced no more oil waivers. It's going to continue, so I think you can expect that.
As Secretary Pompeo said, Iran can start behaving like a normal country or they can watch their economy crumble. That's the choice that sort of only they can make.
On the second question, I would just say it is too early to speculate. Right now we have intentions. We don't have actions. We are in close contact with our friends and allies. We certainly take these sorts of threats seriously, but as I said earlier, we're not ever going to be held hostage to the regime's nuclear blackmail. And we will look very closely at whether, if they follow through on their announcement, we will look very closely to see if this shortens the one-year nuclear breakout time line. Beyond that, I'm not going to speculate.
Dr. Coates: I would just emphasize that the phase that we're going into now is a new phase of increased pressure. One thing you can't say about the President's strategy here is that it's in any way impulsive. He came into office. Took a year to examine the deal, to have our friends and allies make the case for why it should be retained. He decided it did not merit that. Then had a six-month wind-down period followed by six months of oil waivers. So this process has been going on for some time, and what we initiated in November was the reimposition of our unilateral sanctions that had been relaxed, or waived under the JCPOA.
What we're doing now is additional steps that haven't been tried before. So that's what we mean by maximum pressure. I think the President's been very clear that when the security of the American people is imperiled, he retains the right to have all options on the table.
Question: I understand your intention, you say, to get Iran to behave in lots of areas outside the JCPOA, what you call maligned activities, et cetera, as you've explained. In the last year have you seen any indication at all that Iran is changing its behavior in these aspects?
Mr. Hook: Yes we have. In the New York Times in March there was an article by Ben Hubbard and the headline of that was "Sanctions curb support by Iran in allies' fights". You have Shia fighters who are quoted, "The golden days are gone and will never return." This is an Iranian-backed militia in Syria. He had lost a third of his salary and other benefits, and he said "Iran doesn't have enough money to give us."
And as the New York Times said, don't take my word for it, "Across the Middle East Iran's allies are showing signs of financial strain."
This is a good thing. The leader of Hezbollah, Hassan Nasrallah, in March made a public appeal for the first time in their history for donations. And this is a consequence of the pressure that we are putting, we're putting a lot of downward pressure on Iran's revenues.
I'll give you another example. Iran reduced its military budget by 10 percent from 2017 to 2018. Its 2019 and 2020 budget has a reduction of 28 percent in defense spending, including a 17 percent cut to the IRGC. And we see Qassem Soleimani having a hard time funding his operations and they're turning to oil smuggling. And we have broken up some of those oil smuggling rings. We're going to continue to do that.
We have, working with other nations, have stripped Iranian oil tankers — 75 oil tankers to date don't have a flag that they can sail under, and it's very disruptive to lose your flag.
Overall, we have been denying the regime many billions of dollars in lost revenue, and that is money they would otherwise spend on Hezbollah, on Hamas, on Palestinian Islamic Jihad, the Houthis in Yemen. They just don't have as much money as they used to. And that is why we think that it is in the interest of the international community to join us in this pressure campaign, because it is making a difference.
Dr. Coates: I would just add that you can tell a lot about a regime by where it chooses to allocate resources, especially as, as Brian was just detailing, the resources are becoming severely constricted. I think certainly after the floods in which the Secretary of State offered to help which they're not recovering from; they have a potential locust problem this summer which could be detrimental to their food supply. There are a lot of places they could be investing resources and they're not.
But I do think, as Brian pointed out, the reduction in the defense budget and the restrictions of the supplies to their terrorist proxies is a good thing for the world.
Question: Early this evening European banks and investors have been warned against engaging with the Special Purpose Vehicle to facilitate non-dollar trade with Iran. Do you see a consistent European position on it?
Mr. Hook: I'm not going to speak for the Europeans and speak for their position. I can just make a couple of observations.
We don't see any corporate demand for a Special Purpose Vehicle. Our sanctions give European countries a choice, and it's a choice they can freely make, and they know this. They can either have access to the U.S. markets and the U.S. financial system, or they can do business with Iran. That's not a difficult decision given the relative size of the American market over Tehran's market.
So we don't see any corporate interest in an SPV. We know that there is European interest in keeping the economic incentives going for Iran to stay in the deal, but we're not in the deal anymore and so that is no longer a concern of ours. We're very much focused on the totality of threats that Iran presents.
We fully expect, I'm also not entirely confident that this vehicle will ever get off the ground because there has to be a mirror image set up on the Iranian side of this, and Iran doesn't like to comply with FATF because they want, they have a financial sector that is deliberately dark. They do not want people to be able to follow the money. That's why they don't comply with FATF and that's why they've been disconnected from the SWIFT financial messaging system, because they're not in compliance. They run a dark economy with the Revolutionary Guards controlling up to half of the economy. It's the world's leading sponsor of terrorism.
So I would question whether the regime ever decides that it wants to be that transparent and run an SPV. So we don't see much demand for it, and I don't think the prospects of it for getting off the ground are that high.
Dr. Coates: I concur. I don't think it's necessary and I just wanted to emphasize Brian's last point about the darkness of the Iranian economy. There was all of one foreign direct investment in Iran in the first quarter of 2019. It's not a good place to do business. And that is absolutely the fault of the regime, which is not allowing the Iranian people to develop the kind of economy that they should enjoy.
Mr. Hook: I've also, I can't remember the last time I checked it, if you look at total EU trade volumes, Iran isn't even in the top 30. The EU does more trade with Kazakhstan than it does with Iran. It's just not a significant market. And European corporations would much rather do business with the United States than do business with Iran. We're easier to work with and the economic logic is plain to everyone.