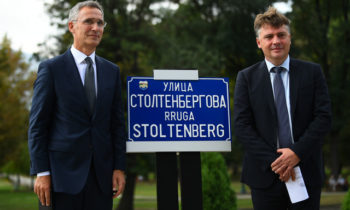 To express the gratitude on part of the city of Skopje and its citizens, for the help that the Norwegian diplomat has provided after the catastrophic earthquake in Skopje in 1963, the street that links the City Park, the main stadium and the bank of river Vardar will be named as "Stoltenberg Street."
The Mayor, Petre Shilegov, said that Skopje will always remember those who have helped the city during its most difficult times.
-For this reason, this I give this table to NATO's Secretary General, Jens Stoltenberg so he could know that what his father has done for this city will never be forgotten – said Shilegov.
He also said that Stoltenberg's contributions in the renewal of Skopje after the earthquake were enormous.
Stoltenberg said that Skopje had a special place in the heart of his father because of the closeness he felt about the city after the catastrophic earthquake in 1963.